By Favour Nnabugwu
About 1,048,314 out of the 1,503,931 candidates who participated in this  year's Unified Tertiary Matriculation Examination, UTME, by the Joint Admissions and Matriculation Board, JAMB, passed the examination. Out of this number, three candidates scored the highest with over 300 marks.
JAMB Registrar, Prof Dibu Ojerinde, who made this known at a news conference in Abuja yesterday said that 181 candidates from Kaduna and Ikoyi Prisons were among those who wrote the examination, adding that malpractices were recorded in 52 centres across eight states in the country over which the results of 27,266 candidates in those centres were being withheld.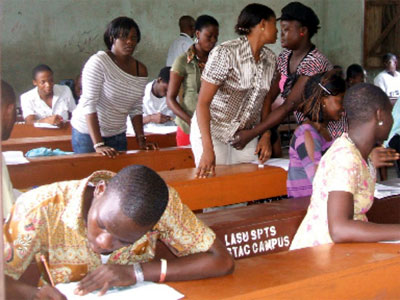 The JAMB Registrar noted  that six southern states registered the  highest number of candidates for this year's examination. Imo led with 123, 865, followed by Delta- 88,876; Anambra- 84,204; Osun- 73, 935; Oyo- 71, 272 and Ogun with 71, 173.
Also, six northern states, including Jigawa- 11, 529, Kebbi- 7, 364; Yobe- 6, 389; Zamfara- 5, 713; Sokoto, 5,664 and FCT with 3, 380 recorded the lowest number of candidates just as other states fell within the average.
According to Prof. Ojerinde, 901 of the candidates scored  270 and above,  72,243 made between 250 – 269; 601,151 scored 200 – 249; 374, 920 scored 170 – 199 while 336, 330 failed as they scored 170 which is below the 180 cut-off mark.
Ojerinde further said that 833, 082 of the applicants were males while 660,522 were females, representing 55.78 percent and 44.22 percent respectively.
He however said that JAMB had begun investigations into the level of examination fraud recorded in the affected 52 centres in Rivers, Lagos, Benue, Delta, Nasarawa, Abia, Imo and Cross Rivers States, adding that the release of results in such centres was subject to findings of the investigators  expected to be concluded in a forth night.
Giving a breakdown of the states from which the 52 centres' results were withheld, Ojerinde said Rivers State topped the list with 24 centres, followed by Lagos with 11 centres while Imo State had 6. Others included Benue and Delta states with three centres each; Abia and Cross Rivers with two centres a piece while Nasarawa had only one of its centre's results withheld
Candidates' most preferred universities
On universities mostly preferred by candidates, Ojerinde said that 11 institutions stood out with the University of Lagos topping the list 83, 865 candidates followed closely by the Nnamdi Azikiwe University, Awka with 82,148 while the University of Benin came third with 80,048 candidates.
The University of Nigeria, Nsukka, UNN, he also said was the fourth preferred institution with 79, 398, followed by the University of Ilorin,  UNILORIN with 76,276.
The sixth most preferred university was the Obafemi Awolowo University,; OAU, Ile-Ife with 64,702 followed by the Ahmadu Bello University, ABU, with 56,708.
Also the ABU was followed by the University of Port Harcourt, UNIPORT, with 48,439 candidates; University of Uyo, -44,397; Imo state University, -43,353 and University of Ibadan, UI with 40,011.
JAMB chief said, "Our experience this time is consistent with the previous trends- that Nigerians have a higher preference for some universities ahead of other tertiary institutions.
"Unfortunately those universities still have constraints with 83,865 candidates recorded being the highest applications (less than last year's) 99, 115 (for the best preferred).
'' However, from the carrying capacity figure, the National Universities Commission, NUC can admit only 9,507. These figure are only for most preferred choice and do not include those who chose UNILAG as their second choice"
Exam malpractices
Ojerinde said that the board was still battling with exam malpractices as candidates have devised other means to outsmart the board and other examination bodies with supposed answers in their GSM telephones and fake calculators..
"We also know that those engaging in examination malpractices will stop at nothing in achieving their aims. In this 2012 edition, we made some discoveries on the new tricks on display by these crooks.
''Some candidates smuggled GSM telephones into their halls while two had specialised slippers on with phones containing answers buried inside the slippers save for metal detectors that uncovered their dastardly arts. specialised slippers on with phones containing answers were buried inside the slippers save for metal detectors that uncovered their dastardly arts.
Incomplete/invalid results
However, the board recorded a significant reduction in the number of invalid and incomplete results of 5,161 this year compared to the 2011 figure of 28,069 which was also far below the 2010 figure of 96,451 invalid results which might be cancelled at the end of the day.