Lagos State Government has blamed utility providers such as Power Holding Company of Nigeria (PHCN) and Telecommunications companies for causing flooding in Victoria Island and Apapa areas of Lagos metropolis through indiscriminate laying of cables in drainage channels.
Against this backdrop, the state government has warned that it  would not hesitate to remove such offensive cables
The Commissioner for Environment, Mr Tunji Bello said the government had waited long enough for owners of the contravening cables to remove them.
He added that "since they failed to remove them after several pleas and meetings with them, the state government will go ahead and remove the cables. They can go to court  to challenge the removal  if they so wish''.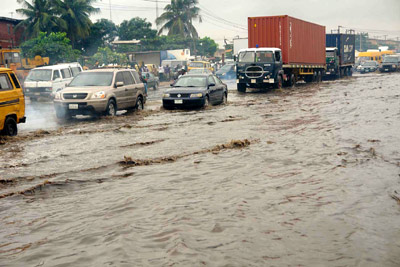 Large quantites of conscription and siltation were observed  in many drainage alignments inspected by the commissioner along Akin Adesola, Adeola Odeku, Ozumba Mbadiwe, Idejo, Karimu Kotun, Ahmed Onibudo. These were caused by cables of PHCN and other service providers.
It was also discovered that most of the utility cables occupied over two third of the drainage channels thus reducing the volume of storm water flowing through the drains into the lagoon.
According to Mr. Bello, the cables from PHCN and other utility providers contribute largely to the flooding of the areas as they  impede the free flow of  water into drainage channels.
On the modality for removal of the cables, he said: . "As a government,  we are duty bound to maintain facilities and protect our citizens. The drainage channels belong to the state government, PHCN and the Telecoms met them on ground and decided to lay cables without taking cognizance of the purpose the drainage channels are to serve in the first place. Definitely, we will not allow such indiscretion to continue" .