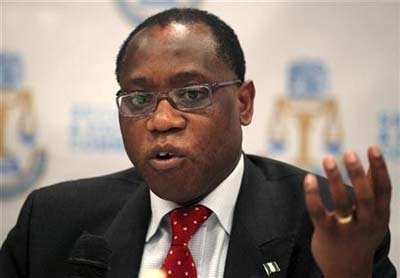 Minister of Trade & Investment, Olusegun Aganga
BY MICHAEL EBOH
The German government has  initiated a programme aimed at promoting sustainable economic development in Nigeria.
Tagged, 'Pro-Poor Growth and Promotion of Employment in Nigeria Programme (SEDIN),' the initiative  is targeted at promoting the bilateral agreement between both countries.
The programme is being implemented by the German Agency for International Cooperation, Deutsche Gesellschaft fuer Internationale Zusammenarbeit (GIZ), and focuses on expanding employment opportunities and increasing income generation for Micro, Small and Medium enterprises (MSMEs) through an improved business environment and better access to financial services.
The German government said SEDIN is implemented at the Federal, State and Local levels of Niger and Plateau states while implementation will commence in a third state in a few months time.
It said, "In line with Nigeria's Vision 20:2020, the country aims to belong to the 20 largest economies in the world. This goal requires a double-digit annual economic growth target and accelerating development through the economic transformation blueprint considering institutional, economic, social and environmental dimensions.
"GIZ aims to support the Government of Nigeria in realizing the Vision 20:2020 by working towards enhancing the effectiveness of national and state MSME policies, improving the Nigerian business environment through better public-private dialogue and cooperation, strengthening of selected agricultural and non-agricultural value chains, improving access to financial services (MSME and value chain finance; micro insurance), as well as supporting trade facilitation, tax harmonization and cross-border banking supervision within West Africa/ECOWAS."
GIZ said it is working closely with stakeholders in the private and public sectors and a stakeholder workshop was held on the 8th and 9th of March 2012 to deepen existing partnerships and define possible new areas of cooperation.
It said the workshop had in attendance key representatives of the Central Bank of Nigeria (CBN), Nigerian Governors' Forum, Ministry of Trade and Investment, Federal Inland Revenue Service (FIRS), Small and Medium Enterprise Development Agency of Nigeria (SMEDAN), Organized Private Sector (OPS), National Association of Microfinance banks (NAMB), Nigerian Customs service (NCS), National Planning Commission (NPC) and other important stakeholders from both Niger and Plateau States.
It said during the workshop, issues such as tax reforms, access to financial services, enhancing the effectiveness of national and state MSME policies, improving business environment through public and private dialogue as well as cross-border banking in the ECOWAS region and other related topics were discussed.