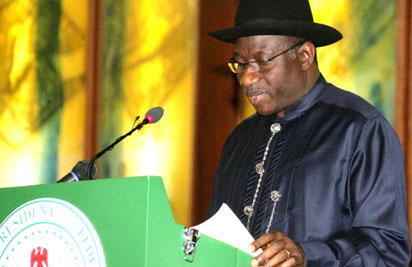 President Jonathan.
By Uduma Kalu with agency reports
LAGOS— President Goodluck Jonathan  has said that the federal government will dialogue with the violent  Islamic sect, Boko Haram if the members would identify themselves and state clearly their demands as a basis for talks, while acknowledging that military confrontation alone will not end their insurgency.
This is the third time the Nigerian authorities are asking the sect for a dialogue. The first time was in June when  Police  in Maiduguri called on an extremist Islamic sect  to declare a ceasefire and come to a dialogue.
Also, on Tuesday,  January 3, 2012, Security Adviser to the President, General Andrew Azazi said Nigerian security services were considering making contact with moderate members  of the Islamic sect Boko Haram via "back channels", even though explicit talks were officially ruled out.
The sect killed more than 500 people last year and more than 250 in the first weeks of 2012 in gun and bomb attacks in the country, Human Rights Watch said this week. Coordinated attacks in the northern city of Kano killed 186 people on Friday in its most deadly strike to date, prompting Jonathan to visit surviving victims.
Speaking  with Reuters in Abuja yesterday on Boko Haram, President Jonathan said, "If they clearly identify themselves now and say this is the reason we are resisting, this is the reason  we are confronting government or this is the reason we destroy some innocent people and their properties … then there will be a basis for dialogue.
"We will dialogue, let us know your problems and we will solve your problems but if they don't identify themselves, who will you dialogue with?"
He cautioned that the Boko Haram crisis would be much harder to resolve than the Delta conflict, which was largely defused in 2009 under an amnesty he helped broker. That was because the Islamist militants do not have a clear public figurehead or negotiable aims, he said.
"If anybody invited Osama bin Laden (to talks), he wouldn't have appeared … Boko Haram, if you invite them, they will not come. They operate without a face, they operate without a clear identity, so it is difficult to interface with such a group.
"That is the greatest difference between Boko Haram … and the Niger Delta issue," he said.
Boko Haram was formed in 2003 in Maiduguri. It launched an uprising against the government in 2009 that security forces crushed in days of fighting with the sect that killed around 800 people.
The sect's leader Mohammed Yusuf was captured and died in police custody during those battles, triggering vows of revenge from surviving members of the sect which they now seem to be honouring in increasingly lethal attacks on security forces and authority figures.
Azazi had also told  international media earlier this month that  Nigerian security services were considering making contact with moderate members of Boko Haram via "back channels".
Speaking a day after emergency meetings with President Goodluck Jonathan and top security officials in response to a spate of deadly Christmas Day bombings by the sect, National Security Adviser General Owoye Andrew Azazi told Reuters officials were looking at broadening efforts beyond pure security measures — including addressing northern economic grievances.
"Even if government has a policy saying that there's no negotiation, that you can't reach out to Boko Haram, intelligence must find a way," Azazi said in an interview.
"I don't think it's everybody (in Boko Haram) who believes in the level of violence … That's why you could have other channels for discussion … It's something we could pursue."
Azazi declined to comment on whether contact with moderate members of Boko Haram had already been made.
"From our perspective, you try back channels. And when you are trying back channels, that's not when the president will come and announce to the whole of Nigeria that 'I'm talking to mister A or mister B,'" he said.
Azazi's comments signal an apparent shift from treating Boko Haram purely as a security issue that needs to be tackled militarily. Jonathan has been criticised for ignoring political avenues that might heal the north-south rift partly underpinning the conflict.
Azazi ruled out explicit negotiations of the type that ended the conflict in the oil-rich Niger Delta last year, because the leadership of the radical sect was so secretive.
"For now, Boko Haram is an invisible enemy. You don't have an identifiable person you can talk to," he said. By contrast, in the Niger Delta conflict, "at any time the government wanted a meeting, he rang them and said we'll come and talk. But nobody has come out openly and said 'we're Boko Haram'."
In June last year, even though the Borno police boss did not mention Boko Haram by name, he confirmed to AFP that his call to Boko Haram was "a peace overture specifically aimed at members of Boko Haram sect.
"The doors for dialogue and constructive criticism with the (Borno) state government remain open," said the statement.