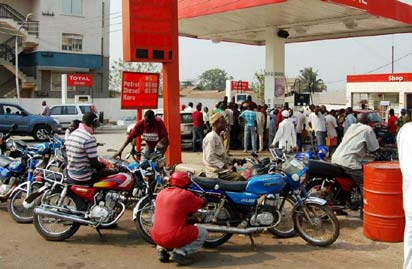 By Dele Sobowale
"Two worlds as alien to each other as two different planets."
Albert Camus, 1903-1960 in THE PLAGUE.
"There are only two families in the world, my old grandmother used to say, the haves and the have-nots".
Miguel de Cervantes, 1547-1616
(VANGUARD BOOK OF QUOTATIONS p 87).
Years ago, while still in the university reading economics, I came across a pamphlet warning economists to always go beyond abstractions when discussing the effect of economic policies. He pointed out that the 10 per cent annual GDP growth claimed by the Communist USSR was purchased at the cost of over two million deaths a year.
All too often, government officials are so wrapped up in the statistics, they forget that human beings are involved. So before getting into jargons let me use this first part to lay bare how fuel subsidy removal, from the first day, has started to grind Nigerian people into dust.
The "haves" in governments and power, decided for subsidy removal despite the overwhelming opposition of the "have-nots" outside power and the top echelons of governments. Now the have-nots face a challenge because they know that whereas corruption and waste in high places costs the nation far more than the N1.24 trillion allegedly spent on fuel subsidy last year, governments are unprepared to tackle corruption and to reduce waste.
Governments want to leave those two social and economic plagues untouched; instead governments have chosen to force the citizenry to support the corruption and waste that is characteristic of all governments in Nigeria. That explains why all the 36 governors supported the measure – even the "progressives" and especially Governor Adams Oshiomhole who rose to fame fighting fuel subsidy removal.
The President and the Edo State governor merely reinforced the idea advanced by Aleksandr Solzhentisyn, when he pointed out that "circumstances determine consciousness." The boy who went to school without shoes and the former labour activist have, now in various corridors of power, colluded to bring hardship on fellow citizens.
On another level, Nigerian citizens can be classified into two: those who buy their own fuel and those who don't. The Governor of Central Bank of Nigeria, at the diversionary Town Hall Meeting organised by the Newspapers Proprietors Association of Nigeria, NPAN, after arguing the official line, had to admit that he could not remember when last he bought fuel with his own money. He is not alone; all the government officials and top corporate executives arguing in support of subsidy removal don't buy their own fuel.
They will obtain fuel; even if the price goes up to N1,000. There is therefore an ethical issue here. The haves are prescribing as good medicine something they never have to swallow. Here again, we can see how their circumstances have determined their positions. Would Malam Lamido Sanusi have supported subsidy removal if he was a bank teller now certain to pay more for commuting to work everyday?
It is doubtful. There lies another aspect of the challenge faced by the have-nots. Right now, the haves (who don't buy fuel) and the have-nots (who buy), inhabit two different planets.
What then is the nature of the challenge? Let us start with some raw financial estimates. For long, it has been reported that Nigeria consumes 30 million litres of petrol per day. That means incremental expenditure of N2.28 billion per day or N832 billion per annum. That also translates to an additional levy of N5,600 per capita i.e every man, woman, child, employed or unemployed.
Interestingly, the removal of the "subsidy" had already exposed another lie by government. If at N141 per litre and 30 million litres a day the government will collect additional N832 billion only, how then did the subsidy in 2011 reach N1.24 trillion? Who received the N424 billion not accounted for by subsidy? The fact that a discrepancy has arisen between the figure presented by government and what will be realised if fuel retails for N141 is one reason why the honesty of government officials should be called into question once again.
While each person will have to work out the increase in the cost of living for himself or herself, let me provide a template for determining the implications. It will inevitably be very painful. Inevitably, the pains associated with subsidy removal have started early, as soon as the first day, as a matter of fact.
Mr Akintade, real name, like many Nigerians went to his home town in Osun State for the Yuletide festivities. It was a trip he had made several times before and he required 60 litres or N3,900 for each leg of the trip. On New Year's day, he handed out cash gifts to relatives and friends and went to bed with N5,000 in his pocket; which on January 1, 2012, was sufficient money to get him back to Lagos.
He woke up on January 2, 2012 and started back for Lagos. First port of call was a filling station where he discovered to his chagrin that he would need N8,460 to make the purchase. According to Akintade, he still cannot decide which was more painful – the feeling of betrayal on account of the price increase when he, like others, assumed April will be the date; or the humiliation of returning to his relatives, not only to ask for money back but to borrow from them.
Travellers, on the same day, had similar experience. Most arrived the motor parks with less money than they required to board the vehicles taking them to various destinations. Most returned home as the new fares went up by 100 per cent to 150 per cent. If curses and maledictions could kill, governments would have been wiped out by now.
On January 3, 2012, most of Lagos Island was like a ghost town and not on account of civil unrest. Transport fares kept most of them away. But, some had to resume work, with or without fare increase. Ngozi works as a shop assistant on Lagos Island – earning just enough to pay her transport fare, eat two meals a day (lunch and supper) and occasionally buy "tokunbo" dresses and shoes.
On the day in question, she did not go to lunch. And she was not alone. Other shop assistants who reported for work were in the same dilemma – eat lunch and trek 15 kilometres home or take a bus and miss lunch. For them the choice was easy – give up lunch. Has one meal a day returned with SURE?
Parents, whose kids ride buses everyday, have an additional expense to worry about as school resumes today. One family with three school age kids must look for N6000 per month more just for transport when school resumes today – just for the kids. The father will need N4500 more and the mother, a teacher, N7,200 more. The additional expenditure had swallowed up the mother's pay as a teacher in a private nursery school.
This is akin to the irresistible force meeting the unmovable object – something must give; even if it the people's sanity.
Even pure water had gone up – from N5 per sachet to N10. Henceforth, you will pay double just to quench your thirst. Will the poor die of thirst first or water-borne diseases?
With our national and traditional habit of irony, the fuel subsidy removal might have created a situation in which many workers, living in the outlying suburbs of Lagos State or Ogun State, but working in Lagos might spend more on transport than they earn in salary. Unless their employers quickly increase their salaries, they will have no option but to sit at home. Look through the SURE document, and you will find no mention of the fact that this policy might force people out of work…