BY ISHOLA BALOGUN
These are troubled times as the number of placards displaying people's anger show a people highly incensed. This has been so since the announcement of the removal of the fuel subsidy on January 1 which pegged the price of Petrol at N141 from N65 per litre.
Nigerians have since trooped out to protest the removal. They have been chanting anti-government slogans, brandishing placards in a largely peaceful protest against the policy.
From the Nigeria Labour Congress (NLC) office, Tejuosho area, Yaba, Lagos where the protest planned by leaders of the Joint Action Front, JAF, and some labour leaders began, Tuesday, the number of demonstrators grew as they moved. They moved from Yaba through Ikorodu road to Ojota.
The situation is not different in most cities, including Abuja with protesters vowing to continue with the agitation in order to secure a reversal of the policy.
However, the protest might take a new dimension next week as the the two umbrella labour organisations in the country – the Nigeria Labour Congress NLC and the Trade Union Congress, TUC, are currently mobilising for a nationwide strike starting from Monday January 9, in order to force the Federal Government to rescind its decision to jerk up the cost of the Premium Motor Spirit or petrol which hitherto cost N65 per litre.
Amidst the biting effects of the no – subsidy regime, drivers, artisans, traders, labour leaders and others spoke with Saturday Vanguard on the issue and the impending showdown with government and its implication on the economy.
Prices of goods soar—Abiola Shodehinde, Businessman
Abiola Shodehinde, a Lagos based businessman who vowed to join the protest anytime it is called, lamented the increase in prices of goods and services after government announced the policy, noting that the full effect will be felt in all areas of the economy in next few days.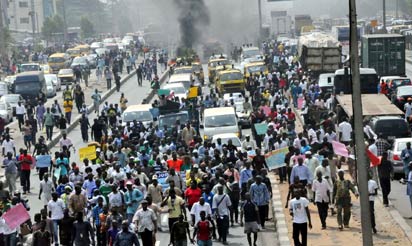 "A bag of sachet water that was sold at N80-N100 now cost N200. This is just a tip of the iceberg. This is not a democracy. The government claims it was going to consult widely before implementing this policy but it turned around to implement it sooner than expected.
It is wicked. This is a callous gift for Nigerians who voted for this government. We want to be like other advanced countries of the world, yet our public officers are not accountable to us. Tell me, how much does a Senator earn?
How much does a Minister earn, with a retinue of personal staff? Yet we say Nigerians should sacrifice. Prices of goods and services have been soaring. Where are the means of getting them now? But the policy makers can afford them comfortably. It is wicked."
The poor can't fuel generators—Adisa, bus driver
Adisa, a commercial bus driver in Lagos said the cost implication is wholesome and will not be limited to the trasport sector alone but will affect all and sundry.
"It is sad to know that one or two people lost their lives in this struggle. I'm even more saddened that it did not continue the following day. I thought it would continue until government bows to pressure. As a driver, I know I am going to pass the burden to the passengers but I also know that somebody will shift it back to me. So, it means everyone will be affected.
Look at me. I just bought N4000 worth of petrol and it is nowhere near half of my tank; whereas I used to fill my tank with the same amount before. Now to fill my tank, I need about N10,000. Again, I cannot use generator at home again. In my area that used to be noisy as a result of electric generating sets, it is calm now, we all sleep in darkness. We can't afford it."
There will be total shut down—Abubakar Sulaiman, ex- PENGASSAN boss
Former chairman of Lagos Chapter of Petroleum and Natural Gas Senior Staff Association of Nigeria (PENGASSAN), Comrade Abubakar Sulaiman said labour has given the federal government up till Monday to reverse its decision or face the mother of all strikes in the country. "The Nigeria Labour Coungress NLC and Trade Union Congress, TUC have demanded for a reversal of the policy and by Monday if this is not done, there will be total shut down of the country."
He stated that the groups are not totally averse to removal of subsidy but certain steps must first be taken: refineries should work and there should be enabling economic environment.
"From the Labour perspective, it is not that we are against deregulation. We believe that there must be some infrastructure in place. Right now, instead of government to address corruption, they only pass the buck to the masses. Instead of fighting those who are profiting from the subsidy, they are trying to inflict more pains on the masses. Based on these facts, we are opposed to the policy.
"If you want to deregulate, there are certain things you must put in place; our refineries must be working; again, products that are supposed to be discharged within 24 hours take about a week before they are discharged. So, there are attendant cost implications and that is great because of government inefficiency. It also means that with this deregulation, we cannot do anything positive."
The latest addition to the argument from the government angle is that petrol in the country is the cheapest, using the dollar indices and when compared to other world prices. But Comrade Suleiman was quick to respond as he said: "That is not right, we don't know where they got their figures from, but I will say we don't even consume up to 35million litres of PMS per day as they have quoted. Again, if you go into the records of OPEC, Nigeria is the highest in the prices of Petroleum Products. That argument cannot work."
With the experiment on the diesel deregulation, little or nothing has been done in terms of utilisation of the proceeds over a year ago. Comrade Suleiman stressed that government cannot be trusted on the point that procceds of this arrangment will be ploughed back to better the lots of Nigerians. "It is unfortunate that the government is not truthful about this deregulation and its process.
If they had come up openly to tell us the truth, probably Nigerians would have moved on for the sake of developing the country. Diesel has been deregulated but where is the proceed today? What happened? The deregulation of other products will also go the same way," he said.