By Dapo Akinrefon
The country appears to still have a long way to go on the issue of power generation. What is happening?
We have made a lot of progress in many of the plants. In 2012, surely, a number of them will be commissioned and then, the power situation will go up. And as we work and commission the other ones between 2012 and 2013, the power situation in the country would have improved appreciable.  The truth is that with power, unless you tie the last nut, you cannot generate and supply power.
It is not an industry that you go half measure and power is generated. But we are building 10 new power plants in the country and some of them are private power plants, others belong to the federal and state governments.  We will target cities like Lagos, Kano and Port Harcourt and stabilise power there and then, begin to feed the rest of the nation as we make progress.
Beyond power generation, we are also desegregating the power sector for the deregulation process. You will remember that the power sector was one of the second commanding heights in the economy in which no private person could participate. Now, power, aviation, telecom are all areas that government restricted to itself.
In power, the deregulation process in power has started and we have set up the regulatory commission; we have also set up an agency that will buy power from the private companies and feed them to the national grid.
Nigerians are not swayed by all these because they see these as pure government propaganda?
What we want to appeal to Nigerians is to follow up and do so diligently. I will to tell Nigerians that the power sector programme is progressing and, definitely, we will continue to stabilise. We have virtually completed the design of Mambilla electric power plant, which has been in the works since the 1960s, by entering into agreement with the Chinese to build it and we hope to do so before the end of this tenure.
It will generate 2,600 mega watts of electricity to the country; we are also investing to generate power from 17 of the existing dams in the country, which we built but were never utilised. What we need to do is simply to insert turbines and generate power for the various places where these dams are located and then retrench power that goes from there to the national grid to service the rest of the country.
Railways and inner waterways transportation
The other areas on infrastructure are railways and inner waterways transportation. We have so rehabilitated the rail from Lagos up to Jebba and also from Minna to Kano. The last stretch on that rail line that we are doing is between Jebba and Minna. Train services have resumed between Lagos up to Ilorin and they have also resumed between Minna, Kaduna and Kano. We have also noticed gradual re-introduction of railroad services between Ido and Sango Otta right up to the way to Abeokuta.
Now, we have imported 25 new trains which have come into the country. We are going to declare them as the rehabilitation progresses. Last three weeks, we awarded a contract to renew the signal lines along that stretch of railway infrastructure in the country. Our hope is that by 2013, the entire railway system, as it is now, will come back to life.
Niger Bridge
In the dredging of the Niger, we have, so far, concluded the capital dredging up to Baro in Niger State from the sea. We are doing maintenance dredging now to keep the waterways free. Small badges are already using the Niger to convey goods up to Lokoja.
The inner water port in Onitsha has been built, it is ready, others are progressing at pace. We will dredge the lower Benue from Lokoja up to Yola so that we can use the inner water ways to transport goods and this will be a big plus for commerce and for movement of goods and people across the country.
So, mass transit, using the inner waterways and rails, is our focus. In addition to the airport, we are looking to deliver on the major roads in the country. So, infrastructure remains our focus.
Education
The other area we are concentrating on is education. We're printing books to be given out free. That is in mathematics, English, social studies, intro-tech and integrated science. All these books we have printed for every primary school child in every public school in Nigeria across the 36 states and the FCT.
If there are children in any state that do not have text books in Nigeria by January 2012, something must be wrong in that state and the press should monitor. We are providing resources for training teachers in partnership with state governments. At the level of secondary education, we are targeting online provision for our secondary schools.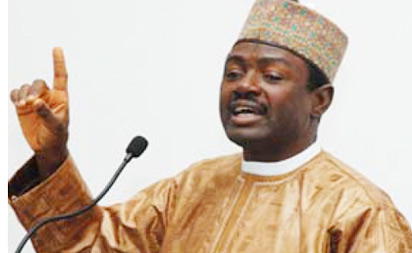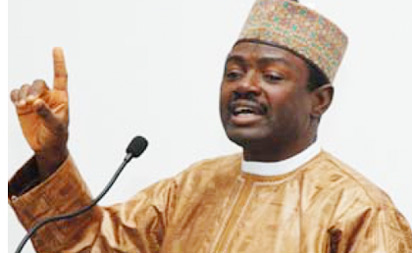 We are targeting the training of new scholars and the Education Trust Fund, so far, has sponsored over five thousand graduates in Nigeria and abroad to renew the ageing scholars in the universities.
Agriculture
Agriculture is also a prime target. Before now, we used to fund agriculture by supplying fertilizer to people and say we have done agriculture. The new Minister of Agriculture, Dr Adewumi, is an expert. What we have done is to segregate agriculture into the various value chains. The CBN, together with the ministry, has set up N450 billion funds to make sure that we deliver on agriculture. Our target is that we will grow agriculture as a business. We are targeting self-sufficiency in rice.
Presently, we are using some of the dams to grow about 450 metric tonnes of rice annually. In the few years that we have in the budget, we raised tariff on rice by 100 per cent. We are now supporting rice mills all over the country to make sure that we have proper rice processing systems in place.
Our local rice is far better than the rice from Thailand and Vietnam which is parboiled and has lost much of its value. So, if you come to Aso Rock, the president does not eat any other rice other than Ofada rice. We are introducing it and making sure that Nigerians patronize what is inside.
If all of us eat grown in Nigeria foods, our agriculture will grow annually, but when we buy rice from Thailand, we are promoting Thai farmers against our own farmers. We have an internal capacity which we can cash-in on and grow more rice for the country. So, agriculture is receiving a new boost and we are doing a gradual replacement. By the time we float this programme in the field, about three million new jobs will come from agriculture.
On the economy as a whole, we are renewing the method of management it because we discovered that, over the years, government's insistence on controlling certain sectors has not worked. Because of that, we are introducing a whole phased deregulation of all the major sectors of the economy.
Deregulation of the economy
We have seen it in power, which is what we are doing and private power plants are being built. We also introduced deregulation in the media.
And so, we want to take deregulation to other sectors. We have done so in telecoms, banking and in the aviation sectors. A lot of progress is being made by our deregulatory efforts not only in Nigeria but also across West Africa and in the continent. So, we have tested this formular and it has worked.
Oil subsidy removal
Since 1958, when our nation came into oil fortunes, we have not added value to it. Europe and Asia come to buy from us, process and sell back to the rest of the world at five times its value. We should be the one supplying African countries, but we are not doing so. There are several reasons it is so. But, mainly, it is because government decided to control the oil sector and there was no vision to make sure that the result will be one that would add value.
So, Nigeria is contented simply selling crude oil after 53 years of oil discovery. Niger, Chad, Ghana and Benin Republic have suddenly discovered oil and what is going on now is that companies that have received licenses from us to set up refineries in the last ten years and waiting upon us to take the measure to free the market, are now moving to Niger and these other countries to set up refineries, targeting the Nigerian market as the export market.
How will we stand the shame that, after 53 years, we will be reduced to importing finished products from Benin Republic, Chad and Niger, which is exactly what is going to happen if we fail to take the measure? ?
FG's plan for oil sector
What we are proposing to do is to start with the existing refineries. The president has handed them over to their original manufacturers. Those who built the companies are now those who have entered into long term to run and revamp those refineries. We have an 18 to 24 months programme to return those refineries to their original capacity and it is going to be handled by those who built them and not the middle men who are turning them sideways and never around.
The second programme is that we are preparing to build three new refineries. These refineries are to be located in Lagos, Kogi and Bayelsa, and process 400,000 barrels of crude into finished products every day. With that, we are expecting that, in the next two to three years, Nigeria will export finished products to West Africa and the rest of the world.
Deregulation will yield income
Then, there are 20 licenses for oil majors and other people who want to build refineries for export, but they could not because we kept insisting on controlling the price in Nigeria. This is the crisis that we are facing in this sector. And so we have to open up. Opening up will generate jobs, will add value and then, we will earn more money from refining activities as well as from the sale of crude.
Then, when we make more money, we can now have more money to subsidize Nigerians. In every modern nation, it is value added through taxes in the economy that is working. So, we are deregulating the downstream sector for these reasons. What will happen to the so-called subsidy is that government is transferring the so-called subsidy into a common basket.
There is no economy without subsidy in one place or the other, but it is the most strategic industry in Nigeria, we need to free it and groom it. We have created a common vehicle where the subsidy will be warehoused and administered directly on the people by a special board of trustees that will be made of prominent and credible Nigerians and representatives of the media, civil society organizations and labour. They will run this subsidy directly on projects and report to Nigerians, so that people can know that subsidy has not been withdrawn and thrown into the  ocean, but that it is being spent on the people of Nigeria.
Growing insecurity and activities of Boko Haram
We are also taking a look at security as an issue in the country. The Islamic sect, the Boko Haram, has become a terrible development on our shores.
We are targeting the insecurity in several ways. First, we are investing a lot more in intelligence, a lot more in technology to monitor the activities of criminals. In addition, the president has set up an ECOWAS framework to deal with cross border crimes in the region. Terror is not an easy crime to fight, so we are sharing information and working hard to fight crime. People want to divide the country based on Boko Haram, it is not about Islam versus Christianity. Islam does not permit suicide or killing or violence.
Presently, the Federal Government is rationalizing all the parastatals to bring down the cost of governance. We are looking into the area of governance and bringing down cost in a systematic way.
The impression out there is that the proceeds of deregulation would go into the Federation Account and would be disbursed by appropriation. Therefore, a substantial part of it, if not all, will be used to finance our bloated bureaucracy and overhead and recurrent projects. Now, who do we believe, the governors who want more money to run the states or the Federal Government because, whatever money we make if the subsidy scales through, will go to the National Assembly for appropriation?
Under the constitution, money earned should go to the Federation Account and the proceeds that will come from the deregulation will also go into the Federation Account. It will be shared between the Federal Government and other tiers of government. This one is the proceeds that will come to the Federal Government. In the last economic council, the president discussed with governors to set up their own vehicles for the administration of the money that will go to the states and the local governments.
We cannot take money that belongs to the states, it is unconstitutional, and this will be the case.
But the federal portion of it, we are delivering on this programme. States have also promised to develop their special vehicles to administer and ensure that the money reaches the people in terms of the target. From what we are proposing to do at the federal level, I am sure this is going to impact positively on the economy in addition to freeing the sector from further progress and development. So, this could be done and we are saying, hold us to account to it and we will certainly do it by God's grace.
The 2012 budget and short term projects
We do not deny that there is poverty in the land. Why do we have poverty? It is because we have run the economy badly. You will never defeat poverty until you get the correct economic policies that grow it. Presently, we do not have the economy that can meet up with the demands of people leaving school.
Take the budget, for example, we have 26 per cent capital budget this, next year we are going to have 28 per cent. Presently, Nigeria has hit the 5 trillion mark in domestic debt and we are using more than N500 billion to service these debts. Even with the subsidy, we are still going to borrow because of the size of the deficit.
If do not take these measures, in the next two to three years, people will demonstrate on the streets because we will not be in the position to stop the snowballing debt. The economy will stagnate and then, along the way, something must give. The problem with democracy sometimes is that because of opposition politics, everybody wants to play the easy option which is what the United States and Europe are suffering today. But government must tell people the truth; even if we do it and we do not win any election again, let the correct decision be taken to save the Nigerian economy. That is what the president is talking about; we cannot keep on piling new debts for our children.
It is important we know that we are on danger list. So, if we say we will not take these decisions, then, what will happen is what is happening in Europe now. We need to stop somewhere and look at it. No government wants to punish its people, you cannot be elected and want to see people unhappy, but we have to look at these hard facts.
If we don't look at these hard facts and grow the economy, and take these decisions, we will be postponing the evil day. We need to create ways of running the economy, but if we still wait on old methods, I can assure you that it will be more difficult for us ahead.