By SOLA OGUNDIPE & CHIOMA OBINNA
SHOCK , anxiety and despair. These are just a few of the countless expressions from Nigerians in the aftermath of the removal of the subsidy on petroleum products. People are surprised one minute, worried the next and angry thereafter. The bottom line is clear — there is trouble in the land.
The response from the nation's health sector as a whole has been no different. Health professionals are bewildered. Doctors, nurses, pharmacists and laboratory scientists are unhappy and have been expressing their views over the development.
This is an ill wind. How can this be?  Who or what made it be? Why should it be? When will it no longer be? More questions, fewer answers. They speak in chorus with one voice that says loudly and clearly that this is one decision that cannot stand, must not stand and will not stand. In chorus they stress that whatever needs to be done to reverse the unpopular decision should be done without delay, other wise there will be hell to pay.
They warn of dire consequences that could further worsen the nation's health indices. According to them, the emergence of an epidemic of life -threatening disorders should not be ruled out. The outlook is certainly bleak as it portends peril.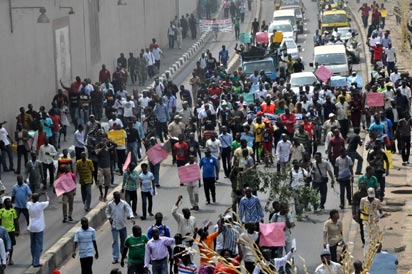 Speaking in separate telephone interviews, they remarked that the inflationary multiplier effects in hike of fuel prices would definitely affect cost of running hospitals, and in turn increase cost of treatments, drugs and general health care. And it would definitely worsen the already precarious scenario in the nation's healthcare delivery system.
Their argument is that, on the long run, clients and patients will be worse of procuring health, in a system without safety valves for the informal sector and majority of the formal sector workforce.
'We are against the subsidy removal'
National President of the Nigeria Medical Association, NMA, Dr. Omede Idris
"We are against the subsidy removal because of its multiplier effect. It is going to affect all parts of the economy. If you narrow it down to health care, it will affect those providing health services. Any hospital transporting drugs or equipment will definitely be affected and these hospitals will in turn spread the bills. What this translates to is that the health indices will become worse, people will
no longer go to see the consultants because of high bills. Human capacity will drop, illness will be on the increase, and poverty will set in and fuel the rise in disease. There should be practical palliatives. The NMA rejects the  increase in the pump price of fuel in the midst of increasing unemployment, red-alert insecurity, exponential poverty, increasing ill- health and diseases, collapsed educational  systems, escalating anger and frustration in the land. We in the NMA will join the millions of Nigerians to resist this evil.
Where democracy thrives, power belongs to the people with the elected leaders listening to the yearning of the people.
Govt should have provided a lot of cushions
Chairman, Pharmaceutical Manufacturing Group of the Manufacturers' Association of Nigeria, PMG-MAN, Pharm. Bunmi Olaopa
"Government should have provided a lot of cushions before coming up with such decision as it would affect the cost of drugs and inflict more hardship on Nigerians. How can we be talking about fuel subsidy removal when our rails are in shambles and people depend on petrol for their movement? If people depend on generators for their factories to work, and on petrol for electricity in their homes and offices. Government should have taken all these in consideration and not wake up to say it is removing the subsidy. This action is capable of causing industrial disharmony. People will start demanding for an increase in salary.
'Govt is ill advised'
Pharm Nnamdi Obi
President, Association of Pharmaceutical Importers of Nigeria, APIN, Pharm. Nnamdi Obi
"The development is ill advised. It is going to mess up things, prices of drugs will go up and the mess in the industry will get worse. The spiral effect is that prices will hit the roof. The government that is yet to agree on the N18,000 minimum wage, is adding more hardship for the people. I'm so shocked
to the marrow that it is an arm of government, that is, the PPPRA that made the announcement. President Jonathan himself should have been bold enough to talk to Nigerians about what they intend to do. This is a country where we do things without considering the consequences.
For me, the way forward is for the President to reconsider his position, because it is not cast in stone. The decision must be withdrawn.
'Cost of everything will go up'
Pharm Azubike Okwor
President, Pharmaceutical Society of Nigeria, PSN, Pharm Azubike Okwor
"There are many angles to look at it. Cost of everything will just go up. They remove subsidy from diesel and kerosene a long time ago, what positive impact has it had?  People still have to generate their own energy, drill their own boreholes and supply their own water. I think this policy is not properly accomplished. We have insecurity in place and they are supposed to begin to resolve that, not bring more disorder in the system. It is an unpredictable response and we don't know what will happen in the industry. But it is clear we are just creating more confusion in this system. Certainly drug charges will go up. In the interval, how do we begin to help the poor man? They should have created some other conditions that will help. For instance, if I don't want to buy fuel what do I do now? Are there services? I think they should just go back and sit down and draw up how to rule a country. The disharmony in the health sector is still there.
"Prices of consumer products have hit already hit the roof globally, so if we take into consideration what has happened here, it is sending the wrong signals. I do not know if we are operating military government or democracy, because if we are operating democracy, the government should have consulted the representatives of the masses. The removal is not mentioned in the national budget, and even the spokesman for the Senate said they are still consulting.
This is not the best of times to remove the subsidy. If this is the President's idea of a transformation, that's a wrong a way to transform if that's the transformation??????? The only thing I have in mind was when his campaign was transformation.