By Ayo Onikoyi
Maynard Eziashi is  not a household  name in the Nigerian movie industry, Nollywood, but when he takes a walk through the streets of Hollywood in Los Angeles, people are sure to line the sidewalks, clapping and cheering, reaching out for autographs. He is a British/Nigerian actor who has been in the international movie business since 1986. In 1991, he won the Silver Bear for Best Actor at the 41st Berlin International Film Festival for his starring role in "Mister Johnson" (1990) alongside the 'James Bond' character, Pierce Brosnan.
He had also starred in notable films like "Twenty One" (1991), "Bopha" (1993), "Ace Ventura: when nature calls" (1995), "Good Man in Africa" and "The Contract" . He has starred alongside popular Hollywood stars like Sean Connery, Morgan Freeman, Danny Glover and many others.
Right now the Nigerian international actor is in Calabar, Cross River state, taking part in a movie involving a multi-racial crew and cast. Apart from Maynard, two other Nigerian international actors, Wale Ojo and Anthony Ofoegbu are involved in the movie tiled "Streets of Calabar". ST caught the actor on phone and a chat ensued. Excerpts;
What are you doing in Calabar?
I am working. It is a multi-racial movie. There are two White actresses in the movie: Lisa Kill and Viquie Christie. The movie is basically about apprehending a Nigerian mob boss. The police, in trying to apprehend this notorious character, they used a young boy, Chuks (Wale Ojo), who has been deported from England.  What happened is Chuks found he working for the don after his bid to go straight failed because he could not find job.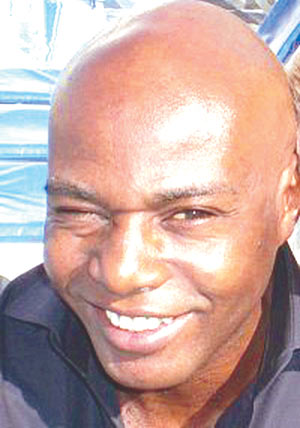 What role are you playing in the movie?
I am playing Chief Detective Okoro.
Is it the lead role?
No. It is a supporting role. Anthony Ofoegbu is playing the lead role.
Have you done a movie in Nigeria before?
One of my most popular films "Mister Johnson" was shot in Jos and it was also a mixed racial cast and crew.
You have worked with a number of Hollywood top stars. What was the experience like?
It was pleasurable working with them. Some of them have become good friends and I am still in contact with them till this day
Would you say Nollywood is doing well when you compare it with Hollywood?
I will say the Nigerian movie industry is doing very well. When we compare the industries we have to take out the advantage of time Hollywood has over Nollywood. If we compare the first 10-20 years of Hollywood with that of Nollywood you would realize Nollywood is doing fabulously well.
What has been your most blissful experience as an actor?
This job am doing now is a fantastic experience for me. Being in Calabar alone has been a pleasurable experience. I have not been in the city before. Everyday am discovering something new. Now, we are about going up to Obudu Ranch.
How much did it cost to get you down here to work in the movie?
I won't reveal my fee. For me, Nollywood is very important to me. Sometimes, in order to assist and help in its growth and development it is necessary for me to lower my fee. My taking part in this movie goes beyond making movie. Me and some others are here to help in lifting the industry.
Are there Nigerian stars outside of this cast that you would like to work with?
I would love to work with Genevieve. That would be fantastic. I was at the premiere of one of her latest films "Mirror Boy" and that was fantastic.
Who is Maynard Eziashi off and on camera?
Maynard is a very relaxed, very friendly individual but the actor is a person very different depending on the role I am playing. For instance, in this movie, I am a Chief Detective who is supposed to be tough. In the character, I don't smile, I don't laugh and I don't joke with anyone. In fact that is very different from Maynard in real life.
After this movie are you working again soon in Nigeria?
In fact I have two movies am producing soon after this. One is "Incomparable Worlds" and the other is "The Seven Crossroads". The "Incomparable Roots" is set in the 18th century while the "The Seven Cross Roads" is set in Lagos of the 80s. It is a movie to do with 7 criminals who are about to be hanged and the leader of that gang is a lady. Unbeknown to all, the priest that is supposed to do them their last rite knows the lady and we go back in time to tell their story.
What does it take to be a good actor?
It takes understanding. In order to get inside a character you have to be able to understand that character: what it is that drives that character, what motivates the character and if you can't understand this you can't get into the character. For instance, am playing a tough detective, I must understand what drives him, why he is so mean and what has happened in his life to make him the way he is.
It is what we call natural bonding with the human condition. Also there is technique which people go to school to acquire. Where technique is good is when you go out of your character you can use it to get back into it. But to me the real acting is about having affinity with the human conditions.
So going to school may not be all that necessary?
Of course, it is not necessary. Most people who go to acting school, especially in the west, do so just to make contacts and may be just for technical skills.