By Victor Gotevbe
Anyone with a camera is most likely going to  take pictures with it and the quality of the images it generates.However, photography is not as easy as it seems, you can undoubtedly make some good fortune out of it if only you  possess some skills and the necessary work tool.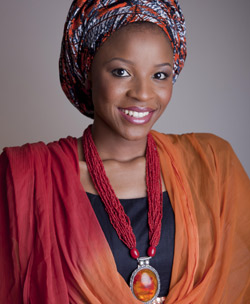 This is true of Aisha, an award winning photographer and an emerging filmmaker with a strong background in Media and Communication. Indeed, what a man can do as it is said, a woman can do better. Aisha in her career is living this out as the current president of the Photowagon, Nigeria, a group that supports photography and emerging photographers. She shares her story with Saturday Youthful Vibes.
Growing up It was fun for me.
I was born in Zaria, Kaduna State in April, 1980. I am from Kebbi State but I was fortunate to live and travel all over Nigeria as a child. As an undergraduate, I ended up in Zaria again to study Mass Communication in 1997. For my post graduate, I studied Media and Communication at the Pan African University in Lagos and I also have a Certificate in Digital Filmmaking from the New York Film Academy. I am married with children and my husband is from Niger State.
Journey into photography
I received a film camera as a birthday present from my father when I was  young. As the years passed I found myself wanting to capture more and more stories with my camera. After university, I worked 9am  to 5pm for close to Eight  years and I decided to drop it all to pursue photography because it was something I always did on the side. I found that I needed more and more time for photography so I took the bold step.
Fortunately for me, photography is a major part of what I studied. I had many courses on photojournalism while I studied for my degree in Mass Communication. I find that it is  fulfilling to know that the years I spent in school continue to help me.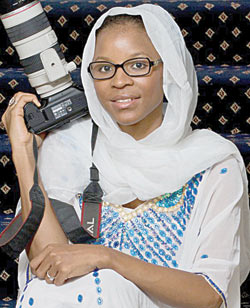 Social responsibility
Photography is the best medium to grab the attention of people and society. I use it for different causes; from support for cancer to sickle cell, poverty alleviation and entrepreneurship development. As it is said, a photograph says more than a thousand words, and I realised that I had a voice that would be listened to through photography.
Peeping into the future
In the next few years, I see myself creating works of art that would last a lifetime while supporting the craft of photography. We need to become as professional as possible when it comes to photography and I intend to help Nigerians understand how important a picture is to society. I see more books, exhibitions and a photography centre ahead.
Overcoming the insecurity and current economic crisis
Knowledge is power, I like to say. Nigerians need to learn to accommodate each other as human beings first, and also to make an effort to find out the truth in all situations. I've noticed that we tend to believe everything we read or hear from so-called leaders in either  our  communities or  the society as a whole.
We see people from a religious or tribal point of view before anything else. It is always an 'US' against 'THEM' stance we take first hand and yet we are all Nigerians. If we try to understand ourselves better, this country would be better for it.
The economic crisis we are in is  terrible but even with that I see opportunities everywhere. Nigerians are very resourceful people, the more we keep ourselves occupied, the less time we would have for the negative.
Young Nigerians making the difference
EMMANUEL WILLIAMS ADOMEH. (LAGOS STATE)
At a very tender age,precisely in 1997, out of a sense of personal commitment to selfless service to humanity Emnanuel decided to join the Nigerian Red Cross (NRC) Society. He started in his home town, Badagry, as part of the first aid team during football matches.
Thereafter, he participated in other types of programmes, such as youth camps, volunteering at NRC Babies Home. He joined in various Disaster operations and gradually became involved in more global tasks for the organisation. Those
years turned out to be a time of fundamental schooling in life, where he learned about going above and beyond, and the responsibility that volunteerism implies.
In 2003,  Emmanuel  was appointed Tracing volunteer of the National Head quarters of the NRC Society. With the increasing responsibilities, he did not relent all the while in strengthening and promoting volunteerism which has been the driving force of his work.
In 2010,  he was elected Secretary of Nigerian Red Cross Society, Lagos State Branch, Apapa Division. T
his position has facilitated  his efforts in furthering and support the development of young stars and other volunteer programmes. Emmanuel Adomeh is convinced that "volunteers are a tremendous asset to our organization, to the extent that they promote and implement the values of solidarity and tolerance".
EMMANUEL ANDE IVORGBA (JOS, PLATEAU STATE)
Emmanuel is a young Nigerian who has made several contributions to human development, especially in the fields of peace education, Interfaith Dialogue and Youth Empowerment.
Having studied Metaphysics and Comparative Religion at the University of Sedona, and obtained a Ph.D, Emmanuel has combined his wealth of knowledge and experience and established New Era Educational and Charitable Support Foundation, a Jos-Nigeria based nonprofit organisation whose mission is to build, support and empower teams of youth with capacities to emerge from a life on the streets, drugs and dysfunctional families, to becoming leaders capable of helping themselves and their communities.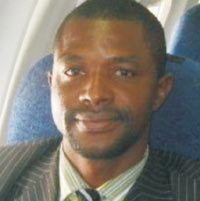 Emmanuel is now leading a movement that connects youth, educators and communities and empowers them to transform themselves from recipients of information and resources into valuable, contributing members of their communities. His Organization helps young people discover and develop their inherent gifts, talents and abilities and support their deve
lopment as ethically responsible, self-disciplined and creative social citizens capable of participation in a positive and sustainable society.
Emmanuel also serves as Africa Program Director for Project Happiness, a 501(c)3 International organization that specializes in emotional resilience-building programs that are used by people of any age and endorsed by public schools, private institutions and Universities around the world.
He is also the Global Study Circle Coordinator of the US-based The Dalai Lama Foundation, an international Organization promoting global peace and ethics. He is also the West Africa Regional Coordinator for the United Religions Initiative (URI), an internationally recognized interfaith network.
Emmanuel is also the Proprietor of Creative Minds International Academy; a Jos-Nigeria based co-educational institution providing values-based education, creative self-expression and positive character development, as well as Founder/Director of the International Center for African Philosophy and Metaphysics (ICAPM). Emmanuel has written and published several books. In Jos where he resides, he presents monthly "Projecting the Real You" Workshops and counseling sessions tailored to help young people achieve their dreams and purpose.
Subscribe for latest Videos