By Victor Ahiuma-Young
LESS than 48 hours to the planned strike by organized labour to force the Federal Government revert the pump price of Petrol to the old price of N65 per litre, Saturday Vanguard can now report details of how leaders of Nigeria Labour Congress, NLC, the Trade Union Congress of Nigeria, TUC, and their allies, plan to shut down Nigeria.
Saturday Vanguard investigations revealed that as at yesterday, leaders of industrial unions and associations in the critical sectors of the economy had given directives to members across the country to comply fully with the total strike order by NLC and TUC.
From power, Petroleum, Aviation, Maritime to Financial sectors among others, all are set to be grounded by workers from Monday unless government reverts to the old price of petrol.
To ensure full compliance to the strike, labour has set up strike coordinating groups to work with state councils, industrial unions and associations across the states and zones.
In Lagos for example, the strike committee is headed by one of the Deputy Presidents of NLC and General Secretary of the National Union of Electricity Employees, NUEE, Comrade Joe Ajaero. While other members of the National Administrative Council, NAC of NLC, including the President of NLC, Comrade Abdulwaheed Omar, will coordinate from Abuja, the Central Working Committee, CWC, members and National Executive Council, NEC, members will be coordinating from their zones and states.
Electricity supply to be shut down
As part of the plans, the two unions in the power sector directed workers of Power Holding Company of Nigeria, PHCN, to immediately commence a gradual winding down of all power installations in the country ahead of the national indefinite strike.
NUBIFIE asks workers to shut banks, Insurance
National Union of Banks, Insurance and Financial Institutions Employees, NUBIFIE, yesterday directed members to stay off duties and shut down all banking activities from Monday to protest the hike pump price of petrol.
NULGE asks members to comply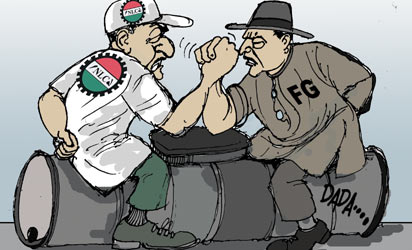 Similarly, National President of National Union of Local Government Employees, NULGE, Comrade Ibrahim Khalil has directed all members of the union to join the nation-wide strike beginning next Monday.
Protest must be peaceful-Oshiomhole
GOVERNOR Adams Oshiomhole of Edo state, yesterday, reacted to the protest that trailed the hike in pump price of Petrol in Edo state and other parts of the country, saying that it was the right of the people to protest any government policy, but declared that it must be peaceful.
Oshiomhole who acknowledged that the nation was facing serious challenges which according to him would strengthen the nation's democracy at the end of the day, frowned at the rumour that Northerners have been threatened to leave the state.
NECA urges FG to protect strike breakers
Nigeria Employers Consultative Association, NECA, has called on the Federal Government and the security agencies to ensure the safety of Nigerians who choose to exercise their freedom of movement and not participate in the strike called by organized labour from Monday.
Deregulation is necessary for Nigeria—Jonathan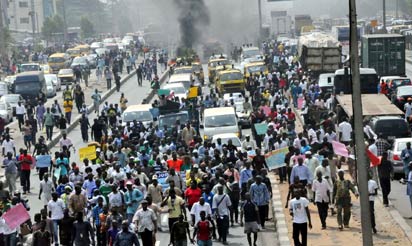 PRESIDENT Goodluck Jonathan yesterday said deregulation of the petroleum sector was a necessary change Nigeria must make if government would make significant impact on the lives of citizens.
The President's declaration came as the Minister of Foreign Affairs, Republic of Finland, Dr. Erkki Tuomoija, conveyed a message of vote of confidence on the government from the European Union, EU.
Speaking to Prof. Jeffrey Sachs, Special Adviser to the United Nations' Secretary General, at State House, Abuja, Jonathan said the country's 2010 capital budget was funded with borrowed money, the equivalent of which was used to fund the subsidy last year, adding that "no meaningful infrastructural development is possible in such an environment".
….As EU passes vote of confidence on Jonathan
Meanwhile, the Minister of Foreign Affairs, Republic of Finland, Dr. Erkki Tuomoija, has said his country and most of Europe has confidence in Nigeria's economy and political system. Dr. Tuomoija was speaking to President Goodluck Jonathan during an audience at State House, Abuja.
Don't attack protesters, Amnesty tells FG
The Nigerian authorities must immediately end excessive use of force against protesters, Amnesty International said today after at least one person was killed in Kwara state during protests over fuel price rises.
Witnesses say a student, 23-year-old Muyideen Mustapha, was shot by police attempting to disperse protesters in the state capital of Ilorin on Tuesday.  Police officials claim he was stabbed to death by other protesters and say an investigation into the killing has been launched. Police reportedly fired tear gas and beat protesters as demonstrations continued today.
"The police have a duty to protect lives and property and uphold the rule of law. It is therefore completely unacceptable for them to use live ammunition against protesters," said Paule Rigaud, Amnesty International's Deputy Director for Africa.
"The Nigerian authorities should respect and protect peoples' rights to freedom of expression guaranteed by the Nigerian constitution, and should instruct the police force to refrain from shooting at protesters," she said.
Subscribe for latest Videos