By Evelyn Usman
A TEAM team of anti-robbery squad, Ikeja, Lagos, recently engaged a notorious gang of armed robbers along Lekki – Ajah expressway in a bloody shootout and arrested a member of the gang in the process.
The arrested member of the gang which reports said specialized in snatching only exotic cars identified himself as Festus Ehis Aghatise later died on the way to the hospital following gunshot injuries he sustained during the cross-fire.
But before he died, he reportedly mentioned some members of his gang including one Muyideen Mudasiru, a panel beater who he referred to as the man who normally changed and remoulded any stolen car (s) to a new shape before they were resold to ready buyers.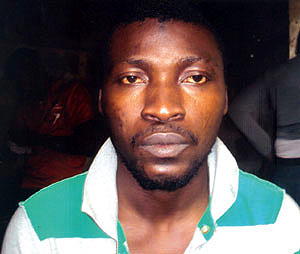 Confessional statement
Based on the confessional statement of late Agbatise, police detectives swooped on the panel beater in his workshop and arrested him.
Though he admitted culpability, Mudasiru denied being a member of the notorious gang. He said his responsibility was only to change engravings on any vehicle and remould same for new buyers. He said the gang was always bringing Jeeps and Toyota brand of cars to him for re-branding.
Crime Alert scooped that the late Festus was an ex-convict who only gained freedom in September last year after serving a jail term.
Narrating how he joined the gang, the Osun State  indigene said he decided to join the gang out of frustration. He said: "I joined out of frustration. One of my customers, Aghatise, usually brought vehicles to the workshop for me to work on. He told me he was a car dealer and usually paid me more than any other customer and that was how we became close friends.
"But sometime in May 2011,  I was arrested in connection with one of the vehicles I worked on. I was, however, released after the policemen discovered that I was not a member of the gang. Even Aghatise (now late) was also arrested and committed to prison custody.
It was then that I was told that he was a car snatcher. At that point, I decided to stay away. But it was as if the devil was at work because things degenerated from bad to worse. I could no longer fend for my family. Out of frustration, I called Aghatise again when he came back from prison, to lend me some money which I intended to use to pay for my wife's hospital bill.
Original plate numbers
"He told  me to come to Sangotedo in Ajah, with my chisel and hammer where I saw several stolen vehicles. Immediately, I started working on them by removing the original plate numbers and marks of identification on the side mirrors and windscreens and replaced them with new ones.
At the end, he gave me N50,000 and I left the rest of job for the painter who would re-paint the vehicles to different colours thereby making it impossible for the owners to recognize. So far, I have worked on more than fifty Toyota cars and SUVs."
Mudasiru said he did not know buyers of the remoulded vehicles adding that they normally came from different parts of the country.  He noted: "I do not know their names. But they usually come from Port Harcourt, Delta and Kaduna. The rule at the workshop is that you do not speak with anyone. Everybody minds his business because if you try to be nosy, Aghatise would suspect you and deal with you."
At this point, Mudasiru introduced a melodrama to his confession. He looked up as if betraying emotion and, like a boy, sobbed in an emotion laden tone. He said: "I regret ever coming across Aghatise. I was tempted by the number of houses he told me he had built. I thought I could at least save some money to build a two-bedroom bungalow after which I would continue with my legal business. But see where greed has landed me now."
Vehicles recovered at the gang's criminal hide-out included one Toyota Sienna with number plate EF 843 FST, two Toyota Matrix with number plate BU 247 EPE and CH 356 KSF and 13 Toyota Corolla cars with number plates: DD 58 MUS, CD 156 AGL, EL 273 GGE, EU 214 SMK, BZ 973 AKD, SQ 369 AAA, BU 337 BDG, TA 611 AAA, BU 746 BDG, BU 248 EPE, FJ 304 APP, BP 361 BDG and FF 361 KRD.