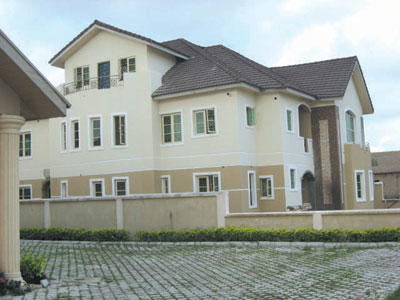 By Yinka Kolawole
Lagos State government earmarked N43 billion in the state's 2012 budget to tackle the problem of housing in Nigeria's commercial nerve centre, through a rent-to-own option.
A rent-to-own option is a system whereby a tenant pays a certain amount each month to live in a house, with a view to owning the house over a set period. Each monthly payment is income to the seller towards covering the cost of the house, after an initial down payment to eventually buy the house.
Commissioner for Budget and Economic Planning, Mr. Ben Akabueze, said the State government decided to address the problem of housing through the rent-to-own option because the money presently paid by tenants in the State was sufficient for them to own their homes. He said that government decided to embrace the option and make houses available to people while they  pay over 25 years.
According to him, it was to this end that Governor Babatunde Fashola commissioned some new residential quarters to be  used for the pilot scheme. These, he noted, include Igbogbo II Housing Estate named after late Hon. Rotimi Sotomiwa, while work has since commenced on Igbogbo Housing Scheme III, which would consist of 80 units of 3 bed-room flats all in attempt to reduce housing deficit in the State.
Commissioner for Housing, Mr. Bosun Jeje, on his part, asserted that the state government would continue to unveil policies and programmes that would not only stimulate a mortgage culture, but also unlock the potentials inherent in the housing sector.
He said the Lagos Home Ownership and Mortgage Scheme (Lagos HOMS) to be inaugurated soon will enable applicants become owners of their homes after they must have paid an amount of money not exceeding 30 per cent of the price of the housing unit with the balance payable over a period of 10 – 20 years.