By BEN AGANDE, ABUJA.
As more Nigerians react angrily to the removal of fuel subsidy by the federal government, members of the House of Representatives have vowed to 'stand by the Nigerian people' in their trying moments saying that the timing of the removal by the government 'represents the height of insensitivity'.
Reacting to the removal, Monday, the Minority Whip of the House of Representatives, Hon. Samson Osagie said as representatives of the people, the House of Representatives will stand with the Nigerian people to stop what he called 'executive madness'.
"The announcement of a new regime for the downstream sector of the petroleum industry leading to the sudden hike in the pump price of Premium Motor Spirit (pms) from N65 to N141 on a New Year day represents the height of insensitivity on the part of government.
Granted that the debate was already becoming healthy and interesting but the sudden announcement of the take off of the policy on a new year day after government has prevaricated on the possible take off date is suspects and smacks of some clandestine undertones of  a possible foreign or external influence. We hope to stand with the Nigerian people as their representatives to stop this executive madness. A government does not wake up and impose hardship on its people" he said.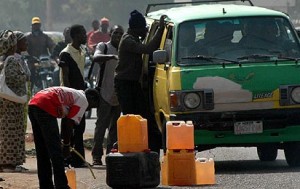 In his reaction, the chairman of the House committee on capital market and institutions, Hon. Herman Hembe described the action of the executive as 'wicked and out of tune with the realities of poverty that faces our people.
"How can the government be so insensitive as to bequeath hardship to its people as a New Year gift? Why should the ordinary Nigerian be made to suffer for the failure of past governments?
This action is patently wrong and if it means for us as a parliament to lead a protest against it, we will do that. Our constituents who are already impoverished cannot afford this new hardship being imposed on them by the executive. It is unacceptable to me and to many of my colleagues in the House of Representatives" he said.
Hon. Orker Jev in his reaction accused the government of callousness and hypocrisy saying the government cannot say it is still consulting and at the same time take its people by surprise.
"This is not the way for a government to win the confidence of its people. The officials of the executive arm of government told the nation repeatedly that consultation is still on going only to suddenly turn around to pull the rug off the feat of its people. This is deceit and we are as a parliament must resist this to the last' he said.
Subscribe for latest Videos