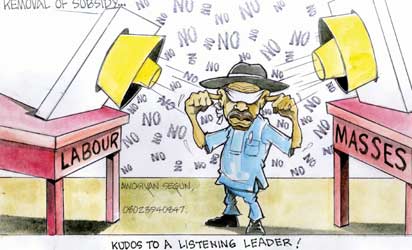 *Ending the fuel or fraud subsidy war
*Nigeria loses N2trillion in six days
By Clifford Ndujihe, Deputy Political Editor
TODAY is a decisive day for the representatives of the Organised Labour and the Federal Government. When they return to the negotiation table, they are condemned to reaching an acceptable agreement that will end the on-going six-day mass protests that have led the country and her citizenry to lose about N2 trillion. According to estimates, the strike is costing the country about N320 billion a day.
Failure to reach an agreement may unleash an incalculable damage to the already stretched economy and deteriorating polity, especially if protesters take the mass action to the next level and the Petroleum and Natural Gas Senior Staff Association of Nigeria (PENGASSAN) shuts the upstream sector of the petroleum industry including export terminals tomorrow as it threatened on Thursday. Crude oil export accounts for about 80 per cent of Nigeria's foreign exchange earnings.
Before Thursday's dialogue, Organised Labour and the Government had maintained hardline positions. While the government said there was no going back on removal of fuel subsidy, which has led to the increase of fuel price from N65 to between N138 to N250 across the country since January 1, Labour shunned the negotiation table and hinged resumption of dialogue on reversion of fuel price to N65 per litre.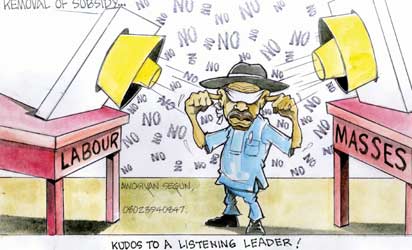 Consequently, the stage was set for the ongoing mass protests in most parts of the country, in which about 35 persons have died. The action has been laced with exchange of brick-bats, claims and counter claims by both camps. There have also been intensive debates with Nigerians holding about six positions on the issue.
The positions
There are those who claim that there is no subsidy and some say there is subsidy. Another group agrees with subsidy removal but says that the timing is wrong, while some say fuel subsidy should never be removed because it is the only thing Nigerians enjoy from their country.
Yet, another view is that the economics of subsidy removal makes sense but the government should first fight corruption. And the last position is that even though the main reapers of fuel subsidy, also known as the oil cabal or cartel, are financiers of President Goodluck Jonathan's election, subsidy should be retained.
The different positions notwithstanding, all stakeholders seem to share a common view: there is an enormous fraud in the fuel subsidy business. The point of departure is on how to tackle this fraud to the benefit of the citizens, 70 per cent of whom live below the poverty line.
National Assembly's intervention
Disturbed by the dangerous dimension the protests were assuming, both arms of the National Assembly intervened and got the Government and Labour to resume talks on Thursday. At a marathon meeting attended by President Jonathan, leaders of the Nigeria Labour Congress (NLC), Trade Union Congress (TUC) and the Senate and representatives of state governors, the government handed Labour two options for reverting fuel price to N65. One is to suspend fuel subsidy until April and the other is remove 80 per cent of subsidy or sell at N120 by march.
At the end of the parley on Thursday night, Labour said although compromises were being made, no agreement had been reached and stated that the strike would continue pending the outcome of today's meeting.
SNG, others vow to continue protests if…
Ahead of the resumption of negotiations today, the Save Nigeria Group (SNG) and its allies, which are behind the Gani Fawhinmi Park, Ojota, Lagos rallies, said they would not accept anything other than N65 per litre fuel price.
SNG Convener, Dr Tunde Bakare, who dismissed as untrue allegations that politicians and a section of oil marketers were funding the rallies, said, "neither the labour union nor TUC is behind the Ojota rally not to talk of any politician or political party. The same patriotic spirit that led SNG to march the streets of Abuja to Lagos when Jonathan was being prevented from performing the constitutional duty of an Acting President has motivated the SNG and its allies to put this peaceful rally together. We did not collect money from Jonathan then and we are not being sponsored by any politician now."
On the way out of the log jam, Bakare said, "NLC and TUC are in charge of the strike. SNG, its allies, and the people of Nigeria are responsible for the mass civil protest in Ojota here and other places in Nigeria. We expect that both NLC and TUC will maintain their stand of N65.00 or nothing.
If NLC and TUC change their stand and call off the strike, and people return to work without achieving their objective of N65.00 or nothing, just know that there are more people without jobs, who belong to no union who will continue with the protest. We will continue and sustain the protest until the government sees reason to revert to N65.00."
SE, SS leaders back Jonathan
However, elders and leaders of the South-East and South-South geo-political zones said the protest against the downstream oil deregulation policy was "a ploy to perfect the ploy to make the country ungovernable for Mr. President," a promise they said some politicians, who lost out during the last presidential polls made publicly.
They spoke after a joint meeting in Abuja, the leaders, which included Chief Edwin K. Clark, Dr Chukwuemeka Ezeife, Admiral F.B. Porbeni, Alabo Graham Douglas, Sir Mike Okiro, Senator Bassey Ewa-Henshaw, Kalu U Kalu, Senator Stella Omu, Air Commodore Idongesit Nkanga, Senator Lee Maeba and HRH, Eze M.O. Kanu among 31 others.
In a joint statement, they said that there had been removal of fuel subsidy under past heads of government but at no time did Nigerians see "the presently orchestrated protests that have the grandeur and perfection of a carnival."
Noting that under past regimes like Chief Olusegun Obasanjo, a cumulative 536 per cent increase in fuel price per litre was made without any national upheaval, the leaders, who also said they would no longer tolerate incessant killings of Nigerians, warned that no section of the country could escape the ugly outcome if the fuel crisis degenerated to a point of unmanageable catastrophe.
They appealed to Organised Labour and the government to embrace dialogue to bring the current pains of Nigerians to an end as soon as possible.
It also warned ambitious persons who might be harbouring the ambition of unfurling undemocratic change in the country because "any attempt at undemocratic change in the country will be fully resisted. Any such perpetrator shall have no country to preside over."
Wikileaks' exposure on fraud in Nigeria's oil subsidy A secret cable sent from the United States Embassy in Nigeria, published by Wikileaks, on Wednesday exposed the fraud that characterizes the oil subsidy, why some Nigerians want the government to checkmate the oil cabal and why the authorities see removal of fuel subsidy as the easiest and most effective means to address the issue
The cable said that international fuel traders had been falsifying the dates of bills of lading to reflect particularly high market prices, overcharging the Nigerian National Petroleum Corporation (NNPC) by $300 million or more. According to the cable:
On April 2, Chris Finlayson, Chairman and Managing Director of Shell Petroleum Development Corporation of Nigeria (SPDC), told Consul General and Econoff that a scandal is brewing within the NNPC over payments made to international fuel marketers. Finlayson said some marketers have been changing the dates when fuel shipments bound for Nigeria were loaded in order to take advantage of particularly high market prices. He said the total overpayment by NNPC may be as high as $330 million. Finlayson noted that Shell is not one of the marketers in question, but is becoming a leading fuel supplier for NNPC.
On April 6, Femi Otedola, President and CEO of Zenon Petroleum and Gas, the largest supplier of diesel fuel in Nigeria, essentially corroborated Finlayson's report. Otedola said over $300 million has been overpaid by NNPC for fuel imports, and that many leading international traders are involved. According to Otedola, NNPC contracts to pay its suppliers the market price on the day a ship is loaded with fuel. He said NNPC recently discovered, however, that bills of lading were altered to reflect loading on days of high market prices. Discrepancies were found when comparing dates on the bills of lading with dates of landing in Lagos.
Pointing to examples, Otedola said that while a tanker loading fuel at a refinery in Bahrain usually takes four weeks to arrive in Lagos, comparisons between the bills of lading and dates of arrival of some shipments reflected only a four-day difference, and in other cases, if taken at face value, indicated the journey took nine months.
Otedola said 73 shipments from refineries in the Persian Gulf, England, and Venezuela listed delivery times of only one day. NNPC is attempting to get compensation for the over-charge. Otedola went on that most of the fuel traders supplying Nigeria are implicated in over-charging NNPC, and showed a list of 17 companies that supplied fuel in the first quarter of 2004, several of which, he said, are significant players in international markets
Otedola recommended that NNPC stop contracting with international fuel traders and negotiate purchases directly from refineries worldwide. According to him, such a move would have two positive effects. Otedola calculates that NNPC would save some four billion dollars a year in expenditures on imported fuel.
Otedola added that by cutting out the international traders, NNPC would also enhance the environment in which Nigeria's refineries could be restored and operated. Otedola said he believes international fuel trade "mafias" are behind the failure to bring Nigeria's refineries back on-line and to capacity. Otedola is convinced these traders arrange for the vandalization of crude oil feeder pipelines, which keep the refineries at Port Harcourt, Warri and Kaduna closed or under-capacity. He said the international traders generally receive at least one million dollars per shipload of fuel to Nigeria and have grown accustomed to the easy money Nigeria offers as long its refineries remain down.
How far can Labour, govt go?
Given these scenarios, it is to be seen how far the government and Organised Labour would go in today's negotiation. Will the negotiators leave the negotiation table smiling or will they storm out with frowning faces and returning to their battle trenches? Nigerians are waiting.
History of fuel price increases in Nigeria
Gowon, 1973: 6k to 8.45k (40.8%)
Murtala, 1976: 8.45k to 9k (0.59%)
Obasanjo, October 1, 1978: 9k to 15.3k (70%)
Shagari, April 20, 1982: 15.3k to 20k (30.71%)
Babangida, March 31 1986: 20k to 39.5k (97.5%)
Babangida, April 10 1988: 39.5k to 42k (6.33%)
Babangida, January 1, 1989:  42k to 60k Private vehicles.
Babangida, December 19, 1989: moved to uniform price of 60k (42.86%)
Babangida, March 6, 1991: 60k to 70k (16.67%)
Shonekan, November 8, 1993: 70k to N5 (614%)
Abacha, November 22,1993: petrol price drops from N5 to N3.25k (-35%)
Abacha, October 2,1994: N3.25k to N15 (361.54%)
Abacha, October 4,1994: price drops from N15 to N11(-26.67%)
Abubakar, December, 20, 1998: N11 to N25 (127.27%)
Abubakar, January 6,1999: N25 to N20 (-20%)
Obasanjo, June 1, 2000:  N20 to N30 (50%)
Obasanjo, June 8, 2000: Petrol price reduced to N22 (-10%)
Obasanjo, January 1, 2002: N22 to N26 (18.18%)
Obasanjo, June to October, 2003: N26 to N42 (23.08%
Obasanjo, May 29, 2004: N50 (19.05%)
Obasanjo, August 25, 2004: N65 (30%)
Obasanjo, May 27, 2007: N75 (15.38%)
Yar'Adua, June 2007: N65 (-15.38%)
Jonathan, January 1, 2012: between N138 to N250 (112.31 to 284.62%)