As the first day of mass protests against the removal of fuel subsidy by the federal government is coming to a close, reports from our citizen reporters showed that the protests were generally peaceful and successful.
As the result of the nationwide strike and mass protests, major cities and towns in the country were deserted while some recorded fewer vehicular and human traffic, as government and economic activities were grounded around the country.
However, there were few cases of violence and clashes with security agents.
Excerpts are reports across the country as reported by our citizen reporters who give eye witness accounts of the protests as it were in their areas.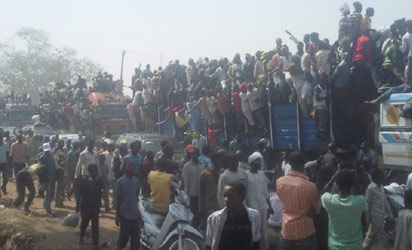 No chaos in Minna
By Peter Olajide, Minna.
The protest is taking a huge dimensions as touts are moving about with leaves hanged on their machines and motors instead of 'placards'. However the security personnel are not found in strategic locations rather they assembled in the protest ground (David Mark road). Also, some manned the political office holders' houses.
However, economic activities were grounded as all shops, banks, PHCN, fuel stations, among others were shut. Till this moment, no case of chaos has been reported other than the rough-riding and leave bugging within the city of Minna.
Protest peaceful in Abeokuta
By Arogundade Ahmed, Abeokuta
The subsidy protest went peacefully as there was large turnout of youths in the areas. Meanwhile, all the roads at Ijaye, Okejigbo, Nawairudeen, Ilogbo were blocked by the youths who prevented vehicles from passing.
Banks, shops closed in Orlu
By Chibuzo, Orlu
Like I every other major cities in the country, Orlu town in Imo State also witnessed a peaceful protest against the removal of the fuel subsidy. Commercial activities were also affected. Protesters were very peaceful. Banks and other business outfits were closed. The town also recorded less vehicular movement on major roads.
Hoodlums loot shops at Alaba Rago
By Akeem, Okokomaiko
Hoodlums have taken advantage of the protest to vandalize and loot people's shops and property at Alaba rago. We need more policemen.
Low turnout mar protest in Ika, Delta State
By Peter, Agbor
The protest was not serious in the two local governments that make up Ika nation in Delta State as vehicular movement and all petrol stations were carrying out their normal business.
Teenagers, children join protest in Kaduna
It was an uncommon scene today to see children aged 10 and above matched in groups to Lugard Hall Round About at Ali Akilu in Kaduna town protesting against the fuel subsidy removal.
Ondo records large turnout
By Maxwell, Akure
The protest was serious in my place Odigbo LGA in Ondo State. Protesters came out en mass  to display their grievances over the fuel subsidy removal. The protesters blocked Benin – Lagos road to stop travelers from continuing on their journey. For now, no ugly incident has been recorded.
Police disperse protesters with teargas in Bida
By Haruna, Niger
Protesters in Bida, Niger State were tear-gassed by the Policemen deployed to the Emir's palace in a bid to disperse the protesters. However, the protesters reacted by throwing stones at the police. We need more security personnel here.
No protest in Onitsha
By Victor Okwusogu, Onitsha
Unlike other big cities in the country, no protest was recorded in Onitsha. Business activities went on as usual. However, institutions like banks did not open business.