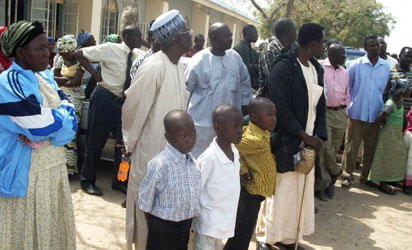 In the spirit of being their brother's keeper, the ECWA Church which has its world headquarters in Jos has taken steps to alleviate the sufferings of the displaced persons
By Taye Obateru & Grateful Dakat
How does it feel becoming a refugee in your own country having been forced to flee your state of origin?  Not because you or your people are engaged in a war with another community or by a disaster which has displaced everyone, but because of the faith you profess?
This is the situation hundreds of Christians from Yobe State have found themselves as they have escaped to different parts of the country following the onslaught against them by members of the Boko Haram sect .
The Boko Haram Sect had given Christians in the Northern part of the country a deadline to vacate that part of the country and they made good their threat by descending on churches and Christians in some parts following the expiration of the ultimatum. Worst hit are Christians in Damaturu and Potiskum both in Yobe State, where the activities of the sect had been upbeat for some time now.
Following the spate of killings of Christians and the destruction of their churches in these places, the Christians – men, women and children- ran for dear lives. About 500 of them have found their ways to Plateau State where they are taking refuge in churches, homes and mission guest houses.
Many of them are lamenting where to start again as they were forced to abandon their means of likelihood in form of employment, farming and other business ventures. According to some of them, they fled in the belief that 'where there is life there is hope' and that life was more important than such considerations. "We saw death face to face and our concern was to escape alive; there was no time to think of any other thing," one of them told Saturday Vanguard.
The over 500 internally displaced persons said to represent over 100 families who fled Yobe State are currently taking refuge in some churches in Jos after abandoning their birth place or their sources of livelihood which had become places of death and bloodshed, no thanks to the "war" declared on them by the Boko Haram Sect for being  Christians. Chairman of ECWA District Church Council in Yobe State, Rev. Garba Bangalo painted the situation on Wednesday during a visit to some of the displaced persons camped at the ECWA Church Tudun Wada Jos, disclosing that almost every church in the state has been destroyed. Apparently reading unbelief in the eyes of journalists, he declared: "We will not leave our homes to come here to raise a false alarm", regretting that their plight had been downplayed and under reported.
"This is a clear case of persecution.  Over 50 churches have been demolished in Yobe State, hundreds of Christians have been massacred just because they are Christians. These Boko Haram people go about with machine guns looking for Christians to kill or for churches to attack. The media in Yobe failed to help us, government and security agents failed to help us. So the only option left is to escape from danger. We are appealing to Plateau people and their government to please assist us. We have no other place to go for help",  he said in an emotion-laden voice.
Vice Chairman of the Christian Association of Nigeria (CAN) in Yobe State, Rev. Jeremiah Sara who has also relocated to Jos with his family described the situation in the state as grave, noting that Christians in Potiskum could no longer hold church services for fear of attack by the Boko Haram. According to him, "our lives are at risk. Right now, there is no Christian living in Potiskum again. I had to relocate my family to Jos and I am right now looking for accommodation. I don't think I will take them back to Yobe State again. It is most unfortunate that we are being forced to leave our state of origin because we are Christians. I appeal to government to come to our rescue." Sara was full of thanks to churches in Plateau State for their kindness in accommodating the displaced persons, adding that many Christians were still hiding in villages in Yobe State looking for ways of escape and urged security agencies to move into the remote parts to rescue them.
He added: "Over 100 families have managed to escape to Jos and Nasarawa and about 200 families numbering over a thousand are still hanging out in Yobe, crying to be evacuated from the danger zone. Who will help them and bring them to safety? Their houses have been burnt down and many of them have been killed. We need emergency help." He advised the displaced persons to be of good conduct and to live as Christians while in Jos.
In the spirit of being their brother's keeper, the ECWA Church which has its world headquarters in Jos, has taken steps to alleviate the sufferings of the displaced persons through its Emergency Relief and Conflict Committee headed by Professor Etannibi Alemika. He confirmed while distributing relief materials to some of them that the church had over 400 of the displaced persons to cater for. According to him,"We have over 400 of them: men, women, aged and many of them have been killed in the Boko Haram-organized attacks going on in Yobe State. These families taking refuge here are lucky to have escaped to Jos.They made Jos their destination because they knew they were being attacked simply because they are Christians.  Most of the churches where they worship in Yobe State are headquartered in Jos here and they found their way to Jos as the only state in the north where they feel they will be received. Some of them have proceeded to Nasarawa state."
Apart from those camping in churches and other places, families have taken some of the displaced persons into their homes in the true spirit of being the Good Samaritan. Alemika confirmed this: "Of the 400 we have in Jos here, most of them have been received by some Christian families who have given them accommodation, but we still have about 177 of these displaced Christians still taking refuse in the church. I want to use this opportunity to appeal to individuals, corporate organizations and governments to come to the aid of these innocent Christians who are being persecuted to provide help for them in terms of accommodation and feeding. The church alone cannot cater for them; the church has been exhausted so far."
Some of the displaced persons who spoke to Saturday Vanguard said they are unlikely to return to Yobe State because their security was not guaranteed. They lamented that the Boko Haram members had continued to have a field day making mincemeat of Christians with the security agencies unable to check their activities. They said they had to flee before every Christian in the state would be wiped out, disclosing that some of them have relocated to Abuja, Bauchi, Yola and Nasarawa State to escape being killed.
At the COCIN Headquarters Church where some of the displaced persons were reported to be taking refuge, Editor of the The Light Bearer, the church's newspaper, Mrs. Elizabeth Salami said she could not confirm if there were any of them camping in any of the churches. She, however, told Saturday Vanguard that COCIN being a rural church had been greatly affected by the series of violent onslaught by the Boko Haram sect. "We are everywhere in the grassroots as you know and our pastors and members have been killed. Our places of worship and properties have been destroyed", she said. "These people being persecuted are Nigerians. Not only are they Nigerians but indigenes of the affected states they are fleeing from, hence government needs to provide adequate security and protection for them.
It is worrisome to note that an indigene, not a settler in his own home town becomes an endangered species always running or being chased away to other states in search of refuge."
We are thus calling on the government to come quickly to our aid and help put a stop to this series of bombings, maiming, heartless and wanton killing of Christians resident in the Northern and Central part of Nigeria", Mrs. Salami pleaded.
To many other residents of Plateau State who spoke on the plight of the displaced persons, the situation is both intriguing and mind boggling. Their feelings was summarized in the response of Peters, a trader who wondered aloud why this should happen to a people who did not declare any dispute or war against any person or group and why, according to him, little or nothing had been done to check the situation. "When will this madness stop and when are we going to stop sleeping in our homes with one eye closed, clutching our hearts and soul as though we are in a war-torn country?", he queried. Questions and questions but who can provide answers?