By Victoria  Ojeme
The Nigerian Immigration Service, NIS, last week formally stopped human and goods movement across some border routes in Borno and Yobe States affected by the Presidential declaration of partial state of emergency by President Goodluck Jonathan, shortly after the Christmas day bombing of a Catholic Church in Madalla, Niger State.
A statement from the NIS last week said, "the Comptroller General of Immigration Service, Mrs. Rose Chinyere Uzoma, mobilized officers and men of affected State Commands to intensify surveillance, monitoring and patrol of the borders in those States. She also deployed her deputies to the affected States to supervise the implementation of the border closure order, so as to ensure the exercise attains maximum level of compliance.
Furthermore, at the instance of the Comptroller General of Immigration, authorities of the Army, Police, Customs and Civil Defence deployed their operatives with the necessary logistics to assist Nigeria Immigration Service in patrolling and monitoring the extensive borders of Borno and Yobe States.  All these were in addition to the massive deployment of officers and men of Immigration Zone 'C' by the Zonal Coordinator, Mr. Bakari Betso, an Assistant Comptroller General of Immigration.
In addition the statement said, "in order to achieve a successful implementation of the border closure order, the Comptrollers of Immigration Service in the affected States earlier held meetings with Traditional Rulers and Local Traders to properly enlighten them on the imperatives of the exercise and to solicit their maximum cooperation".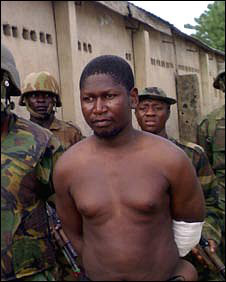 So far, there are very clear indications that there is total enforcement and compliance with the border closure directive by the Federal Government in Borno and Yobe States.  Movements of human beings and vehicles in and out of the country through the borders in these states have been halted.
The Service had also announced the deployment of very senior level officials to supervise the closure, namely, Deputy Comptroller General in-charge of Operations, Dr. Babajide Brown, was deployed to oversee Borno State while Deputy Comptroller General in-charge of Investigation, Inspectorate and Enforcement, Mr. Suleiman Umar, has been charged with the coordination of Immigration operations in Yobe State"
Sunday Vanguard investigations at weekend revealed that, the NIS has deployed a total of 1, 461 personnel in addition to personnel drawn from other armed services as well as the Nigerian Security and Civil Defence Corps(NSCDC) to carry out surveillance, monitoring and patrol of extensive border areas of Borno and Yobe States.
NIS sources informed Sunday Vanguard that before the closure, Yobe State Immigration Command had a staff figure of 279 personnel, while Borno State Command had a total number of staff put at 582.
"To effect this directive, Yobe State Command got additional personnel of 300, while Borno Command has additional personnel posting of 300, bringing the total personnel strength for both Commands now to 1, 461 to carry surveillance, monitoring and patrol of over 900 kilometres of land borders" the source said.
Sunday Vanguard findings further revealed that, many Nigerians, mostly local cross border traders, appear to have been taken unawares by the closure leaving quite a number of them stranded with their goods on the other side of the border.
Also, economic activities in five major towns and villages affected by the closure, including Mboru, Giedam, Makhina in Yobe; and Banki, Gamboru in Borno, Sunday Vanguard investigations revealed, has come to a halt.
However, Service Public Relations Officer and Assistant Comptroller of Immigration, Mr Joachim Olumba in a telephone chat with Sunday Vanguard confirmed the current strength of deployment of immigration personnel to give effect to the closure.
He also directed Nigerians caught on the wrong side of the border by the closure to detour to alternative border routes closest to their destination, foreclosing any entry concession to those unable to cross into Nigeria before the closure took effect.
He told Sunday Vanguard that, "the closure of these borders is all about state of emergency and when a border is closed, there can not be any entry or exit, which is what is called border closure.
"And for those who are stranded in these two Border States they should go to the nearest border areas that are calm" he added.
Subscribe for latest Videos