BY MICHAEL EBOH
The Federal Government has entered into a partnership with banks in Nigeria to provide a N30 billion financial lifeline to boost agricultural development in the country.
The agreement which was signed by Federal Ministry of Agriculture and Rural Development in partnership with the Federal Ministry of Finance and deposit money banks is ahead of the planned commencement of the Nigeria Incentive-Based Risk Management System for Agricultural Lending, NIRSAL, scheduled to begin in 2012.
According to the Tripartite Memorandum of Understanding, MOU, made available to Vanguard, the agreement will lead to the development of a financing mechanism to provide N30 billion of financial support at single digit interest rate to provide the much needed financing support to agricultural input dealers to ensure immediate supplies of essential inputs to farmers across the nation for the 2012 farming season.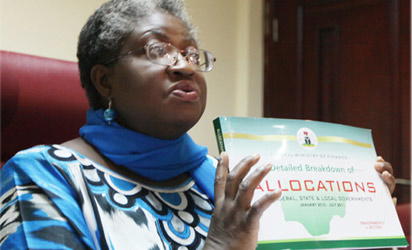 The terms of this agreement are articulated in a Tripartite Memorandum of Understanding (MOU) to be signed today Tuesday November 29, 2011 at Abuja between the Federal Ministry of Finance, Federal Ministry of Agriculture and Rural Development and Deposit Money Banks who elected to participate in the scheme.
The agreement stipulates that the banks/financiers shall provide a total loan facility up to N22.689 billion for financing fertilizer and N2.752 billion for seeds procurement and distribution, while the Federal Government through the Federal Ministry of Finance shall guarantee 70 percent of the loan principal payment under the said scheme.
The document said the loan shall be made available to duly registered/approved agricultural input dealers across the six geopolitical zones at a subsidised interest of seven percent per annum, while the new and innovative partnership would ensure that at least five million farmers have access to these essential agricultural inputs.
The agreement requires that participating agricultural input dealers shall be expected to provide 25 per cent of the required amount as equity contribution to access the facility from any of the participating banks in the country.
The signing ceremony was be witnessed by the Minister of Finance and Coordinating Minister for the Economy Dr. Ngozi Okonjo-Iweala, Minster of Agriculture and Rural Development Dr. Akin Adesina, Representatives of Central Bank of Nigeria and Chairman Bankers Sub-Committee on Economic Development, Mr. Aigboje Aig-Imoukhuede.
The Federal Government had launched the Agricultural Transformation Agenda in line with its strategy of using agriculture as a key driver of the national economic transformation agenda.
A key element of the agricultural transformation initiative is the promotion of agricultural financing through an incentive based risk-sharing scheme embodied in the NIRSAL agenda.
This initiative focuses on de-risking the entire agricultural value chain and thereby attracting the desired flow of investments from the private sector and foreign investors.
The government expressed confidence that the initiative would result to the creation of about 3.5 million new jobs, generation of 20 million metric tons of food and huge import substitution and conservation of scarce foreign exchange.