By Kingsley Omonobi, Bala Ajiya and Ndahi Marama
It was a harvest of deaths as about 81 people, including an Assistant Commissioner of Police was among 59 other members of the Boko Haram sect were reportedly killed in Yobe State Thursday when soldiers and other security men confronted the sect members in their stronghold, leading to a bloody encounter.
Others said to have been killed included a Commander of the Police Mobile Force along with four of his men and two civilians.
The Chief of Army Staff, COAS, Lt. Gen. Azubuike Ihejirika told newsmen in Abuja yesterday that the Joint Task Force set up to quell the Boko Haram menace rocking some Northern parts of the country, in the early hours of yesterday, launched a successful operation on the sect's operational stronghold in Damaturu, Yobe state, killing 59 of them and destroying their armoury.
Reports from Damaturu, Yobe State said explosions rocked Maiduguri and Potiskum leading to the death of seven persons, including two soldiers, four policemen and two civilians.
An official said that after the gunfire and explosions rocked the region, the violence was soon blamed on Boko Haram Islamists. About 16 people reportedly died in the Maiduguri explosion. Eye witnesses said Dala, Alamderi and Timbershed were mostly hit.
Meanwhile, more gunfire was heard in Damaturu on Friday morning, but details were unclear.
The Yobe State Police Commissioner,Lawan Tanko, said, "From reports I have received from Potiskum, five people were killed in last night's attack — four policemen and a civilian," even as Ibrahim Farinloye, northeast coordinator for the National Emergency Management Agency, confirmed that, "three police vans were also burnt in the attack."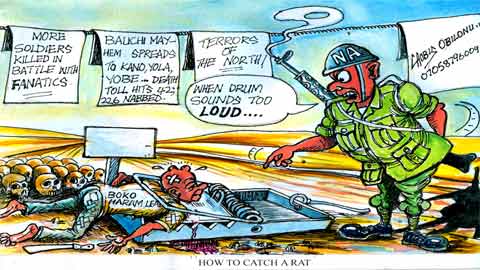 A hospital source in Damaturu said late Thursday that a soldier was killed and seven police officers wounded there. He said a 10-year-old boy was being operated on after being hit by bullets.
The police said the attackers had been repelled and pushed toward Potiskum, just as a military spokesman in Maiduguri said multiple blasts hit the city on Thursday, but could not give further details. An army source said six explosions were heard.
Maiduguri and Damaturu are among the cities which have borne the brunt of the violence attributed to Boko Haram, that has claimed responsibility for scores of attacks in the north. Residents were said to be fleeing the area in droves due to the alleged heightened security challenges and subsequent bomb explosion that had engulfed the city.
The police said members of Boko Haram sect who were preparing the explosive at about 12 noon on Monday escaped arrest even as three AK 47 riffles, ammunitions and various weapons and explosives making material were recovered from the scene of the explosion.
Speaking during his first official visit to the Guards Brigade headquarters in Abuja, Ihejirika said, "There was a major encounter with the Boko Haram in Damaturu yesterday.
In the encounter, we over ran their major stronghold and their ammunition site. ''In the encounter, we lost three of our soldiers; seven were wounded but we killed over 50 of their members. They came with sophisticated and heavy weaponry including GPMG's, SMG's and bombs but our soldiers subdued them.
"We had information that the Boko Haram sect planned to cause mayhem this festive period; we have put in place measures to nip this plan in the bud by deploying our Quick Response Troops, QRT, to man specific points as well as carry out patrols in search of them."