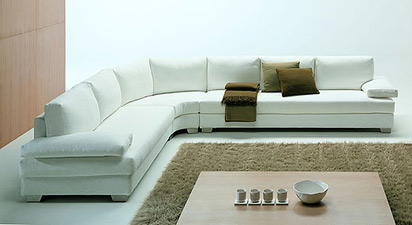 *White leather Sofa in a home.
By Kingsley Adegboye
White leather sofas can add a touch of elegance and beauty to your living room. White colour looks  cute and sophisticated on sofas. It has an ethereal appeal and adds style to the room. Though it requires  a great deal of maintenance,  it has  the ability to make people nod their heads when they enter your living room.
According to Mrs. Helen Alonge, an interior, leather sofas have a sensual appeal, and with white  leather colour, the living room becomes more elegant.
She however noted that, the quality of leather plays an important factor when deciding whether or not to use leather sofas in homes, explaining that leather that has tiny pores that will ensure that it does not get too hot during hot weather or too cold during cold. She therefore advised that people should look for one that has pores as the best choice for homes.
She noted that cleaning a leather sofa is different from other sofas, since leather is a natural product. She said people should not use strong soaps or chemicals and sponges to clean stains, pointing out that instead, people should use a clean cloth to remove marks or stains on leather.
"Never use water for cleaning the sofa, always use oil for removing stains. Moreover, this type of sofa is subject to discoloration. So, it is advisable to use leather sprays to bring back the color and shine. Leather conditioners, which add luster to your dull leather sofa, are conditioners to bring back life to your white leather sofa.
"You can also use a moisturizer like petroleum jelly, aloe vera gel, butter or any such emollient cosmetic product for cleaning your sofa. You can also use your makeup remover for removing stains or yellowness from your white leather sofa. Glycerin is another quick fix method of cleaning. If you don't have the time or have run up on your other sofa care products then glycerin can be very handy", she stated