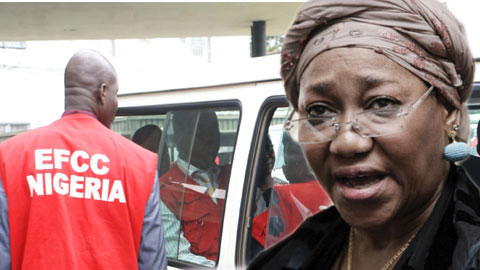 Farida Waziri, former Chairperson of the Economic and Financial Crimes Commisssion.
BY CLIFFORD NDUJIHE &  OSCARLINE ONWUEMENYI
FORTY-TWO months after he stepped aside as the acting czar of the Economic and Financial Crimes Commission (EFCC), Mr. Ibrahim Lamorde returned to his post as EFCC acting chairman on Wednesday. He took over from Mrs. Farida Waziri, the woman, who succeeded him on May 18, 2008.
Waziri was unceremoniously removed from office on Wednesday by President Goodluck Jonathan with six months to spare in her four-year tenure that should have lapsed in May 2012.
At a time mixed views are trailing the way Waziri exited the commission, Lamorde has an avalanche of tasks to handle, to boost the anti-graft crusade. He also has to navigate his way clear of the spiky roads his predecessor treaded.
Lessons from Waziri's exit
The government gave no reasons for relieving Waziri of her post, but the polity is awash with unconfirmed 'sins' of the 55 year- old iron lady.
Sources within the Presidency, who are in the know about underpinning motives leading to the sack, said that Waziri was sacked "due to her obstinacy and penchant to go after mainly members of the Peoples Democratic Party (PDP), especially the former PDP governors."
Waziri has been accused of working for elements outside of the ruling PDP to "humiliate the party and portray its leaders as corrupt and incompetent," one source said.
This position gains more weight when one considers the former EFCC boss's recent blitz against some former governors, who are mostly members of the PDP.
The EFCC has waged war against former state executives including Gbenga Daniel (Ogun State), Christopher Alao_Akala (Oyo State), Danjuma Goje (Gombe State) and Aliyu Akwe_Doma (Nasarawa State).
She had also vowed to go after more of the former governors who are suspected of looting state funds during their time in office.
Another source said that the Presidency considered Waziri's tenure in EFCC to have "eroded, rather than improve Nigeria's anti_corruption stance globally. It is a common feeling within the Presidency that she has not been very efficient in her assignment and seems to mainly carry out her work in the press. She has really done little or nothing to improve the rating of the country since her predecessor."
Waziri's tenure at the Commission was marred by series of allegation, including signing letters of pardon for people being investigated by the agency, such as former Delta State Governor James Ibori. She was also criticized by U.S. diplomats in the Wikileaks cables for being unprepared and for being controlled by politicians.
Many analysts believed that for long, Waziri had been operating on borrowed time given the tense relationship she had with the Presidency, especially since the death of former President Umaru Yar'Adua, who appointed her into the office.
Upon taking over, President Jonathan had promptly sacked some ministers and other high_ranking officials of the government, notably the former Minister of Justice and Attorney_General of the Federation, Mr. Michael Aondoakaa, who had been very close to Waziri.
Waziri's achievements
In the months leading up to her sudden ouster, Waziri initiated a flurry of prosecutions against senior political figures. In October, the EFCC arraigned four former state governors and a serving senator on corruption charges. Last June, the agency filed corruption charges against the former speaker and deputy speaker of the House of Representatives _ all of them members of the ruling PDP. During her three_and_a_half years in office, the agency arraigned 21 senior political figures and secured two convictions.
Fighting corruption in Nigeria is like holding the tiger by the tail – Waziri
A few weeks ago, the former EFCC boss told journalists that those wishing the Presidency to sack her from her duty post were wasting their time as she would only quit when her time was up.
She further described fighting corruption in Nigeria as attempting to hold the tiger by the tail.
"Fighting corruption in this country is akin to holding the tiger by the tail; if you don't take care, the tiger will devour you. It is the same thing. As I fight economic crimes and corruption in this country, I am also fighting for self preservation as well."
Brushing aside news reports of alleged plans by the Presidency to sack her as the handiwork of corrupt elements, Waziri added that, "for the past three years I have been on this seat.I have been sacked everyday in the minds of these corrupt individuals. These are people who we know to be corrupt that we are fighting, and they have the resources, stolen wealth that they use negatively. Instead of using it to impact on this country, they use it negatively to buy pages of the newspapers to mudsling and say all manner of things."
She added that, "Left to them, I won't be here longer than a day, but I think they should know they are not God; it is God that brought me here and when it is time for me to quit, of course I will quit. But I have already made history as the first woman to head the Special Fraud Unit, that is Advance Fee Fraud; I recorded 11 convictions in three years and I am the first woman to head the EFCC in this country.
"They may say anything, these are people who, but for the culture of impunity in this country, don't even deserve to walk the streets. If I have my way, they will be right now in Bama or Kirikiri prisons, but they are there, using their wealth to cause mischief all over the place. I am not surprised with any of those things and I am never disturbed, I just feel strengthened when I read these junk things that they cook up."
She, however, rued the invasion of her privacy and the attempt by her detractors to drag her husband's name into the fray. "I don't think many of you know my husband. He is a very quiet person, but he has also worked very hard for this country. Bringing him into this my sack issue, I will attribute it to dirty politics back home in Gombe State. Otherwise, I can't understand what relevance my removal from office can do to him. It cannot hurt him at all, and it is a figment of their imagination and I have a slight idea of the people who are behind it, but as I said, I am not deterred at all," Waziri noted.
The hurdles before Lamorde
Directly or indirectly, those who want Waziri out of the EFCC have succeeded. And his successor, Mr. Lamorde, an officer of the Nigeria Police, who was, until this appointment the Director of Operations of the EFCC, is saddled with some challenges.
For a start, will he be confirmed as a substantive chairman of the commission this time or will another person be appointed to boss him? Nuhu Ribadu and Waziri were accused of selective prosecution of the anti-graft war. While Ribadu allegedly went after perceived or real opponents of the government, Waziri went after those of the ruling party at the centre – PDP. Will Lamorde wage an all ought war without caring whose ox is gored? In essence, will he succeed where his predecessors failed? Can he lead an independent EFCC devoid of scandals?
HRW, Opadokun seek reforms
Looking at these issues, the Human Rights Watch (HRW), former National Democratic Coalition Publicity Secretary, Mr Ayo Opadokun, said Lamorde might not record much mileage unless necessary reforms were made to strengthen the EFCC.
According HRW, the sudden dismissal of Nigeria's controversial anti_corruption chairman would not fix the troubled EFCC unless the government carry out broad institutional reforms.
Rather than sacking the EFCC boss, it noted that the commission was facing broader institutional failures such as executive interference and judiciary inefficiency, which it contended must be addressed, if the commission was to improve its anti_corruption record.
"The EFCC's mandate is to fight corruption that the political system actually rewards, and to accomplish that by working through institutions that are either broken or compromised," said.Daniel Bekele, Africa director at Human Rights Watch. "That's an almost impossible job no matter who is in charge."
Established in 2003, HRW noted that EFCC that has publicly challenged the longtime impunity of Nigeria's ruling elite. It has arraigned 35 nationally prominent political figures on corruption charges, including 19 former state governors. But many of those cases have made little progress in the courts, and no politician is currently serving prison time for any of these alleged crimes. The commission has secured four convictions of senior political officials since 2003, but they have faced relatively little or no prison time.
It urged the present administration to present legislative amendments granting tenure security to the commission chairman. "The institution can never be truly independent if the president can dismiss its chairman at will. The government should also bolster Nigeria's other key anti-corruption institutions, the Independent Corrupt Practices and Other Related Offences Commission and the Code of Conduct Bureau.
Nigeria's weak and overburdened judiciary has also been an obstacle to effective prosecutions. Most of the corruption cases against high-level political figures have been stalled in the courts for years, with their trials not even begun. In early November, Nigeria's new Supreme Court chief justice, Dahiru Musdapher, took a long overdue initiative by instructing judges to expedite corruption cases, giving them a six-month deadline to complete these cases.
The government should build on this promising initiative by beginning the long-term process of repairing the battered federal court system, reforming federal criminal procedure, and examining ways consistent with due process rights to establish special courts or designating specific judges to hear only corruption cases, Human Rights Watch said.
HRM also called on Jonathan to pledge publicly not to interfere in the EFCC's work and to support aggressive efforts to fight corruption no matter who is implicated because "past governments have openly interfered in key anti-corruption cases, discouraging the commission from acting as aggressively as it otherwise might. One of the EFCC's greatest weaknesses has been its lack of independence and susceptibility to political pressure."
Without institutional independence, EFCC won't deliver — Opadokun
On his part, Opadokun said that President Jonathan yielded to pressures from Western powers and non-well-meaning politicians in sacking Waziri. He averred that without political will, empowerment of the commission and amendment of the EFCC Act to make the commission independent and difficult for the President to remove the chairman without two-third majority approval of the Senate, the anti-graft crusade would not yield dividends.
His words: "If President Jonathan can exploit the EFCC 2004 Act to summarily dismiss Waziri, it shows that any person occupying that office will be looking at his back, whether or not he has pleased the President, those in government or party in power. The sack of Waziri will not improve the anti-graft war unless there is political will and these three things are done:
"The EFCC Act should be reviewed to the extent that before the chairman is sacked it has to be approved by two-third majority of the Senate. The President is human and at times can play to the gallery. He should not be given the opportunity to summarily dismiss the EFCC chairman. Government must develop sufficient political will to empower the EFCC and provide the necessary support to make the EFCC live above board.
"Waziri was a sacrificial lamb. I am not making a case for her because she came to office on a corrupt and compromised platform. She came after late President Umaru Yar'Adua' election where a clique of evil characters were the alternative government.
They subverted the work Ribadu was doing and brought Waziri to cover their tracks. Perhaps, it is nemesis that is catching up with her as well. However, I am not under any illusion that anyone stepping into her shoes will not be subjected to this level of political conundrum."