Two scintillating tries by Yahaya and tries by Abdulmalik Salihu, Kazzim and Suleiman, who also converted two of the tries including his own, gave the Nigerian Police a well_deserved 29 _5 victory over Zaria in the final of the Cup competition of the EXP Lagos 7s Rugby Festival at Onikan Stadium on Sunday.
Coach Mike Taylor had worked hard with his team to eliminate the errors they made when they lost to Barewa at the Northern 7s Festival in Kaduna two weeks ago.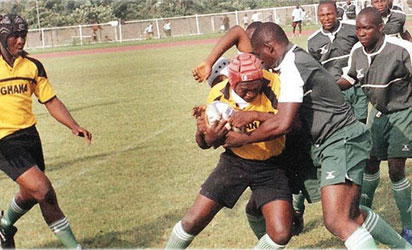 This time out their handling was slicker and the angles his attacking runners introduced kept Zaria on the back foot for most of the game. Friday scored a lovely try for Zaria in reply but the superior fitness and stamina of the Police team paid dividends as Zaria were forced to defend for most of the game.
In the Plate final a younger and fitter Kaduna beat the classy Abuja side 12_0. The lighter forwards in the Kaduna team consistently beat the bigger and heavier Abuja players to the breakdowns and Kaduna were able to secure quick ball from the rucks which they spread wide to secure their tries.
A try by Emma converted by Williams gave Lagos Racing a 7_0 victory over Edo in the Bowl Final while a much improved showing by the Shell sponsored Warri side gave them a narrow 2 point victory over Ilorin in the Shield Final
The tournament format in the Lagos 7s Festival sponsored by experiential marketing agency EXP followed the format of a normal rugby sevens event in which the top two teams in each pool advance to the Cup competition.
The four quarterfinal losers drop into the bracket for the Plate. The Bowl is contested by the third and fourth_place finishers in each pool, while the Shield is contested by the losing quarterfinalists of the Bowl.