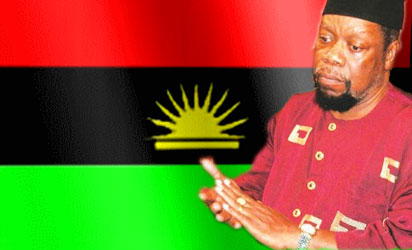 Late Igbo Leader, Dim Chukwuemeka Odumegwu-Ojukwu
BY OUR REPORTERS
STATESMEN are usually given state burial but former Biafran Leader, Dim Chukwuemeka Odumegwu-Ojukwu, will get more than that. His body will be flown to three African countries and one American country before the final burial in his Nnewi country home, according to his will.
Anambra State Governor, Mr. Peter Obi, who gave the indication, yesterday, in Awka said that Odumegwu-Ojukwu listed where his body would be taken to before burial.
The countries are nations that supported the Biafran struggle and recognised Biafra as an independent state. They are Gabon, Tanzania, Ivory Coast and Haiti
At the end of the civil war, Ojukwu sought asylum in Ivory Coast from where he returned to Nigeria in 1982 when he was granted state pardon by former President Shehu Shagari
Obi who reiterated the determination of Nigerians to give the leader of the All Progressives Grand Alliance, APGA, a befitting burial, added that arrangements for the burial would soon be announced.
He said that government activities had been scaled down as a mark of respect for Ojukwu, adding that only very necessary activities would be taking place in the state.
Meanwhile, condolence registers have been opened in various places in Anambra State for people to record their feelings about the late Ikemba. An announcement in Awka named the places as the Government House, the state secretariat, the judiciary headquarters, the House of Assembly complex and all the 21 local government headquarters in the state.
This came as the Movement for the Sovereign State of Biafra, MASSOB, declared seven-day mourning and rain of tributes for the late Ikemba Nnewi continued to pour yesterday. Among those, who eulogised Ojukwu were General Olusegun Obasanjo, Justice Dahiru Musdapher, Chief Edwin Clark, Major-General Adeyinka Adebayo, Alhaji Yusuf Ali, Governor Gabriel Suswam, Governor Adams Oshiomhole, Dr. Ngozi Okonjo-Iweala and Trade Union Congress of Nigeria, TUC.
Ojukwu's death marks the end of an era – Obasanjo
Former President Olusegun Obasanjo, who went down memory lane on his relationship with Ojukwu, said: "It is with deep sadness that I received the news of the demise of my friend and colleague. He and I were sub-lieutnants in the army at Nigeria's independence in 1960. In a way, his death marks the end of an era in Nigeria."
Obasanjo also reminisced over discussions he had with Ojukwu before the latter's demise, noting that at several times, he discussed the possibility of an expression of remorse from Ojukwu "on the Nigerian civil war which in itself was a culmination of actions and reactions. I condole with his family and pray for the repose of his soul."
MASSOB declares 7-day mourning
Declaring a seven-day mourning for Ojukwu, MASSOB Leader, Chief Ralph Uwazuruike, said the mourning period would commence on December 1 during which Ndigbo all over the world were expected to offer prayers for the repose of Ojukwu's soul in the bosom of the Lord.
He said: "Ojukwu's death should not be used for politics. His death should be the basis for the unity of Ndigbo. We have to start the unity of Ndigbo from somewhere. With the death of Ojukwu the trouble of Ndigbo has come to an end. Let his death unite us rather that using it to play politics."
I did not expect him to die now – Obi
Anambra State governor, Mr Peter Obi has said that he did not expect Ojukwu's death on Saturday, noting that he was with the legendary Igbo leader the previous day. Obi, who was on President Goodluck Jonathan's entourage to France for an investors' forum said he had asked the president to permit him to break protocol so that he could go to London to see Ojukwu.
He said: "I spoke with him, he was fine. And I boarded a plane back to Nigeria. I was about boarding a plane to Enugu on arrival in Nigeria when I got a text message to the effect that Ojukwu had passed on. I now had to go in search of a flight back to London. I was not so lucky with BA but Virgin Atlantic did well although I had to pay a commission. So I got on that flight back to London. I just got back today."
Our sun will never set—Chukwumerije
Senator Uche Chukwumerije in a tribute entitled 'Our Sun Will Never Set', said that Dim Ojukwu passionately believed in equity and justice, diligence and merit, mutual trust and con fraternal bond, as the veins and arteries of the Federation. He said: "No citizen of this Republic ever lived Nigerian so fully, spoke Nigerian so eloquently and embraced so fearlessly the path to Nigeria 's greatness as Ojukwu. With iron will he defended these prerequisites not as lingua of governance and political rule but as the practical irreplaceable hinges of federal union. Eloquent in Igbo, Yoruba, Hausa and English he personified the feasibility of this oneness."
He was a hero and father figure for Igbo – Okonjo-Iweala
The Coordinating Minister for the Economy and Finance, Dr Ngozi Okonjo-Iweala, described Chukwuemeka Odumegwu-Ojukwu as a symbol of the Igbo struggle for a better Nigeria and a revered father figure to his people who would be dearly missed. Noting that Ojukwu was a man who had the courage of his convictions, she said his example should serve as an inspiration for Nigerians to stand for what they believe in.
**An advocate of distributive equity – Oshiomhole
Governor Oshiomhole described Ojukwu as an advocate of distributive equity in the governance of the nation, lamenting that Nigeria had lost a major personality.
Oshiomhole said: "On behalf of the people and Government of Edo State, I wish to commiserate with you and the good people of Anambra State over the death of Dim Chukwuemeka Odumegwu Ojukwu. Given your personal and political proximity to the Ikemba, I can appreciate how much pain his demise has caused you and several others, who found inspiration in his aversion to the opportunistic politics of the "mainstream".
He demonstrated uncommon statesmanship – Suswam
Governor Gabriel Suswam of Benue State said the death of Dim Odimegwu Ojukwu was coming at a time when Nigeria needed his wise counsel and wealth of experience in its journey to a full-fledged democracy.
He was a patriot — CJN
Chief Justice of Nigeria, CJN, Justice Dahiru Musdapher, yesterday, extended his condolence to the family of the late Ikemba of Nnewi, Ojukwu, describing him as a genuine patriot.
The CJN said: "Although the collapse of military esprit de corps and the failure of geo-politics regrettably resulted in Ojukwu taking up arms against his fatherland, his rebellion was no less motivated by patriotism than the action of patriots who rose to quell it was. Thus the post-war declaration of 'no victor no vanquished' was equally an affirmation of 'no hero, no villain."
He was voice for the voiceless—Clark
Also, former Federal Commissioner for Information, Chief Edwin Clark said the late Ojukwu was the voice for the voiceless who hated oppression and injustice. He also stated with Ojukwu's demise, a vacuum which will be difficult to fill has been created.
Clark who described Ojukwu as a fine top military strategist noted that "by his death, a vacuum has been created which is difficult to fill."
One of the best patriots Nigeria ever produced— NLC
Nigeria Labour Congress, NLC, described the late Chief Chukwuemeka Odumegwu Ojukwu, as one of the best patriots and nationalists Nigeria ever produced. The congress said in a statement by its Head of Information and Public Relations, Comrade Chris Uyot, that the late Odumegwu – Ojukwu lived and died fighting for a better Nigeria. It said: "The NLC received with shock and sadness, the news of the death of one of Nigeria's most revered patriots, and statesmen, Chief Chukwuemeka Odumegwu – Ojukwu who died after a protracted ailment in a London hospital on Saturday."
His death has created a vacuum, says TUC
Trade Union Congress of Nigeria, TUC, said in Lagos that the death of Chief Chukwuemeka Odumegwu-Ojukwu, had created a vacuum that nobody could fill in Nigeria.
In a statement by its President and Secretary, Comrade Peter Esele and Chief John Kolawole, TUC said in Ojukwu's death, Nigeria has lost another icon a week after the death of Alex Ibru with both statesmen affecting lives in different ways. It said: "By his death Nigeria has lost yet another icon a week after the death of Alex Ibru with both statesmen affecting lives in different ways. "
He fought against injustice and oppression — YCE
The Yoruba Council of Elders, YCE, has described the late Chief Emeka Ojukwu as a man who fought against injustice and oppression of the people. Addressing a press conference in Lagos, yesterday, president of YCE, Major-General Adeyinka Adebayo (rtd) expressed sadness saying Nigeria lost Ojukwu at "this crucial time of our national development."
Adebayo said: "Chief Ojukwu was a leader who devoted all his life to fight against injustices and oppressions. He was a man of strong principle who remained dedicated to his convictions until his last breadth. He was a political icon and a man greatly needed by many people to build and enhance their respective political influences."
He was courageous— Akinyele
Former Minister of Information, Chief Alex Akinyele, described the late Ojukwu as courageous man who laid the foundation for the agitation of the minority interests in Nigeria. He told Vanguard yesterday, that contrary to the views of some people, Ojukwu was a true Nigerian who had the interest of the nation at heart.
He was a wonderful man — Yusuf Ali, former NFA boss
Similarly, former chairman of the Nigerian Football Association, NFA, Mr. Yusuf Ali described the late Biafran warlord, Chief Ojuwku as a man who always thought of how to better the lot of Nigerians. Ali who described Ojukwu as a wonderful man said: "I had so many interactions with Ojukwu and I found him a wonderful man, a man who loved Nigeria so much. He loved his people and always thinking about how Nigerians can prosper."