BY TONY EDIKE
It was a carnival of sorts last Friday when Igbos converged to mark the 78th birthday of the ailing leader of the defunct Biafran Republic, Dim Chukwuemeka Odumegwu Ojukwu at his GRA residence in Enugu. The epoch-making occasion was the first of its kind since Ikemba Nnewi, who was born on November 4, 1933 at Zungeru in Northern Nigeria began to celebrate his birthday.
Unfortunately, Ojukwu, who is still recuperating in a London Hospital following a massive stroke attack since the past one year was not available to receive the encomiums showered on him by eminent Igbo sons and daughters, who graced the occasion.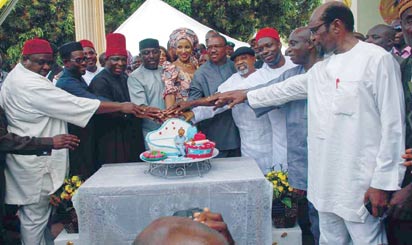 His wife, Bianca, who returned from London a day before the event, was present and she stood firmly to receive the torrents of tributes showered n her spouse. It was indeed a solemn moment as the former Beauty Queen was visibly overwhelmed by the quality of attendance and the accolades poured on the former Biafran warlord.  Ojukwu, who is generally regarded by Ndigbo as Eze Igbo Gburu gburu actually got 78 cheers from his associates most of whom eulogized him and prayed for his quick recovery.
The expansive compound was filled to the brim as Igbos from the five states of the South East trooped out en masse to honour Ikemba. Former Biafran officers, politicians, bishops and clergy men from different denominations and members of the Chief Ralph Uwazurike-led Movement for the Actualization of the Sovereign State of Biafra (MASSOB) attended in their numbers. Several cultural troupes including the Ohafia War Dance entertained the guests while renowned Igbo Gospel Singer, Felix Ndukwe and his live band spiced the day.
The list of VIPs present included businessman and frontline politician, Chief Emmanuel Iwuanyanwu; Governors Rochas Okorocha of Imo State and his Anambra counterpart, Mr. Peter Obi; National Chairman of the All Progressives Grand Alliance (APGA), Chief Victor Umeh; Senators Chris Ngige and Uche Chukwumerije; former Governor of the Central Bank of Nigeria, Prof. Charles Soludo; Monsignor Obiorah Ike  of the Catholic Diocese of Enugu and Anglican Bishop of Enugu, Dr. Emmanuel  Chukwuma and other members of the clergy; Deputy Governor of Imo State, Jude Agbaso; former Chairman, South East Traditional Rulers Council, Eze Cletus Ilomuanya; and former Deputy Governor of Anambra State, Mrs. Virgy Etiaba, among others.
Obiora's soul-searching sermon
Monsignor Obiora Ike kick-started the event with a soul-searching sermon at an interdenominational church service in which he asked all Igbos to show love for one another and jointly pursue the goals, which Ojukwu set out to achieve by declaring the Biafran Republic. He condemned divisive tendencies among Igbos, saying unless they unite to pursue a common course, their desire to make political progress in Nigeria would be a mirage.
Applauding Ojukwu's resilience in fighting for the progress of Ndigbo, Monsignor Ike urged Igbos especially the politicians to always place the interest of their people above other considerations.
The sermon set the stage for various speakers particularly politicians to harp on the need for Igbos to rediscover themselves and imbibe an Igbo spirit which the former Biafran leader personified.
Why Ojukwu is sad – Chukwumerije
Senator Chukwumerije thereafter mounted the platform and in his usual manner, looked at his kinsmen eye-ball-to-eye-ball and made a remarkable declaration. "I hope all of you understand what we mean by the spirit?," he asked the crowd who yelled 'yes!'.
He continued, "The spirit we are talking about is the spirit of never-say-die; the spirit of keeping your head high. The spirit of saying come rain, come sun Ndigbo will rise again in Nigeria. That is the spirit we are talking about!
"Our leader Ojukwu is the unhappiest man today. He's very unhappy because the greatest casualty of the civil war are not those killed, nor the properties destroyed but the death of the spirit of the Igboman. It is so sad that 43 years after the civil war the Igbo man can't rise up with courage and say 'this is my right, let me claim it back.' And this is what the spirit of Ojukwu is telling you, the Igbo people today," he said.
The senator further said, "Wherever Ojukwu is today watching you; he will recover tomorrow if he knows that you (Ndigbo) are going to rise as one person to re-assert once more the pre-eminent position of Ndigbo in Nigeria.
You talk about Igbo people producing the next Nigeria's president in 2015, and some Igbos shy away from it. And if you want to be like Ojukwu, please imbibe the spirit of Igboman. Ojukwu is the only man I know in the whole of Igbo land, come rain, come sun; never mind what the whole world is saying, he stands for the Igbo people and speaks for the Igbo people."
Iwuanyanwu decries Igbo disunity
On his part, the Chairman of Champion Newspapers, Chief Emmanuel Iwuanyanwu lamented the disunity among Igbos and declared that there is nothing the Igbos could not achieve in the present day Nigeria if they were united. While praying God to change the heart of the people, the PDP leader appealed to Igbos to allow the collective interest of the people to override personal and pecuniary interest of individuals.
He described Ojukwu as a good Nigerian and a man of peace, saying, "Ojukwu is a committed Igbo and a good leader, who is a leader among leaders."
Ojukwu's survival, a miracle – Bianca
Mrs. Bianca in her emotion-laden speech disclosed that for the past one year, Anambra State Governor, Mr. Peter Obi had been paying the medical bills of her husband, which runs into millions of naira.
She said the survival of Ojukwu since he was bedridden was a miracle, adding that his being alive till date was indeed a miracle. Mrs. Ojukwu, who expressed satisfaction with the manner Governor Obi has so far handled the health issues of the elder-statesman, said she could not thank the governor enough for all his show of kindness and concern for her husband.
"The governor of Anambra State was the person who made arrangements for Ojukwu to be flown abroad. Up till today, every month he comes to London to see him in the hospital. He has been the one paying all his medical bills running into hundreds of millions. This is not a child's play and I remain grateful to the governor," she said.
Also acknowledging the roles played by Chief Umeh and some Igbo leaders who had personally visited Ojukwu in London, Mrs. Ojukwu said that their support and prayers had gone a long way in keeping the man alive.
"After almost one year, Eze-Igbo (Ojukwu) has rejected death. He has stared death in the face, and on many occasions he said by the grace of God it is not my portion to die now. It is something to celebrate. Despite his sickness in these challenging times, he remains a true General," she said, "In all the hospitals that he was attended to in London, the doctors and other medical personnel call Ojukwu the General, and I want to tell you all that the General is still here. By the grace of God, he wants to come back in good health and he remains appreciative of all your prayers."
She praised MASSOB Leader Chief Uwazurike, for initiating the birthday celebration, which she described as a huge success.
We're celebrating excellence – Okorocha
Addressing the crowd, Imo State governor who began his speech with an Igbo song praising Ojukwu for his good works, declared: "Today, we have gathered here to celebrate excellence. We have gathered here to give honour to whom honour is due, and to really rejoice with the great icon, the pillar of unity and the representative of the Igbo nation. We are here to give God all the glory for a life that he is still living and for God granting him mercy during this period of his strife."
Okorocha also said, "Let me say something to all of us. We are Igbos and indeed we are Igbos and nothing can change the Igboness in us. I say to most people that the whole world is waiting for Ndigbo, and not Ndigbo waiting for the whole world.
We are special group of people carefully created by God on a specially arrangement, on a special contract with the creator; that whatever our hand touches prospers and wherever we step our feet, we take dominion; that's an Igboman for you. We don't play second fiddle. We are a great people and a great nation. We are the sleeping giants, and indeed, one day we shall rise soon."
According to him, "If there is marginalization in Igboland, indeed, it is the Igbos that have marginalised themselves because we are special creatures created by God to take dominion. My appeal to the Igbos today is that we should use this Ojukwu's birthday to make a re-think.
What are we really looking for? Is it power or money? If power is anything to go by, I think many people would have gone with the power many years ago. If it is money, then many of us or many people would have stopped looking for money. What are we really looking for that we cannot unite?
"The day the Igbo nation comes together – .the Ekwuemes, the Iwuanyanwus, the Arthur Nzeribes, all our leaders, the governors all coming together eating on the table of brotherhood; I tell you nations will bow before the Igbo nation. Our problem is ourselves and no one is holding us but we are holding ourselves. Let's embrace each one another. Let's work in unity.
"No matter the party in which we find ourselves, no matter the association we find ourselves, let every Igbo man first of all be an Igbo man before joining any political party. Political party must never divide us because at times in life the Igbos say when the corpse begins to smell the friend greater than a brother will certainly take his leave."
Obi salute Ndigbo
Governor Peter Obi of Anambra State, in his brief remarks, extolled what he regarded as the sterling qualities of the Igbos which made them to occupy first positions in major public offices in the country before and shortly after independence.
He said that Nigeria ought to be appreciative of Ndigbo for their immense contribution to the development of the country, stressing that Dr. Nnamdi Azikiwe, who pioneered the nation's independence was an Igbo man although he regretted that executive power eluded him when eventually the country was granted independence.
Ojukwu, greatest Igbo spirit alive – Umeh
Umeh, APGA national chairman, thanked God for saving the life of Ojukwu, whom he described as "the greatest Igbo spirit alive."
Noting that on several occasions, newspapers had broken the news of Ojukwu's  purported death, he had continued to live "Nobody can explain it; that somebody can be in coma for nearly six months in wheelchair in England; it is not easy. Each time you visit Ikemba in the hospital, you will see a different thing. When you think that all hope is lost, you call him and he will open his eyes to tell you that he is still with us."
Although the MASSOB leader, Uwazurike declined to make a speech when called upon to do so, he had at a pre-event news briefing said that he was inspired to organise the ceremony to appreciate the enormous sacrifices that Ojukwu had made for the progress of the Igbo nation.
"This is not the first time we are organising Ojukwu's birthday. We've been doing it. He is the most valuable persons for the Igbos. Those who fight for the cause of the people can never be forgotten. There is no other way to pay them for their services than to show our loyalty and love for them.
When we do things like this, we inspire others to be selfless in their services to humanity. When you serve the people well, people will in turn serve you. This is why I find it as an obligation to organise his birthday."
Uwazurike said that Ojukwu's birthday celebration would now be an annual event and would continue even when he is no more, adding that an epitome would be erected in honour of Ojukwu in the capital cities of the five South East states beginning with Enugu to enable future generations of Ndigbo to continue to remember the Biafran leader and the sacrifices he made for the Igbo race.
Subscribe for latest Videos