By Emmanuel Aziken & Henry Umoru
ABUJA — Former Vice President Atiku Abubakar has launched a blistering attack on former President Olusegun Obasanjo, accusing him of deliberately foisting an unhealthy Umaru Yar'Adua on the country as a punishment for the rejection of the third term constitution amendment in 2006.
Atiku who also accused Obasanjo of seeking to be Nigeria's version of Zimbabwe's Robert Mugabe cited the memoirs of erstwhile United States Secretary of State, Condoleezza Rice, as evidence that Obasanjo lobbied for the third term constitution amendment among world leaders.
The attack from Atiku followed a newspaper interview where Obasanjo was alleged to have described Atiku as incompetent, unworthy of the presidency and untruthful.
My problems with OBJ
Rebuffing the allegations by former President Obasanjo, Atiku in a statement from his media office in Abuja, yesterday, said his major problems with the former President arose from his opposition to his third term plan.
Atiku in the statement narrated how Obasanjo allegedly sent two cabinet members of the regime to him to deliberate on a draft constitution.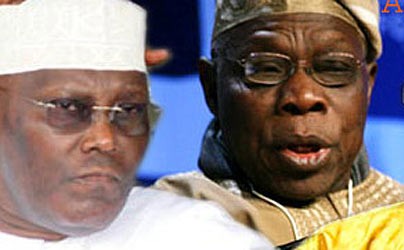 Curiously, Atiku said, the draft was silent on term limit, which made him to smell a rat and that his courage to confront Obasanjo over this controversial plan was the beginning of his troubles with his former boss and the subsequent plots to frustrate his ambition to become President.
Noting that Obasanjo did not have an original succession plan contrary to the claim that he had initially groomed him, Atiku denied the claim, saying the former President was forced into a "last minute succession by bringing a medically challenged late Umaru Yar'Adua to succeed him as a means of punishing Nigerians for rejecting his life Presidency ambition."
Praises past leaders
Atiku praised Nigeria's past leaders including General Yakubu Gowon, Alhaji Shehu Shagari, General Ibrahim Babangida, Ernest Shonekan, Gen. Abdulsalami Abubakar, statesmen, legislators, past Chief Justices and the media for coming together to pull Nigeria from the brink and ensuring an orderly succession to the Presidency by the then Vice President, Dr. Jonathan Goodluck.
"Without this, Nigeria would have been plunged into yet another major crisis arising from the actions of one man," Atiku said.
On the allegations of inexperience, incompetence and unreliability made against him by Obasanjo, Atiku said Obasanjo was the last person to lecture any Nigerian on reliability.
The Rice's memoirs
Atiku also referred to the memoirs of former US Secretary of State, Rice, "No Higher Honour" where she reportedly made reference to Obasanjo's alleged plans for a third term.
"In 2006 when President Olusegun Obasanjo of Nigeria sidled up to President Bush and suggested that he (Obasanjo) might change the constitution so that he could serve a third term, President Bush told him not to do it. In Bush's words: 'You have served your country well. Now turn over power and become a statesman," she was quoted as saying.
Atiku also dismissed as preposterous the allegation against him by Obasanjo that he is inexperienced. He challenged Obasanjo to disclose any responsibility or task that he assigned to him while in office, which he didn't discharge competently.