Ojukwu's body'll remain in London for now
By TONY EDIKE
ENUGU—NATIONAL Chairman of All Progressives Grand Alliance, APGA, Chief Victor Umeh, said yesterday that the remains of former Biafran leader and Ikemba Nnewi, Dim Chukwuemeka Odumegwu-Ojukwu, who passed on in London last Saturday, would not be flown back to Nigeria in the next few days and that Nigerians don't need to immortalize Ojukwu again because he had already immortalized himself .
Umeh, who returned from London Wednesday, told newsmen after signing the condolence register at Ojukwu's GRA residence in Enugu that the corpse of the elder statesman would remain in London until necessary arrangements for his interment were concluded.
He explained that the decision was for security reasons but did not specify the security implication of bringing Ojukwu's corpse back to Nigeria now.
The APGA Chairman also expressed confidence that Ojukwu's death would strengthen the party across the country saying those insinuating that the party would go down with the death of its national leader are jokers.
He said: "We have in the interest of security decided that the corpse will remain in England until when we are ready with all the arrangements so that once the body is brought home, the burial rites will commence.  So, the decision is that we should still leave his corpse in England for proper care and for us to get back home and work.  That is it for now."
He said though the demise of Ojukwu was a big blow to APGA, his absence would not cause the death of the party.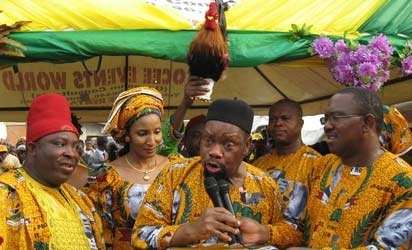 "We made Ojukwu life leader of the party; he was the live wire of our party; he was the stabilizing force of our party.  In fact, he was the goodwill that APGA had in Nigeria. But you now ask – now that he is gone will APGA die? APGA will never die," Umeh said.
I tell you, I am the Chairman of APGA today. I worked for Ojukwu, I also worked with him; I understudied him; we had several strategic sessions over challenges facing APGA when he was alive and we were able to pull through all of them.
"I knew his mindset and what he wanted for the party. The spirit with which he led APGA is still with us, therefore APGA will never die," Umeh said.
Faulting the calls for the Federal Government to immortalize Ojukwu, Umeh said that Nigerians don't need to immortalize Ojukwu again because he had already immortalized himself in the hearts of the people he fought for, stressing that even if monuments are built outside Igbo land in memory of Ojukwu, they would mean nothing.
"Ojukwu will remain in the heart of every Igbo man or woman and even those yet to be born and that is the greatest immortalization anybody can live for.  Monuments can't make anybody's memory eternal but what that person stood for.
The Bible says, to live in the heart of those who love you is not to die. So, Ojukwu has not suffered death in the hearts and minds of Igbo people.  In a hundred years, in two hundred years the Igbo people will continue to feel a sense of loss because Ojukwu lived and died an Igbo man," the APGA Chairman declared.