*Says Oshiomhole is unbeatable
SENATOR Ehigie Uzamere, ACN, Edo South made history last April when he became the first Senator from Edo South to win re-election having crossed over from the Peoples Democratic Party, PDP to the Action Congress of Nigeria, ACN few months to the election.
A trained architect, Senator Uzamere was in his first term a central player in some of the major political schemes in the Senate; and was notably pivotal to the formation of the National Interest Group, NIG which paved the way for the emergence of then Vice-President Goodluck Jonathan as Acting President last year.
His politics at home and in the Senate have sometimes been pushed without sense of subtlety especially when he had to defend and champion Bini interests. In this interview ahead of the third anniversary of the inauguration of Comrade Adams Oshiomhole as Governor, Senator Uzamere reviews the Oshiomhole years, the Governor's chances in the forthcoming election and on how and why he defied Chief Anthony Anenih, the revered national leader of the PDP in Edo State
By Emmanuel Aziken, Political Editor & Ayuba Olabisi
ALMOST three years of Oshiomhole's administration, how would assess him?
I came into ACN to join the struggle with him towards the end of last year.
Even from a distant point when I was in PDP, I was able to see that Oshiomole has improved tremendously, the infrastructure in Edo State and also the human capacity. He has done well within the three years and we pray that Almighty God will direct him to do more for us.
But some say that he has taken more than he can chew and that Benin is now littered with abandoned projects?
I am not aware that projects are littered around, but I see projects that he has initiated, and these are giant projects, which are not expected to be completed between one or two years and I am yet to see any of the projects that has been abandoned. In all the projects that I have seen, the contractors are at work, except the one at Airport Road which has been terminated, and has been re-awarded. So, I am sure after the rainy season the contractors would move to the site.
How do you compare his administration with that of his successors especially those from your former party?
Well, I will speak on PDP from 2007; because that's when I was elected the first time to represent the Edo South people. The Osunbor administration was characterized by factions and Osunbor had his own good plans within that one year and six months; but Oshiomhole administration is a people oriented administration, where people have a say, where people participate. So these are the two different things.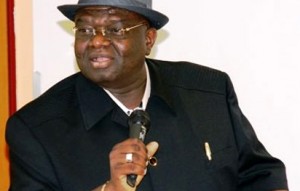 Right from day one when Osunbor was sworn in, he was faced with factional problems and he could not manage the two factions. But Oshiomhole did not have a faction.
He came in and said that the people must lead, and the people are leading and he is doing well.
With the PDP now reconciling its members to challenge Oshiomhole next year, what are your party's chances in the election?
Well, I think the chances of my party are much brighter than PDP's. PDP as we speak is a virus in the sense that if you look at the whole PDP in Edo State you will see that Edo North has Chief Mike Oghiadhome as Chief of Staff and Edo Central has the Minister of Works. Edo South is left with nothing.
I am not in their party but I am told that the party has now zoned the governorship to Edo South. Now, what the PDP has done carefully, is to zone the governorship to Edo South so that the Edo South will go and waste their time. Why did the Central not complete their tenure? Why was it that when a Bini man was made a Minister, he was given Minister of State. Why was Ogienwonyi given minister of state and the central (man) is there today and was given a full Minister of works.
So, what they have given to Edo South is a promissory voucher that does not have cash backing, which has no value. By July 14 you will come to terms with me with what we are saying.
Some may talk of ethnic sentiments, but if man that is  not born in your place is helping you better than your own brother, what will you do? You will go with the person who is helping you to develop the city. So the question of tribal settlement and that Governor Oshiomhole is not a Bini man and that it is the turn of a Bini man; and so what? What has that got to do? It has no meaning.
Emeka Nzeogwu street
As far as I am concerned its only in Benin that you will have Emeka Nzeogwu street, its only in Benin you can see a street named after a Yoruba man.
You go to some streets in GRA you will see a street named after Itsekiri persons, after Ibos and others. This is to tell that once you have the right candidate, the Binis will…
So, you think all the efforts of the PDP will be to no avail in the coming election?
I don't know whether there is unity or disunity among them because I am not in their party. All we are waiting for is for us to go to the field, lets start the campaign and I will queue behind my party and ensure that my party will come out first in the election?
Are you not troubled that your party is equally divided especially in Edo South where you have those supporting and those against the incumbent deputy Governor?
I think that it is too early to discuss that for now. The election is in July, there is still time for the Governor and the leaders of Edo South. The question as far as I am concerned is too early for now.
Is the incumbent Pius Odubu qualified to return as Deputy Governor?
Why is he not qualified? A man who has been the deputy Governor and a member of the House of Representatives. Why is he not if he has been there for the past four years? But it is the leadership of the party in Edo South in consultation with the Governor that will decide.
Let me also tell you that I just joined this party about a year ago and will be careful about what direction the party will go and will abide by the decision of the party which ever.
Are you still in touch with your former leader, Chief Anthony Anenih?
Well, the question is too direct for me, but everybody in PDP, both in and out of Edo State know that I have tremendous respect for leaders. I am not cut out to abuse anybody older than me. My disagreement with Chief Anenih had nothing to do with abusive words. They had to do with things that concern and bother on the integrity of the Bini man. I stand by it and I have said it even in ACN caucus meeting that every senatorial district must be autonomous. I will not stand or be in a place where the Bini man will be relegated to the background.
So, you believe that the PDP was relegating Binis?
At that time yes. There was a problem and I stood by the Bini people and will still stand by them. I have tremendous respect for Chief Anenih like other leaders. He is a man who has since 1982 as I was told, been in politics and he has done well for himself. A minority within minority has taken centre stage in Nigerian politics and it shows that in his own right he is a good man. I have nothing against him and my disagreement with him concerned who represented us at a particular time.
Freedom to speak
Allow us to decide for ourselves and that is the freedom I speak about all the time. Allow us to be independent and once we are independent we can decide for ourselves.
You are the first Bini man to be re-elected into the Senate. What has been your experience?
Well, I thank the people of Edo South senatorial district for giving me the opportunity to represent them in the seventh Senate and being the first Bini man to achieve this feat. But I wont allow that to get into my head because as far as I am concerned I did not return to become a ranking Senator because there was no Bini man. I have a passion to represent my people and my people never disappointed me.
This seventh Senate is a different ball game from the sixth Senate. Here, we have in the seventh Senate men who were former Governors, businessmen, people who have held positions all over. We are just less than six months and we are studying ourselves.
But the Senate as ever is a very quiet chamber now and our loyalty to Senator (Dr.) David Mark.
You are the chairman of the Senate committee on local and foreign debts, what is the status of our foreign debt?
It is more than $5 billion now while the local debt is about N6 trillion. What we did in the 2011 budget was to earmark about N12 billion with which local contractors were paid. I hope in 2012 we can do better.
Are you worried that President Jonathan is pilling up foreign debts after President Obasanjo exited the country from the Paris Club?
I am not worried because Obasanjo's time and Jonathan's time are two different scenarios. What is important is that the loans are put into useful projects.
Subscribe for latest Videos