By EMMANUEL ELEBEKE
On November 16, some Igbo groups under the aegis of Centre for Nationalism and Good Governance, organized a lecture to mark the 15th Nnamdi Azikiwe's Day and Town hall meeting in Lagos.
The event attracted some renowned politicians and professionals from all walks of life including the African Democratic Congress, ADC 2007 Presidential candidate, Professor Pat Utomi.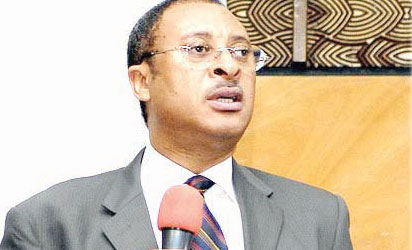 In an interview on the sidelines of the lecture, Utomi spoke on the standard of leadership in Nigeria, proposal for the removal of oil subsidy, power supply, insecurity, national honour and the Sovereign Wealth Fund among other issues. Excerpts:
WHat would you say is the significance of this event?
The significance of today is that it is the birthday of Dr. Nnamdi Azikiwe. It reminds us that Nigeria really has not got it right in terms of governance and management of the nation's resources, the way Zik and other nationalists envisaged. Also, we are cerebrating Zik today because he has not been given a befitting honour by the Nigerian people and its government.
We have a collapse of culture in Nigeria. The only people that matter are the people of the moment, who corner power and can abuse power for their self-interests, not people of service.
Collapse and failure
So, in a way, remembering Zik on a day like this, we are remembering the collapse of culture and failure to realize the dreams of the founding fathers of Nigeria.
What should today's leaders do to restore what has collapsed?
Sacrificial giving of oneself to others. The Nigerian society should reject bad and selfish leaders. They should be encouraging knowledge and sense of service to other people.
What is your take on the government's proposal to remove fuel subsidy?
Given an experience of governance in this country, money is not better in the hands of Nigerian government.
Nigerian government has not proved to be a good caretaker of the common wealth. Let Nigerians have the money with them, they will know how to manage it better than the government is currently doing. At least, knowing what they like and want to buy, they will be able to satisfy their needs. If they choose to use it to buy petrol at any price or water, so be it. What I'm saying is that the Nigerian government is not a good caretaker of common wealth.
But Federal Government is insisting on going ahead with the plan…
That is irrelevant. President Jonathan can't personalize things. It is not about him. The Federal Executive Council is just watching without doing anything. The FEC does not function as it should as is being done in other countries of the world.
Every Wednesday, they keep announcing contracts without looking into so many issues bothering the country like the Boko Haram, power and collapse of infrastructure. That is not what it should be doing. It should be taking on serious discussions on why there is problem in the North East, intelligent minds brainstorming on why there are no jobs, not on how many contracts should be awarded.
Are you confident with what the minister of power is currently doing to improve power supply in the country?
We have a systematic problem in that sector. I wish him well. I also wish anybody who is going to try to make the difference well, but the problem is systemic and fundamental. We spent billions of dollars and we saw a little result. That is the truth of the matter.
The nationwide bombing by the Boko Haram group has become a source of worry to the nation, what do you think should be done to address this?
It is multifaceted and security-based. It is not even worth being discussed here. What we need is to change the economic condition in most parts of Nigeria.
But we need a lot of intelligence gathering that will enable penetration of all these movements, identifying them and engaging them underground quietly instead of using maximum force. We can work all of that out.
Criticisms greeted the just concluded national honours award by the Federal Government, are you comfortable with that list?
I did not even bother to go through the list because in Nigeria honour is given to people who want to honour themselves.
It is only Nigerian people who lobby to be honoured. Chinua Achebe remains my hero for rejecting the whole thing. It makes no meaning to any person who has sense of value. Why should the award make meaning to me?
Value in the
heart of men
If I got GCON, I will never write it inside my name because these things are of no relevance, not to talk of people taking advert to congratulate me. For me, those things are meaningless. Value is in the heart of men. If you are valuable in the heart of men, that will count. What matters is the value we make in the heart of men.
How do you see The Federal Government's introduction of Sovereign Wealth Fund (SWF) and the opposition from governors?
It is because they don't know how nations are built. Those opposing the introduction of SWF do not have vision.
Every nation that makes progress manages to understand the meaning of savings. As individuals, you can't make progress if you save from what you earn without asking how much it is. Sovereign Wealth Fund fundamentally, is about saving culture by a country. If you want to collect all that you have and squander them now, that will be at the expense of your children.
There is also ongoing plan to re-enact a law for direct allocation to the local government councils, of what significance is that going to be to the country?
We need to restructure Nigeria completely. So, dealing with all these in beats and pieces doesn't help at all. The problem with local government is that when they collect money, somebody will squander it somewhere without accounting for it and they will not make any progress.
The way we fund our local governments in this country has a lottery effect, because it encourages a situation where somebody will collect and spend money that he did not work for.
Various speakers at this gathering were unanimous in their call for a parliamentary system of government in Nigeria, would you also subscribe to that school of thought?
Of course, parliamentary system of government is superior to the presidential system being practiced today in Nigeria.
Subscribe for latest Videos