By Laja Thomas
An indigenous developer, Gioni Company Limited, has introduced a promotional offer of discount houses and special payment options to reduce the challenges of home ownership in Nigeria.
Through this promotional offer, affordable homes have been set aside for purchase by National Housing Fund (NHF) contributors at prices stipulated by the Federal Mortgage Bank of Nigeria, (FMBN).
By the arrangement, the developer is offering12 units of two-bedroom and three-bedroom en-suite detached bungalows with well finished interiors, bathrooms, fitted kitchen, wardrobes and POP screed that befit contemporary homes.
The residential estate also comprises 16 units of four and five bedroom fully detached duplexes with all rooms en-suite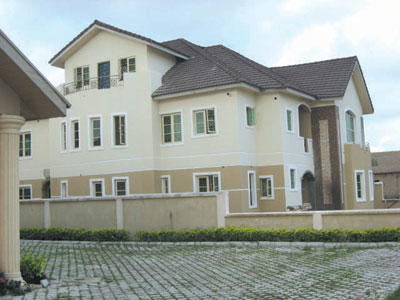 with well finished interior decorations, bathrooms, fitted kitchen, wardrobes and POP screed and 72 units of three bedroom en-suite luxury apartment, with prices ranging from N10 million.
The estate, a mixed development, also has100 service plots for sale for private development. Already, the developer has developed over 70 housing units on 10 hectares with 80 percent developed infrastructure.
According to an official of the firm, Mr. Owolabi Adejonwo, the firm is targeting corporate bodies, cooperative societies, government agencies, ministries and individual citizens to buy units in residential housing estate located along Lekki-Epe Expressway, adjacent Lakowe Lakes International Golf Resort, Ibeju-Lekki, Lagos.
It is expected that anybody or group that buys during this promo period of October to December, 2011 will get between 10 per cent and15 per cent discount of the total cost of the building or land.
''The promotion is to encourage people to acquire their dream homes at affordable prices. This arrangement is to take away the issue of bank charges on borrowing for property acquisition thereby frustrating people from actualizing their dream of home ownership'', Mr. Adejonwo said.