By MICHAEL EBOH
LAGOS— The Central Bank of Nigeria, CBN, said, yesterday, that the cost of processing, handling and managing cash, if not checked, will cost Nigeria about N192 billion by next year.
CBN's Deputy Director, Currency Operations, Mr. Albert Ikmseedun, who disclosed this at a sensitisation programme on the proposed cashless economy policy for the Muslim community in Lagos, said it was high time Nigerians embraced the new cashless policy due to the high cost of cash to the financial system.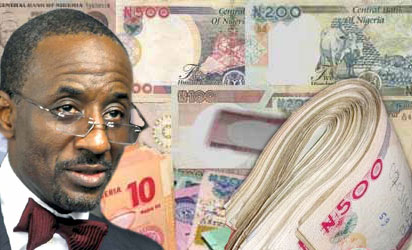 He said the disadvantages of transacting businesses with cash, outweighs its advantages, noting that in 2009, the total cost spent on cash-in-transit was N27.3 billion, while cash processing stood at N69 billion.
He appealed to residents of Lagos State to embrace the new policy when it becomes functional in the state, adding that the new policy would in the long run, help to bridge the gap between lending and deposit rates in the country.
According to Ikmseedun, the policy does not mean that cash would no longer be in existence in the country, but that it was aimed at moderating the volume of cash in the system.
He identified robbery, high cost of processing cash, revenue leakages, and inefficient treasury management, among others, as some of the negative side of a cash-based economic system.
He said: "If there is reduced cash in the system, banks would be able to compete favourably. There are so many alternative payment systems in Nigeria which are even more convenient and safe, but people are not using them."
"With the improvement in communication in the country, there have been a lot of improvements in the payment system.
"Cashless Lagos does not mean there would not be cash in Lagos again, but it is an industry collaborative effort aimed at executing the payment transformation plan of the state.
"We are going to significantly increase the amount of Point of Sale (PoS) terminals in the state. We chose to start from Lagos because over 50 per cent of the money supply in the country ends up in this state. If it works here, then it can work in any other part of the country. The market is in Lagos and Lagos is mini-Nigeria."