SAN FRANCISCO (AFP) – World leaders, tech giants, and countless ordinary people have paid tribute to Steve Jobs after his death, marvelling at how the Apple visionary made modern life more user-friendly.
Perhaps the most poignant tribute to the towering innovator was that word of his death on Wednesday spread almost instantly to all corners of the earth on the popular laptops, phones and tablets that he had invented.
Social media sites sagged under the weight of Jobs-related posts, with the chatter so immense it caused Twitter to seize up and led analysts to predict the breaking of traffic records.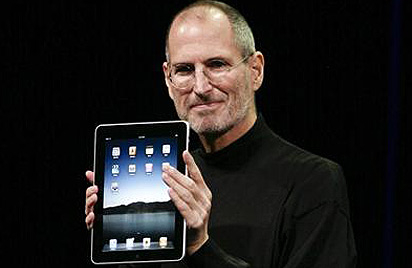 US President Barack Obama said Jobs, who died from cancer Wednesday, had "transformed our lives, redefined entire industries, and achieved one of the rarest feats in human history: he changed the way each of us sees the world."
"By making computers personal and putting the Internet in our pockets, he made the information revolution not only accessible, but intuitive and fun," he said in a statement issued shortly after Jobs's death was announced.
Russian President Dmitry Medvedev, an avid Apple fan who has quoted Jobs in his speeches and is often seen with an iPad at government meetings and press conference, said: "People like Steve Jobs change our world."
Jobs's death at the age of 56, following a long battle with cancer, was also mourned by fellow tech giants across Silicon Valley and beyond, including many longtime competitors.
"Steve and I first met nearly 30 years ago, and have been colleagues, competitors and friends over the course of more than half our lives," Microsoft's Bill Gates said in a statement.
"The world rarely sees someone who has had the profound impact Steve has had, the effects of which will be felt for many generations to come. For those of us lucky enough to get to work with him, it's been an insanely great honor."
Fellow Internet trailblazer and Facebook founder Mark Zuckerberg wrote on a Facebook posting: "Steve, thank you for being a mentor and a friend. Thanks for showing that what you build can change the world. I will miss you."
"The digital age has lost its leading light, but Steve's innovation and creativity will inspire dreamers and thinkers for generations," Howard Stringer, president and chief executive of Apple rival Sony, said.
Jobs was perhaps best known for inventing the now-ubiquitous iPods, iPhones and iPads, but during a hiatus from Apple in 1986 he co-founded Pixar, maker of acclaimed animated films such as "Toy Story," "Finding Nemo" and "Wall-E."
"Steve was such an 'original,' with a thoroughly creative, imaginative mind that defined an era," said Robert Iger, head of the Walt Disney Company, which acquired the studio in 2006.
"Despite all he accomplished, it feels like he was just getting started."
Media and technology commentator Jeff Jarvis tweeted of Jobs: "We have lost our Gutenberg, Edison, Picasso, Carnegie…. "
New York mayor Michael Bloomberg, a billionaire who built his personal empire on business, media and technology, said Jobs changed the world by helping put information and power in countless millions of hands.
"America lost a genius who will be remembered with Edison and Einstein, and whose ideas will shape the world for generations to come," Bloomberg said.
"Apple has lost a visionary and creative genius, and the world has lost an amazing human being," said the company's new CEO Tim Cook, who took the company helm in August.
"Those of us who have been fortunate enough to know and work with Steve have lost a dear friend and an inspiring mentor," he added.
Cook urged readers to share their memories of Jobs via e-mail at rememberingsteve@apple.com.
Apple co-founder Steve Wozniak told CNN he was "dumbfounded" by news of the death Wednesday of his former partner Jobs.
"It's kind of like when John Lennon died, or JFK .. I don't think anyone else, maybe Martin Luther King," said Wozniak, 61, who founded Apple with Jobs in 1976.
Lennon was shot dead by a deranged fan in 1980, president John F. Kennedy was shot dead in 1963, and rights leader King was murdered in 1968.
Google executive chairman Eric Schmidt said Jobs "was able in his mind to imagine what would happen when things were 10 times faster or 100 times faster and start to think about how the technology evolves."
Google paid tribute by putting a button with "Steve Jobs, 1955-2011" under its search engine window, along with a link to the Apple website.
Within hours of Jobs's death countless Apple fans flooded Twitter and Facebook with condolences, famous quotes from Jobs, and links to videos of his speeches, with many declaring themselves "iSad."
Fans in tech-savvy Japan and Singapore held silent prayers at Apple stores while in China, home to the world's largest Internet population, millions posted messages online to mark what one called the "fall of a giant star".