By SAMUEL  OYADONGHA,, yenagoa
The Central Bank of Nigeria CBN Friday warned that abusers of the nation's currency notes risk six months imprisonment or a fine of N50,000.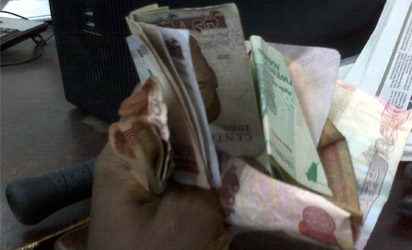 The apex bank at a one-day sensitization campaign on the abuse of the naira held in Yenagoa, the Bayelsa State capital, described as criminal the abuse of the country's currency, stressing that offenders would henceforth be arrested and prosecuted.
Spraying of the naira, hawking and mutilation it are punishable under section 21, subsection 1-5 of the CBN Act of 2007.
Acting Director Currency Operations CBN, Mr. Charles Olorunda, represented by Branch Controller, CBN Yenagoa, Mr. Prince Basil Udoh Utun, who stated this in Yenagoa, said the campaign is aimed at creating awareness among the populace with a view to according the naira the deserved respect.
"The national flag, the naira and the national anthem should be accorded respects as they promote the nation's image globally," he said, describing the abuse of the currency by market women, Okada riders, politicians and those hosting marriage ceremonies as criminal and called on them to respect the legal tender.
While urging Bayelsans to take the sensitization campaign seriously he said the CBN would soon commence prosecuting abusers of the naira note in the country.
According to him, "The offenders would be arrested and prosecuted by the law enforcement agencies across the country."
The CBN, he added had in the past arrested some sellers of naira notes and raided selling points in Abuja, Kano and Ibadan.
Earlier, Branch Controller, CBN, Yenagoa, Mr. Prince Basil Udoh Utun said the establishment of the enforcement committee on abuse of naira note was to carry home the message of criminalization and the abuse of naira as well as protect and promote the naira.
The naira campaign, he said would promote the currency to a high level as the naira represent the identity of the nation adding, "You will have a better currency note after this campaign."