By EBUN SESSOU
Folorunso Alakija celebrated her 60th her birthday recently along side her blissful marital life. She was born on July 15, 1951 into the family of the Olowus from Ikorodu area of Lagos State in the south western part of Nigeria.
She is the M.D of The Rose of Sharon, a fashion house, is one of Nigeria's pioneer fashion designers who has created classy attires for several society women in the country over the years. Her elegant and daring dress up style makes her queen of the red carpet.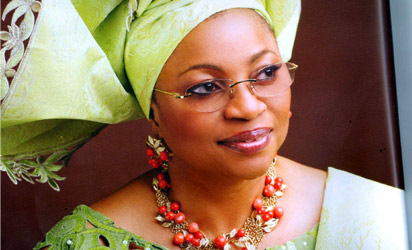 Today, Woman in her Prime brings to you, an icon and impeccable jewel as she takes us through her life, experience, challenges and the secret of her marital success.
I have very fond memories of both my parents. I remember one
afternoon in the early 1960s, I had just returned to Nigeria from my first educational years in England and I was between the age of 12 and 13, my mother sent me to take a note to my father at home. I made my way to his bedroom and found him having his afternoon nap.
His mosquito net was down, and I was about to leave without having delivered the note, when I noticed movement under the net. I stepped closer, the note still firmly in my hand.
My father said, "You might as well put it in my mouth. So, I opened the net and I did as he said. I put the note in his mouth. Suddenly, he jumped up, took his brush and spanked me hard several times while telling me that I was silly, stupid and disrespectful. I did not understand why I was being spanked; after all, I had done as he asked. I cried all the way as I ran back to my mother, hoping to find understanding, compassion and perhaps even approval from her.
I didn't. My mother scolded me, laughed at me and told the story to everyone who cared to listen. I could not fathom the "injustice" and wanted to get on the next plane out of Nigeria to England, as it seemed the whole of Nigeria was against me.
I did not realise my folly until many years later as an adult. Needless to say, I remained in Nigeria and continued to grow and mature under my parents' tutelage.
I know he loved all his children and always wanted them around him. But, this was difficult to believe. I thought he hated me amongst his 52 children from eight different wives. Understandably, he was having problems managing domestic affairs. Fortunately, throughout his life, all his children always loved each other and coped with one another as best we could.
"Baba, as we fondly called our father, had been gravely ill for about a month. I went to see him on the eve of Saturday January 17, 2009, and led him to Christ. At the end of the prayer, while still in a lot of pain, he said "Ki Jesu gba gbogbo wa sile o", which means, "I pray that Jesus will deliver all of us". That was the last time I ever saw or spoke to him. He died three days later and that was the day Barrack Obama was sworn in as the 44th President of the United States of America.
By that time, my mother had relocated to Ikorodu, the place of their youth, while my father remained in Lagos.
My life began when my parents decided to send my sister Doyin and I abroad for further studies.
This was to be the new beginning into my God-given destiny that caught the attention of many whom I would meet later on in life.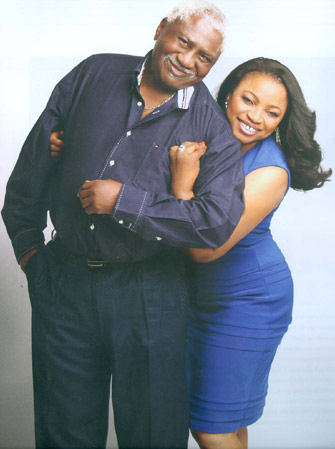 My parents' epoch-making decision became news in dailies because sending children so young to study abroad was extremely expensive, and therefore rarely done at the time. As soon as the news was out that they were sending not one, but two children to school in England at the same time, visitors started trooping into our house. Friends, family and well-wishers came with goodwill messages and gifts.
My sister and I were full of excitement and longing, as children often are, and so we went shopping almost every day. We bought clothing, shoes and African foodstuffs that were not readily available to give to our relatives living in England, who were eagerly awaiting our arrival.
The skyline that welcomed us was filled with tall buildings and skyscrapers and from the distance, the port appeared incredibly busy.
I had never experienced life in another part of the world, and didn't know that things are different elsewhere.
For example, I noticed that the 'white' people on board and those ashore spoke English with accents we were not used to, and we had to listen carefully to understand what they were saying.
I did not have much time to continue dwelling on my predicament, as I had to go through immigration and customs processes before my sister and I were allowed into the country.
We spent the next few days shopping for winter clothes, visiting our boarding house and the school shop.
Another experience was that in the United Kingdom, people seemed to live a, "mind your own business" lifestyle. At first, we were surprised, but we learnt to get used to it. We kept observing the differences in lifestyles in order to conform, since after all, it is said, 'when in Rome, do as the Romans do'. But such life wasn't applicable in Africa, people greet each other whether they knew one another or not.
At the school, we became the centre of attraction as all students and teaching staff had difficulties pronouncing our names, and we were quickly given the nicknames "Flo" and "Doy" to replace Folorunso and Doyin. We did not object since it made life easier for them. The meals were not that palatable to us, as the main course had a lot of vegetables we were not used to.
I remember that I hated cabbage, cauliflower and celery, and I must admit that I still don't eat the latter at all. We were usually the last in the dining hall; a staff member had to stay back to make sure we would finish our food.
However, we found ways of emptying our mouths whenever she looked away and pretended we had swallowed them so we could get back to class..
We made new friends and settled in eventually, although there were some things we never got used to. We learnt to polish our shoes, joined the Brownies and enjoyed picnics in the vast and extensive school woods. We took part in school card games and competitions, played hockey, netball, and took up swimming, table and lawn tennis. All these activities broadened my mind and knowledge, kept me on my toes and gave my sister and I some of the opportunities we would not have had back home.
After four years of this sojourn, my parents decided it was time for us to come back home. The school was disappointed, as I had excelled academically and socially. So, I was offered a scholarship with the hope it would rescind my parents' decision. Unfortunately, my parents politely and respectfully turned down the offer. They confirmed their decision had nothing to do with finances but that we had achieved their purpose for the stay abroad. Then, we came back to Nigeria.
For many years after I returned from my first time abroad, I remembered England with nostalgia and was determined to return someday. I was sure that something was still out there waiting for me, and that without it life would just be meaningless. I applied for an international passport and a visa, which took ages. While waiting for all these documents, and because I was not quite sure what the future held in store for me, I decided to apply for my Higher School Certificate (HSC).
I honoured my father's wishes and studied abroad for two years, and then came home to Nigeria and worked as a secretary at Sijuade Enterprises at the prestigious Western House, Broad Street, Lagos for a year and a half. This had been my initiation to the corporate world, as it were, but it was now time to move on to the next level.
My darling husband Modupe (who was still my boyfriend at this time), had heard of an opening at a new American bank that was planning to commence business in Nigeria. I applied, and in mid-1974, I was hired as the Executive Secretary to the Managing Director of The First National Bank of Chicago at St. Gregory's Road, Ikoyi. Today, the bank is known as Finbank PIc.
One of my first tasks as Executive Secretary was to organise the bank's launch at a corporate reception. Everyone relevant in the banking industry would be invited to attend. This was quite a responsibility, and I got to work in earnest. I was given quite a lot of free reign, and now, in retrospect, I realise that must have been what helped to sharpen my organisational skills, which have come in so handy in all my endeavours.
The launch was highly successful and gave management huge confidence in me. In fact, my superiors were very appreciative, and from time to time, my fiancee and I were invited to picnics and private outings with the foreign management personnel. My creativity came in handy in my job. As these major changes were taking place, I did not rest on my oars but spearheaded a movement requesting better conditions of service for administrative staff in general and secretaries in particular. Along the line I became the head of Corporate Affairs in my organisation.
Two years after becoming the Head of Corporate Affairs, I had another opportunity to move up the corporate ladder. This time, I moved into finance section when eleven members of staff, including myself, were drafted to attend an in-house intensive banking course. I was the only non-professional banker and also the only one without a university degree, but my result came out well and I was very proud.
I brought a lot of excitement to my new role and mode a lot of friends in the banking industry. I saw it as an avenue to practice my trading and business skills for which I had a natural flair.
I thought of engaging in fashion. So, I did some research and decided to return to college in England. This time to study fashion design. As I had hardly touched my salaries but instead continually invested in stocks, shares and property, I was able to build my first house over thirty years ago even before my 30th birthday, with a bank loan at three percent interest.
I could see a ray of hope on the horizon. I returned from my second sojourn in England in December 1972, and within two weeks of my arrival in Nigeria, I met Mr. Modupe Alakija, a dashing young lawyer, at a party in Surulere. Though I was in the company of my elder brother and his fiancee, Modupe insisted on driving me home. From that point on, we dated regularly for three and a half years until we got married on 12th November 1976.
During our courtship, we partied, dined, visited friends, combed street markets and generally had a swell time in each other's company. We would go out frequently, for lunch and dinner, visiting suya joints, decent 'mama put joints' where we regularly asked for 'olowo-ko-siere', which means 'the rich man is not mad' and that describes the part of the cow leg that has little or no bone. I also have fond memories of the many times we drove to Badagry and Epe to buy fresh fish.
We had become inseparable; it was obvious we were made for each other and one day, he requested for my hand in marriage. He said he wanted me to be his wife, his sister, his lover, and mother to him and his children. He promised never to leave me so long as I didn't 'rock the boat'. I gladly accepted because our love had grown so deep that we realised we did not want to live our lives without being in each other's company. This is still true today.
Subscribe for latest Videos