EX-international, Chidi Odiah has denied being the one that  commented on a link opened by a Chidi Odiah on Vanguard' s community online page.
Writing to Vanguard this week, the ex- international denied the comments attributed to him on his personal or professional affair, adding that, "the purported statement regarding my reaction to your publication is a fabrication.
"I am so appalled that a story was created from the comment section of your first story. The comment attributed to me is not mine, the facebook account used in signing to your site was created a day after your publication. If you look closely, you will find that the said Chidi Odiah do not have any friends", he concluded.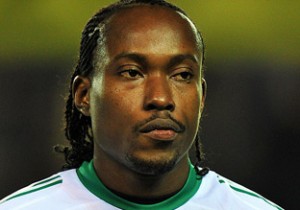 Also Chidi Odiah's lawyer, Felix disclosed that, "the alleged comment made by Chidi in the comment section is not Chidi's, saying  that Chidi has a facebook account which is different from the one used in posting the comment.
In our report of last Saturday edition titled, "Football Star Chidi Odiah opens up on troubled marriage" which was based on comments on our Vanguard online community website account bearing Chidi Odiah, we quoted the source on Chidi Odiah's reaction saying, "I'm tired of being quiet concerning this issue and I wonder why and how my family issues should become public business.
"All of you are jobless fools for interfering in my family matter and making stupid comments  that I am not interested in hearing, whether good or bad. I did not ask for your opinion. Uju and Kenzo are my wife and son and I have every right to deal with them as I like. So, please you all should mind your business and stop commenting".