By Ogbonna Amadi, DANIEL IDONOR & OLASUNKANMI AKONI
LAGOS— The late Sam Loco Efe died apparently sitting on his seat in a hotel room of causes now suspected to be asthma. He was found dead on Sunday morning with ventolin inhalers beside him in the hotel room where he lodged. The room was forced open after he failed to come down after retiring the previous night.
Contrary to reports that he was on location in Owerri, Imo State, Vanguard learnt, Monday, that he was actually in Owerri editing a yet untitled film produced by Bayelsa State born Favour Ogosi.
Former Vice President, Actors Guild of Nigeria (South -East) and a close confidant of the deceased, Mr Steve Eboh, told Vanguard the events that led to the actor's death.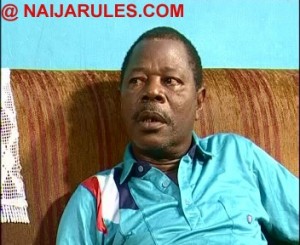 He said: "On the night before his demise, he had, as usual, exchanged banter and jokes with friends and colleagues till about 11p.m. before retiring to his room.
"But the next morning when he didn't come down for breakfast, worried colleagues went knocking on his door. Of course, they knew he was inside. And when no response came, they called me. I then advised that the hotel contact the police. And when the room was eventually opened, the cold body of Sam was found on a seat in the room.
"And on the table and the floor, the police were alleged to have found a cannister or two of ventolin inhalers."
Unfulfilled Dream
Efe died without fulfilling the dream of taking a deserved rest at his Abakaliki, Ebonyi State farm house, Eboh said yesterday.
"Because I was nominated for the City People Awards and couldn't go to see him in Owerri, he told me he would first stop over at Yenagoa and on today travel to his farm in Abakaliki, Ebonyi to wait for me. He said he was going to the farm house to rest and take a break from the rigours of film shooting and editing. That never happened because he died the next morning."
Meanwhile, President Goodluck Jonathan and Governor Babatunde Fashola of Lagos State, yesterday, extended condolences to the family of the late actor.
President Jonathan described the late actor as an accomplished artiste whose works helped to raise the dignity and style of the industry.
Fashola on his part praised him for his unwavering commitment to his chosen profession despite the challenges he met.
President Jonathan's condolence was conveyed through a press statement by Dr Reuben Abati, Special Adviser to the President on Media and Publicity.
Gov. Fashola in his condolence message signed by his Special Adviser on Media, Mr. Akeem Bello, to the President of the Actors Guild of Nigeria, Mr. Segun Arinze, described the deceased as an extraordinarily gifted thespian whose mastery of his craft on both stage and screen was unrivalled.