Engr. Victor Adetunji Haffner is a seasoned Engineer. He was born in Haffner street, Lagos on September 1, 1919. He became the President of the Council for Registration of Engineers in 1972.
He was one time Chairman, Administrative Council of the International Telecommunication Union in 1974 and became a Fellow of the Nigerian Society of Engineers and Academy of Engineering in 1997. The retired engineer was also a choir boy for seven years in his church and had lots of interest in the church activities.
His mother, Victoria Adepeju Haffner was born in Lagos but had roots in Ibadan while his father came from Abeokuta.
Today, Past Perfect brings to you an icon who has lived for 92 years and was involved in series of accidents:
I've worked so hard all my life which paved the way for me today. I wasn't a product of a scholarship like some other persons. My father was a descendant of a slave and so, I believed I must work hard to become great in life.
When I became an Engineer, I never wanted to come back to Nigeria because things were rough. When I was offered an employment in London, I spent six months working vigorously without payment. I had a post graduate training with some reputable companies and I came back to Nigeria in 1956. I was employed to work in Kano State which was my first station in 1956.I was there for 18 months and got transferred to Lagos. After eight months, I was in the Directorate Headquarters, without a station.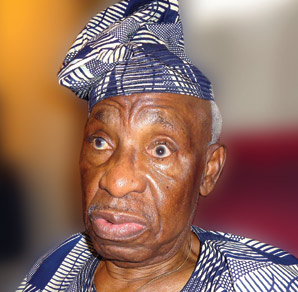 I was at one conference in London when I was instructed to leave and rush back to Lagos. I didn't know what happened and so, I went to the headquarters and there I was asked to take over from Cable and Wireless. It was a company that used to run the external services in Nigeria. And on January 1, 1963, a new company was incorporated which was Nigerian External Telecommunications Limited in which government had 51 percent equity while Cable and Wireless had 49 percent. I was transferred to the office in Marina.
I became the Managing Director in 1964 and was responsible for the development programmes. We were doing very well until 1975 when the military invaded and ruined the system. It was in Buhari's regime that the harm was done and the company was joined with P and T and was named Nitel.
In 1975, I was kicked out of the company. That was the day, the federal public service was dismantled and lots of civil servants were dismissed.
Contrary to the contract we signed with them, we were discharged. After a while, I came back to shape and set up my company and I became a consultant of a big corporation called Marobeni which is a big company in Japan. I was there much longer than I was in the public service and I was able to make some profit unlike the suffering I went through in the public service.
My pension allowance was N128.00 per month and at the end, I was denied completely. I spent twelve years working as a Managing Director and yet I was denied my allowance. I checked my account and it wasn't empty. Perhaps, they thought I was dead. I worked hard in this country and I have no regrets because I was able to work hard and get the benefit for my hard-work. It was not from the government though but from the private company I worked with.
I've been through so many accidents. I have good qualifications in Telecommunications but I have only one eye since 1997. The left eye is not my eye but an artificial one. I have to worship it and be very careful with it. This is the cross I carry on a daily basis.
An armed robber came into this house and attacked me. I wrestled with him and took the gun from him. I released the gun and he took it and hit me on the head. I was very strong and if not for God, I would have become a vegetable today. I could have lost both eyes. He hit my left eye and it came out and I saw my left eye on the ground full of blood. It cost me lots of money to fix it back. It's a ritual that I do everyday because I have to remove, wash, clean and add some drops into it for it to move around like a normal eye. I have an implanted lens and I have a regular check on my eye to put me back in shape. My doctor said, I can still see like a nineteen year old boy.
During the attack, the rest of my family including my wife, nephew and niece were around but I was the only one in the living room. It was a day before Christmas.
Apart from that, I had an accident in 1959. It was a triple car crash and I would have been dead by now. I was on study leave and we were on inspection. My neck was nearly broken. Two cars crashed into us, I fainted but recovered. It was the time my wife was expecting my son. My neck became very stiff for one month. So, after some years, my body started reacting to the injuries I sustained during the accidents but I'd overcome it. I've taken good care of myself and I've spent lots of money on my health.
My wife died in November 14, 2007 and since then, I have been living as a widower . For ten years, I have been living without light and water. I spend lots of money on fuel and water.
I have lots of challenges because I was left on my own and it makes a lot of difference in my life.
During my service at the Telecommunications, I was able to build a-37 storey building. I was kicked out when we were at level 22. We started the construction in 1972 and it was finished in 1978. It was during Obasanjo's regime. The building is the controversial place which Bankole said his father bought. It wasn't an ordinary block but a functional building. The building is known as NECOM House. We designed it to be the gateway of Nigeria where all communications would go out of Nigeria and come into Nigeria.
This country has been dragged back. Nigeria should be amongst the foremost in the comity of nations. Religious policies have dragged the country backwards and it is still dragging it . I will not be surprised if this country gets divided.
One thing I have realised about life is that if your upbringing is wrong, then your adulthood will be wrong.
Subscribe for latest Videos