The first ever international beach soccer competition has been scheduled to hold between December 9 and 11 in Lagos. England, Brazil, South Africa and Nigeria are billed to compete for honours in the four-nation holding at the Victoria Island.
Kinetic Sports in conjunction with Beach Soccer Worldwide is the body packaging the competition tagged Copa Lagos. It will also involves entertainment with top musicians expected on parade to make the atmosphere lively.
Director of Kinetic Sports, Samson Adamu, said arrangements were in to gear for the event.
He said, "We have the natural skill and natural environment to stage a quality event. Beach Soccer is a big deal and that is what we are trying to promote in Nigeria.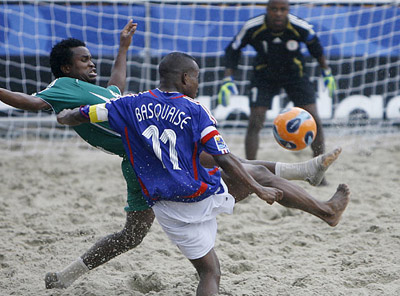 "All the participating teams in the event are ready to be here and we are also working hard to ensure the experience will be a great one for Nigerians.
"The stadium arena will be good enough for about 4,000 fans and that will be interesting especially during the festive month of December.
"We are going to charge just a token fee from fans just to curb the crowd while there is a trophy at stake for the winner plus other attractive prizes."
Adamu stressed that the event which has the backing of the Nigeria football Federation is also being heavily supported by the corporate world.
"I don't want to mention names of organizations for now. Two banks are talking to us while we are also discussing with a telecommunications outfit," Adamu added.
Former Eagles skipper, Austin Okocha was at the Eko Hotel for the event. He praised the initiative of the organizers and urged Nigerians to support the project.
"Nigeria has natural beach and talents. I am glad to be part of this as an ambassador and I believe this forthcoming event will change the face of the sport in Nigeria," he said.