AS non-indigenes continue to leave Borno State following the spate of attacks unleashed on the state by the Boko Haram fundamentalist sect, many indigenes of Ekiti, Edo and Akwa Ibom states who fled the embattled state have arrived home.
43 arrived Ekiti on Friday.  Over 150 were also received in Edo and 65 in Akwa Ibom.
The Ekiti evacuees, who are students of tertiary institutions in Borno State, arrived the Government House, Ado-Ekiti at about 3.30 a.m. in three buses.
The students, who narrated their ordeal to reporters, hailed Governor Kayode Fayemi for coming to their rescue by sending  buses  to convey them from Maiduguri.
Officials of the Government House were on hand to attend to the needs of the evacuees.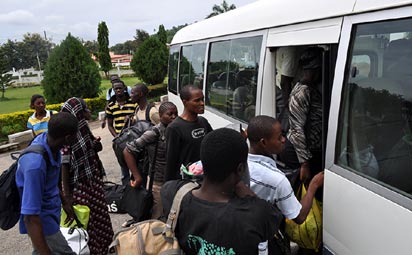 They were given stipends to transport themselves to their respective homes.
The president of Federation of Ekiti State Students Union (FESSU), University of Maiduguri (UNIMAID) chapter, Osetuyi Gabriel Sola, who is a 600 level student of veterinary medicine, praised Fayemi for prompt response to their distress call, saying it was God that saved them from being killed in the Boko Haram crisis.
In Edo, Governor  Adams Oshiomhole received the over 150 evacuees, appealing to the relevant authorities to  quell the Boko Haram  crisis in the north in the interest of the unity of the nation.
 The governor, who received the evacuees at Government House,  Benin City, after he dispatched four  buses  to bring the indigenes home, described the Boko Haram crisis as sad and unbelievable, but  urged the indigenes,  majority of them students of UNIMAID, not to be discouraged or doubt the unity of the nation.
The returnees include two displaced children whose parents are indigenes of the state.
 In Akwa Ibom, Governor  Godswill  Akpabio received the 65 returnees mostly students of UNIMAID, who paid him a surprise visit at Governor's Lodge, Uyo. The governor  said he was disturbed by insecurity of lives in Borno State.  
Akpabio promised to enter into a dialogue with some tertiary institutions on the academic pursuit of the UNIMAID students wishing to relocate, saying it was not safe for some of them to go back to Maiduguri.