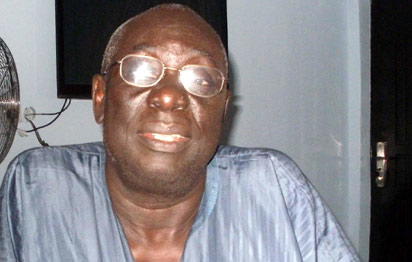 * Timinipre Owonaru
By Gab Ejuwa
The name Isaac Adaka Boro certainly rings a loud bell in the minds of many Nigerians. Boro was the radical and fiery iconoclast who blazed the trail of activism and militancy in the Niger Delta by initiating the Kaiama Declaration, which was a clarion call for self-determination and resource control. As legends had it a group of Niger Deltans led by the young and fiery army officer, Major Isaac Adaka Boro, had held the nation hostage for twelve days by declaring the Niger Delta region as a separate republic from the Nigerian Federation and paralysing government activities for twelve days until they were arrested by the Aguiyi-Ironsi regime and condemned for treason. However, with the overthrow of the Ironsi regime by Yakubu Gowon, the death sentences were committed to life imprisonment which in turn was suspended as they were released from jail by Gowon. Welcome to world of Chief (Captain) Samuel Timinipre Owonaru from Kaiama, Bayelsa State, the only surviving member of Boro's fiery force, who bared his mind 45 years after the 1966 event. Excerpts.
We are honoured to have you, only surviving member of Boro's intrepid squad and thereby the oldest militant, in our midst, to witness the amnesty programme.
That I'm still alive is the Lord's making.
Who is Owonaru?
I am from Kaiama, Bayelsa State. I'm the only surviving member of Isaac Boro's guerrilla army.
How has it been like for you in the struggle for Niger Delta's emancipation, especially since you were one of those who started it?
To be candid, what we fought for in the past hasn't really been achieved, in the sense that we're still in subjugation in the hands of the powers-that-be,. So, in that sense, the struggle is still on. We're hoping that better things will still come. On the other hand, to say that we haven't achieved anything at all won't be true, because things have changed somehow. At least, today, we have a Niger Deltan as the president, which would have been inconceivable some years back. But having said that much, I'd still maintain that the tenets which have us in a stranglehold, that deny us our right to be able to control and manage our resources, are still in place. And until those laws are either reviewed or abrogated outright from our statute book, the struggle continues. There're still flash points here and there, which must be resolved once and for all. The situation is just like what obtains in a football game; it's not over until it's over.
What is your own input into the amnesty programme, especially if we remember that you were one of those who started the struggle?
Nobody, I must confess, has consulted me on the amnesty programme or anything, for that matter. I should say that wasn't fundamentally correct since Dr. Goodluck Jonathan met me when he was the governor here and reached out to me. Apart from him there's nobody who cares whether I live or die.
Could you elaborate on the flashpoints you talked about earlier, those associated with the regime of President Yar'Adua?
What I mean by flashpoints were the grievances that precipitated militancy in the first place: lack of infrastructure, environmental degradation, the insensitivity of the oil companies, etc.
As to whether the Amnesty Programme has taken care of our grievances or problems, that's a different matter altogether. And to be frank, we've only scratched at the surface of our problems. We would need a holistic approach to do a good job. So, really, the amnesty programme hasn't resolved our problems. The  laws that hold us captive, that deny us our most basic rights, are still in place.
Was the abrogation of those laws you've just made mention of the agitation of Isaac Boro?
The inability to control and manage our resources was the reason our agitation took place and even now we're still not controlling our resources, and that's a big tragedy.
Was that why you, Boro and the others formed the Niger Delta Volunteer Force declared a Niger Delta Republic to protest those restrictive laws?
We felt short-changed, kind of, in the scheme of things. I mean we had oil which was being exploited to better other parts of the country when our own area remained underdeveloped and backward. And to share another region or state created for us, which would attract infrastructure, was almost impossible, going by the Nigerian constitution which was the reason the local government could not be created.
All that has been created has been through military fiat. Since the days of Yakubu Gowon to Abacha, no state or local government has been created constitutionally in this country other than the old Midwest. These were the stark realities of our days; so we felt that if we did not do anything about them, they would continue and posterity wouldn't forgive us.
Realising that virtually all the resources were from our area, we felt the solution was armed struggle, even though we did not have enough resources when we adopted that military option. It's now history that we were put down easily by the federal might and, for that, we were arrested, tried for treason and condemned to death in 1966 by the Ironsi regime. Somewhere along the line, Ironsi was toppled and the death sentences  commuted to life imprisonment. We remained in prison for a short while before Gowon granted us clemency and released us from jail.
But what we heard was that Isaac Boro was trying to create his own republic.
That was what we were screaming; we proclaimed the Niger Delta Republic.
What was your position then?
I was Boro's second-in-command.
Was there any support from anywhere in the Niger Delta?
Of course not! Not even any material support from them. The only support then came from our people was from (Ijaws) Ghana. They contributed money to assist our leaders since they incurred expenses. They were very firm then. They were the people that really had sympathy for us.
What was the name of the organization then?
The Niger Delta Volunteer Force.
How was it started?
Boro was the leader, but we started it together. We went through all the rigours of setting the organization up. It ended in the claws of the federal might.
Where did the organization hold her meetings?
We used Lagos and Kaiama. By the time we were ready to strike, we had to come to Kaiama as we could not undertake the struggle in Lagos.
Boko Haram is into a rebellion like the one you had.  What is your take on this?
What they are fighting against is western education, so let them be. I respect them. But for us who appreciate western education and lifestyle, they should let us be too. Some people are saying that they should negotiate with them on amnesty. I don't see the reason for that however, since they have no resources being misused.
Since you've fought for so long, have you been rewarded in any way in this amnesty programme?
No, I haven't. The federal and state governments, do they recognise my contributions? They don't even consult me on anything concerning the programme. It's only in the papers I see whatever they are doing. I am probably a prophet who has no honour in his town.