BY Gbenga Akanmu
The Lagos State House of Assembly, yesterday, urged President Goodluck Jonathan, to as a matter of urgency,  direct the Nigerian National Petroleum Corporation, NNPC,  to live up  to the expectation of Nigerians by ensuring adequate supply and proper pricing of petroleum products, particularly kerosene, across the country.
The motion was moved during the plenary session of the House by Mr Rotimi Olowo, who argued that it was high time the Federal Government found lasting solution to the recent hike in the price of kerosene in the country.
He said, "It is very pathetic that a country that produces crude oil cannot provide enough kerosene for its citizenry and this had led to suffering and health hazards to people,  as many have resorted to the use of coal to prepare meals. If we cannot cater to the needs of people, what is the essence of the government, because 1999 Constitution stipulates that the government should cater for the welbeing of the entire citizenry."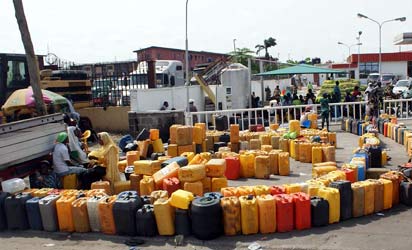 In his contribution, Mr Ipoola Omisore, said it would amount to aggravating the people's suffering if the House should wait for the Federal Government's intervention on recent hike in kerosene price before the state government finds ways of alleviating the problem the people of Lagos State are facing.
According to him, "if we wait for the government at the federal level to check the situation, things may go out of hand. I, therefore, call on our Governor, Babatunde Fashola, to find a lasting solution to the hike in price of kerosene in Lagos  so as to make life bearable for the citizens because he (Governor) can ensure that petroleum products are bought in large quantity and made available for the people at affordable prices."
Mr Dayo Fafunmi, on his part,  said the government should empower the task force to search and shut down any filling that sales above the regulated price of kerosene,  so as to serve as deterrent to others.