Early this morning, we woke up to the news that kerosene was now available at the NNPC mega station at the Federal Low Cost Housing estate,  North Bank, Makurdi , Benue state.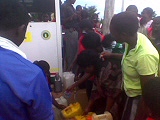 When I got there, I met a long queue. But I was happy that  atleast kerosene is now available though, not at the government approved price of N5o/litre, It was sold at N80/litre.
The govt  should please come to our aid.
Gridlock  at Iyana Iba, Badagry expressway, by Alfred
It is a terrible day for residents living at the Iyana Iba, Okoko axis, on  the Badagry expressway as there is a traffic gridlock on the road. 
Commercial bus  drivers, have however,  hiked their fares to double its usual amount. 
The road at the moment is flooded after the early morning rain.
 Vanguard Citizen Reports
Vanguard invites its numerous readers to be part of our citizen journalism initiative.
You can send us stories that are happening where you are.
This may also include photos and videos of events you consider fascinating enough to be shared around the world.
Note that these reports may be quickly verified,(when we have to) before we publish, so please include your name and contact details.
 
Conditions
Stories, photos and videos must be original, and not libelous, copyright materials, spam, obscene/lewd/sexually explicit , hate speech/ethnically offensive, advertising/promotional materials etc
 
Send your stories to:
* [email protected]
* Twitter:  hashtag #citizenVanguard
* Mobile: SMS only – 08134742454, 07061078412
Vanguard Citizen Reports – News is now yours!