By Alade Aromashodu
The legal luminary and inspirational lawyer, Justice Kayode Eso (rtd) has dismissed students' fear over Alternative Dispute Resolution (ADR) saying "there is room for everybody." He gave this hint at the annual lecture organised in his honour entitled: "Arbitration (Alternative Dispute Resolution): An Instrument of Judicial Reform and Economic Development in Nigeria," at Justice Kayode Eso Chambers in the Law Faculty of the University of Lagos, Akoka.
Students in the faculty were of the opinion that non-lawyers could take over judicial process in the area of ADR, as they are allowed to practise.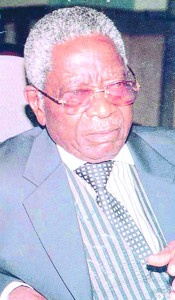 Justice Kayode Eso, also urged the students to study hard while expressing his displeasure over the deteriorating rate of some young lawyers in recent time, adding that "their presentation is nothing to write home about."
Citing a recent presentation before him on ADR by a lady lawyer who could not differentiate between "Who and What" when she wants to differentiate 'who are you to the culprit in a particular case."
In another development, Dean, Faculty of Law, Prof. Oyelowo Oyewo broke the news of agreement with the school authority to set up a Diploma Programme on ADR in Ikoyi, Lagos, while the undergraduate class would be at the main campus in Akoka. He went on: The Programme would commence next session.
Prof. Oyewo further noted that legal profession was a dynamic profession, urging lawyers and non-lawyers that ADR could not hinder their income, according to him "It is just a judicial process."
In her own presentation, the main speaker, Mrs. Chinwe Odigboegwu comprehensively analysed on definitions of the topic and why it's incorporated in the Administration of Justice.
She noted ADR as a way of resolving disputes without going to court and also, encompasses a range of techniques that often blend different dispute resolution processes to find the best fit for the dispute at hand.
Chinwe reiterated further on why ADR in the judicial process (as opposed to litigation) as: less formal and less stressful. She went on: "It's less costly, saving the litigants court costs, attorney's fees and expert fees.
"Less time-consuming, a dispute may be resolved in a matter or days or weeks instead of months or years.
"Results are specific to disputants' needs; permits more participation and empowerment, allowing the parties the opportunity to tell their side of the story and have more control over the outcome," Chinwe noted.
Meanwhile, Prof. Oyebode of the Law Faculty also contributed that ADR is an African concept idea of "whoever goes to court will never come.
Subscribe for latest Videos