By Moses Nosike
Ufuoma Emerhor is the founder Fair Life AfricaFoundation, a non-governmental organisation with an initiative for street kids.
Care Continuity Challenge Initiative is a holistic vision, passionately channeled towards rehabilitating street kids who left their homes and are living on the streets without the support or supervision of their parents as well as giving special assistance to people who are faced with daunting challenges in life while also offering support to single mothers whose children may be at risk of becoming street kids. She is our role model this week.
Why setting up this NGO?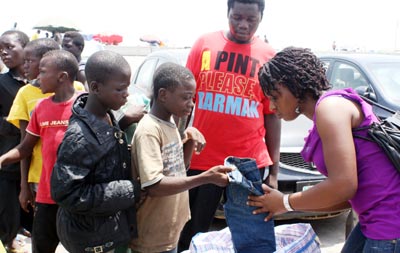 It's my passion, I don't have anything else that drives me so much. Though I have other interests, this is my drive. It's my burden. It is something I've always wanted to do. I can't imagine doing anything else with my life and if I do that will be a job that will help me to execute this work. I am a natural advocate who's passionate against inequality and injustice, and this NGO enables me to do what I love to do.
What is it all about?
Right now we are setting up our first initiative, Care Continuity Challenge which is for street kids and we also want to support single mothers and vulnerable women with this programme as well. So far, we have been maintaining a presence at Kuramo beach, where there are a lot of street kids who left their homes and now live and work on the beach.
So, with time we are getting to know these children and likewise they are getting to learn about us. We have been doing that every Saturday morning, having breakfast with them and engaging them in discussion. We spend time with them to know why they are on the streets, the challenges they are facing in their lives and the kind of support they feel they need. That is what we have been doing so far.
However, we have a place at Lekki and we are renovating the building for the children because we can't effectively rehabilitate them without providing alternative shelter and refuge from the streets. We want to bring them into our centre, and support them as well to go back home, help as much as possible with their studies and also work with their families to alleviate problems in the home.
What are the challenges you've been facing since you started?
When we first started going to Kuramo, we didn't have any place we could receive the children. So, some of the older boys of about 18 years and above would come around to disrupt us, and even demand the provisions we bring for the smaller kids. But recently, we met with the management of the place and we were offered the use of one of their cabins for our Saturday morning visits.
This has been very helpful in resolving that problem, and has also made our number more manageable. One other major challenge in Nigeria is that people don't meet deadlines, and they don't keep to time. Also people need a lot of management here. It can be stressful. I have to adjust to the way people do things here.
How do you gather these children?
We meet them at the beach because that is where they sleep and work. They are prepared for us because they know that we are coming every week. The first time I went to Kuramo, I went to observe the children. I didn't know how to meet them to introduce myself or the organisation.
So, I went there one day, with the intention to clean the beach hoping to meet them in the process. I wore a t-shirt from the event we did in February and I started picking rubbish on the ground. While doing that, someone approached me and asked me what are you doing? I told him I would like to meet the children there. Then he said he'd help me get some of them to speak with us which he actually did.
The following week, we went back and he gathered six children to talk to us. That was how it all started. The first time, they were shy and didn't know what to say, but we told them that we would be coming every Saturday to meet with them and have breakfast. That was how we started 'Breakfast and Talk' and since then the number of the children grew from six, ten, seventeen, twenty-eight and so on. We host more than forty boys each week at the cabin now.
Do you find out whether some of these children go to school or not?
We found out that a lot of them had been in school, even some to secondary level. They ran away from home and some were sent away from home for one reason or the other. Some were taken out of home by other boys in their community.
Particularly for those who have not been to school, we provide teachers that would be part of our staff who will help them with necessary support they need in education to some extent.
This type of thing you are doing requires a lot of funds, how do get your funding?
Well, we hope to get corporate partners to join us, as well as churches and other non-profit organisations to enable us do our work. Standard Alliance Group is our corporate partner, and two of their subsidiaries have sponsored our events in the past. A lot of our sponsors are individuals who are passionate about our mission as well.
We also expect that government would be willing to support us even though we are non-governmental organisation. We are working to fill the gaps in social service provision which is the responsibility of the government and we hope that the government will also see the benefit of our work and encourage us with financial support.