By Dayo Adesulu
Looking at the special role the youths play in the future economic development of a country, no fewer than 2000 students in Basic 5 to 9 across Lagos gathered for a day summit on how best children could cultivate the habit of savings which is a driving force to financial independence in their adulthood.
Speaking at the "2011 Teach Children to Save Summit" held at the main auditorium, University of Lagos recently, the Director of Development Finance Department at CBN, Mr P.N Eluhaiwe stated that one thing that is not often emphasized today in our school curricular and which parents often overlook is financial literacy and the need to imbibe the savings culture in our youths.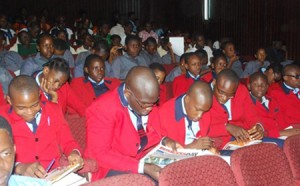 He noted that savings is a very fundamental programme of human life and of economic development saying that it is at the heart of financial inclusion strategy.
According to him, savings generally provide the savers, the economic wherewithal to undertake investment that earn stream of future incomes stressing that it increases the earning base of savers through increased investment, increased productivity, increased income, increased savings and in what can be referred to as cyclical process of prosperity.
Explaining further, the Director said: "Apart from the opportunity which savers could have from drawing on their own resources, savings could be leveraged upon to draw on the resources of financial institutions for investment purposes far and above what the individual saver has in his or her accounts.
Presently, Eluhaiwe pointed out that the need for entrepreneurship, vocational skills and self employment after graduation is increasing from day to day adding that the resources required for self employment can be built over time through regular savings.
Turning to the direction of the youths, he said: "The choices you make today will profoundly determine what kind of life you will live in future. Often times, a lot of emphasis is put on acquiring designer products; shoes, bags, dresses, smart phones etc.
These are no doubt important if you can afford them, but imagine what would happen if you set aside some of the money towards saving for the future.
You can start by saving a small portion of your pocket money or money given to you by your uncles, aunties etc and over time this will translate to enormous resources that can be utilized for productive enterprise."
Bringing financial expertise to play, Eluhaiwe reiterated that savings represent an important trading instrument which they buy from surplus units and sell to deficit units maintaining that it is a component of the intermediation process of financial institutions.
Subscribe for latest Videos