Below are reports by witnesses of the Abuja Police Hqtrs' blast.
Insecurity of the highest order,  by Citizen Austin Oji
This is insecurity of the highest order in the country. If the  force headquarters could be torched. The Commander-in-chief should wake and tackle this mess. He is our chief security officer and  is expected to do something quickly to stop this nonsense!

Blast occured 5mins after IG's arrival,  by Unclevee consult
The Blast occurred less than 5 minutes after the IG's convoy arrived the Louis Edet House
"Boko Haram" menace at FG's doorstep,  by Citizen  Charles Akpan
Alas, the menace of the Islamic outfit called "Boko Haram" has hit the very doorsteps of the FG in the nation's capital – of all places!
Now that they have taken their war straight to the-doorsteps of the Nigerian Police Force right, the die is cast!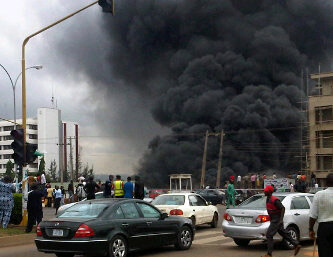 Next call, perhaps the very heart of the FG itself! The newly elected President of Nigeria, Dr. Goodluck Jonathan and several equally newly elected Northern State Governors are joking with this highly dangerous Islamic terrorist group operating currently in the so-called "Bermuda Triangle" of the North-Eastern States of Nigeria; with Borno State as it's operational HQs.
For the avoidance of doubt, this outfit called "Boko Haram" is unfortunately the new face of terrorism – as exported into the Nigerian State! To add insult to injury, there are certainly some insider informants and collaborators in the Nigerian Police; perhaps some also in the SSS and the Nigerian Army!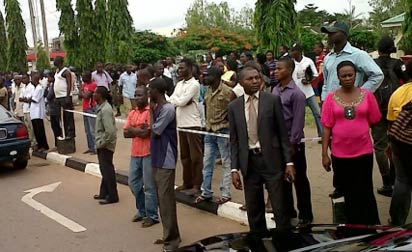 Otherwise why is this dangerous terror group still operating in the aforementioned area with such impunity and for so long? The day that this truly unholy foreign and local politically backed "i-t-group" will kill or maim one of those Governors or one of their most important relatives or possibly one of the President's kids /most important relatives, that is when the truth will dawn on him; then he will remember God and the right thing to do.
Deal with this "i-t-group" ruthlessly, the same way and manner the JTF is dealing with the so-called "unrepentant militants of the ND".
I was terribly dismayed, having read once in a Nigerian Newspaper, in which an army officer assigned to a similar "Task Force" in the Northern States among other things, said: "we are fighting our brothers …!" How can one call a terrorist-with-blood-on-his-hands "our brothers"?
Pls. FG remember: "A stitch in time saves nine!" This is a warning to the ignorant and very often careless and oblivious Nigerian FG, from "Jonah", a voice in wilderness, if you like!