A total of 1, 493, 603 candidates who registered for the 2011 Unified Tertiary Matriculation Examination, UTME, will be sitting for the examination across the country today.
However, Vanguard gathered that due to acute shortage of spaces, only about 20 per cent of qualified candidates will  be offered admission, into the about 117 universities in the country,  owned by federal, states and private entities.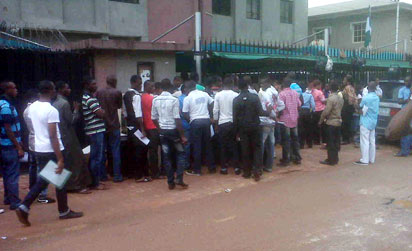 Are you taking the examination/are your children sitting for it?
Are you an official involved in the conduct of the examimation?
What are the challenges encountered in your centre with JAMB's new biometric system introduced to checkmate impersonation and other malpractices?
Send us witnesses accounts, observations, reactions, on the conduct of the unified entrance examination.  This may also include photos and videos .
Send stories and images to:
* [email protected]
* Twitter:  hashtag #citizenVanguard
* Mobile: SMS only – 08134742454, 07061078412
Vanguard Citizen Reports – News is now yours!
UTME 2011: JAMB's biometic data not reliable, by Haleemah
The biometric data machine deployed by JAMB was unable to verify some candidates' finger prints. in my examination centre.
UTME: Can examination malpractices be stopped in Nigeria, by citizen David
No examination  is ever conducted well  in Nigeria.  Even market women have the answers to today's papers.
See the below.
ENG type A
1-10 : ACBCAAAADB
11-20: ADACCCABCA
21-30: DDBCBDBBBD
31-40: CDAAABBDCA
41-50: ABCACCBACC
51-60: ABBDBAAABB
61-70: CACCBDBDBC
71-80: CBDBCAACBC
81-90: DCDACACADC
91-100 a b d c d c a c d d
So sad for Nigeria.