By Bose Adelaja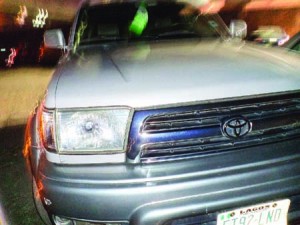 When Vanguardstaff, Emeka Aginam, left office around 9pm for home in company of two other colleagues on Thursday April 21, he had no premonition of any danger ahead.
For the journalists, it was going to be a smooth drive as they left Apapa for home.
He had earlier dropped his colleagues at the under bridge Ikeja, near general hospital. But the story changed as he got to Unity road Ikeja he noticed an unusual movement of people.
He later discovered later that people were fleeing the scene of trouble for safety. That was when it dawned on him that dare devil robbers were operating and attacking people at that vicinity .
Emeka made a stop and was still contemplating on what to do, when the robbers pounced on him and quickly dispossessed f some of his personal effects. He was dispossessed of an MTN blackberry phone, a sum of N20,000, his Vanguard identity card and national voters card, among others.
He also lost his car in the bargain as the robbers made away with it. The good news, however, is that the car was later recovered at Ketu by the Nigeria Police after its operatives combed the nooks and crannies of Lagos in search of the robbers.
Although Emeka is yet to recover from the shock as at the time he narrated his ordeal to Vanguard Metro, but he could not hide his happiness at the recovery of his car and thank God for saving his life. He also showered encomiuns on the Nigeria Police for their effort in this regard, especially as they succeeded in doing this within 24 hours of the robbery attack.
Asked how the Police got to know about the incident, he said: ''Some of them arrived the scene as soon as the robbers left and they tried to offer assistance to some of the victims.
''We left office around 9pm on that fateful day and everything was okay until i got to Unity road Ikeja, off Toyin street where I saw some people running helter skelter.
I wanted to reverse but my spirit told me to alight and run away . But unknown to me , the robbers had by this time barricaded everywhere and they headed straight for my car immediately i puuled by the right to make a stop.
I had to cooperate with them and they took their time to ransack the car. As they were doing that, they asked if the car has security and I replied in the negative. Immediately, one of them ordered me to climb into the boot of my car but before I could do that, others dragged me and other of their victims to a nearby structure while the rest of them concentrated on other victims," he said
According to him, the robbers were more than 10 and they later left to unknown destination in Emeka's car.
"I was later to learn that their main targets were drinking spots, supermarkets and hair dressing and barbing salons around that area. They were shooting sporadically into the air as they were moving," he said.
After the operation, a team of policemen arrived the scene and they took Emeka to their station to lodge a complaint. ''While the robbers were shooting sporadically into the air around Unity Road, some policemen later came to our rescue. After our rescue they took me to Area F Police Station to make a report. What surprised me was that the Police also took me to my house in their car", he narrated.
Having taken the necessary information, the Divisional Police Officer, DPO, of Area F, SP Okosun Odion, assured him his men would swing into action and would keep him informed of any development.
After his encounter that day, Emeka said he struggled to come to terms with the reality of what happened having been saved by mercy and favour of God. '' I thank God for saving my life. Material things do not matter to me as I know that once there is life, God will always provide opportunity for good things. " he said.
But Emeka has cause to smile at the moment. "The following day, I went to the station to present my particulars.The DPO said they had sent the signal to other stations and assured me they would recover my car. I was on my way to office around 11.30am whe n a Police officer called to inform me that my car had been recovered at Alapere Division.
Without wasting time, I rushed to Alapere Police Station where the car was parked. The Police have really surprised me with this feat because I thought the robbers had escaped with my car and that I would never see it again," he said, beaming with smiles.
According to him, Nigerian Police are trying their best even in the face poor communication infrastructure to make their job easy just like in developed economies of the world were Police are well equiped.
"The truth of the mater is that Nigerian Police need to be equiped more with mordern e-gadgets to effcetively combat crime to the barest minimum. . People also need to help Police with useful information to help them combat crime to the barest minimum " he added.
Subscribe for latest Videos