BY Evelyn Usman and Esther Onyegbula
Fresh facts emerged yesterday on how the Divisional of Police of Badagry , Mr Samuel Salihu, the DCO, Mr Samson Okedusi and three other policemen met their unprepared end Tuesday, after they were attacked by soldiers.
This is just as some aggrieved policemen have threatened to down tools if immediate steps were not taken to address the situation at hand, blaming  Police authorities for the cause of the frequent molestation and subsequent killings of policemen  by the Military.
The Badagry division, as reliably gathered, lost five of its men comprising its Divisional Police Officer, Mr Samuel Salihu, its DCO, Sampson Okedusi and three others whose identities are yet to be known.  The Operations Officer, an Assistant Superintendent of Police, ASP, Afolabi Taofeek who was shot on the ribs is presently at the intensive care unit of an unknown hospital where doctors are battling to save his life.
The DPO, as reliably gathered, apparently had a premonition of what was to befall him as he was said to have applied for his annual leave just last week, an application that was however dishonored.
Salihu, a graduate of English from the University of Sokoto , hailed from Mokwa, Niger state His widow and three children who are in Abeokuta, Ogun state , where he served last before he was transferred to Lagos, still found it difficult to believe that their bread winner is gone.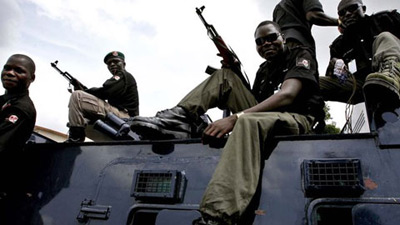 The late Salihu was enlisted into the Nigeria Police Force on March 3, 1990 as a Cadet Assistant Superintendent of Police, after he was trained at Police Academy, Kano. He also had his Masters Degree in International Law and Diplomacy from the University of Lagos.
On the part of the DCO, Mr Samson Okedusi, he had reportedly written his promotion course exam and was awaiting his promotion to the rank of Superintendent of Police when the unexpected occurred.
See photos of those killed here
Information available to Vanguard revealed that he personally drove the private Montero Mitsubishi Jeep vehicle which belong to the DPO on that fateful day. However, on arriving close to Ibereko barracks for peace talk, they reported saw a police escort van that was set ablaze. Sensing all was not well , report said they decided to make a u-turn, only to be visited with volleys of bullets.
The late Okedusi who was billed to retire from the force in December this year, having spent thirty four years in service, was said to have been hit by the bullet first, in the neck, thereby causing the vehicle to loose control. Report said immediately the vehicle fell into a ditch, the DPO and other policemen ran out but they were matcheted to death.
However, one Assistant Superintendent of Police identified as Afolabi Taofeek , reportedly survived the attack . But his condition as at yesterday could not be ascertained as he was said to be in a critical condition at an undisclosed hospital.
The remains of the dead policemen littered the road until midnight Monday when they were removed by the Police and deposited at the Ikeja General Hospital Mortuary.
Police threaten to down tools
The mood at most police formations since the incident of their colleague spelt that of anger following what was described as an over bearing attitude of the Army. Hinging their grievance on what they described as 'biased handling of the issue' , they recalled two separate incidents where their men were allegedly clubbed to death by a soldier.
One of the incidents, according to the aggrieved policemen, occurred on April 20, after one Corporal Abdullahi Garba with force number 244238, serving at the Mobile Police Force 2 Squadron was allegedly stabbed to death by two soldiers whose identities were given as Private Oladipo Temitope with numbr 05NA/56/1537 and one Private Simon Lucky. The tragic incident said to have occurred at about 9.15pm at 3, Force road, near flag house Marina, took place during an argument between the Mobile policeman and the soldiers which degenerated into a fight , in the process of which the Corporal was stabbed to death.
The aggrieved policemen further stated that the two culprits were immediately arrested and taken to Lion building for investigation but were later released to Army authorities for internal prosecution, on the order of the Commissioner of Police .
"But sadly they were not returned back to us and nobody heard about that. Whenever a thing like this happened to the Police, it is swept under the carpet without anybody making mention of it. But if it was the other way round like this, there would be uproar and even killings. Tell us, what is the rational for the killing of our senior officers, when those that perpetrated the act were not attached to Badagry.
And to think that the perpetrators are even with the Army, go a long way to show that we are not recognized as human beings. That is why we have resolved to go on strike if this issue is not addressed and the perpetrators openly brought to book"
But in a sharp reaction to the threat, the Force Public Relations officer, Mr Amore stated emphatically that it was unlawful for the Police to go on strike, disclosing that the Inspector-General of Police, Mr Hafiz Ringim has directed  a full scale investigation into the killing.
Describing the relationship between the Military and Police as cordial, irrespective of what is on ground, he said, " to start with, the barracks in Badagry houses over one hundred and forty police men . So, nobody can join our heads together because we are enjoying a cordial relationship"