BY Victor Ahuma-young
LEADERS and members of Petroleum and Natural Gas Senior Staff Association of Nigeria, PENGASSAN, Thursday last week, gathered at the ancient city of Abeokuta, Ogun State, for the Lagos zone of the association's 3rd Triennial Delegates conference.
At the conference which also had in attendance management of oil companies and their representatives including the Managing Director of Mobil Oil, MON, Plc, Mr. Tunji Oyebanji, PENGASSAN sounded a note of warning to employers and management of oil companies that though it prioritizes dialogue, but will resist all guises and tendencies to degrade jobs.
Addressing delegates and guests, President of PENGASSAN, Comrade Babatude Ogun, said among other that PENGASSAN had "played a key role in the downstream of the Oil and Gas sector with impressive results, as our inputs to all ad hoc and permanent policy formulation committee to forestall adverse effect of the new policies. Liberalisation policy has been continually supported for effective integration, participation and competition of both public and private sector in the petroleum production.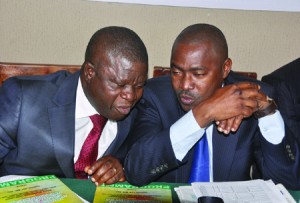 Several justifications are continually advanced by both the employers and Government agencies for their review of business model and employment policies necessitating outsourcing and other forms of ad hoc employment measures. Our position as labour is that we shall continue to resist all guises and tendency to degrade jobs. Our advocacy is fair and sufficient compensation, fair and sufficient benefits and good welfare for all categories of our members through unrestricted legitimate rights to union activities, collective bargaining and other statutory provisions for interactions, engagements and resolution of issues with other social partners. We will not fail to take any labour actions deemed appropriate when our collective resolve and might is undermined."
"In this regard, the collaboration with other stakeholders, including National Union of Petroleum and Natural Gas Workers, NUPENG, is being intensified. In the last eight months, the industrial relations tripartite have been subjected by NUPENG-PENGASSAN to negotiate an acceptable policy guideline to regulate and monitor Casualisation and Contract Staffing in the Nigerian Oil and Gas Sector. It is our aspiration that what is being put in place will minimise to a large extent the abuse of casual and contract workers by employers in the Oil and Gas Sector. In the last· three years of our administration,
PENGASSAN embarked on aggressive drive and organisation of potential members and the sustenance of existing ones. Depending on circumstance and resistance, we have as a social partner and as a pressure group applied both constructive engagement and positive confrontational approach which enlarged our spread and coverage of the sectors including allied ones.
While we shall remain open to social dialogue, we shall dauntingly match shoulder to shoulder with anyone to ensure mutual respect on every challenge posed on us by global socioeconomic dynamics and business that could threaten our existence and aspiration as Trade Union.
New organisational strategies are now In place. Local and international exposure coupled with the support of, the America Labour Solidarity Center is persistently improving the capacity of our officers and staff on new tactics for membership drive which accounts for the emergence of 23 new branches within the period under review.
All constitutional limitations that can impede small branches from being registered by the Association have been removed in line with principle of labour solidarity which requires that the strong should add strength to support the weak and by so doing widen our reach and coverage of the Sector.
Labour .Relations has been salubrious and blossoming with fewer frictions that are being adequately contained through a more constructive, aggressive and intense measures that have continually put management on their toes and alertness. We have made both Government and employers appreciate the need to proactively integrate labour in the formulation of major policies that may affect her well being and existence.
Faults anti-union employers
Earlier, while welcoming delegates and guest, Chairman of the zone, Comrade S. F. Oginni, explained that "on assumption of office, our leadership was confronted with the challenges of several anti-union and anti-labour policies of most employers and managements.
These challenges manifested in the form of casualization, illegal retrenchments and redundancies, non-unionisation as a condition for employment and a strong culture of impunity by some employers and managements, among others.
We had to reappraise the challenges and our further investigation showed that while some of the affected employers were outrightly frustrated on account of the harsh operating environment, others were simply driven by profiteering and sheer hate for law and order, trade unionism and good industrial relations practice.
Our leadership squared up with these employers and managements, employing constructive engagements, dialogue, tact, Trade Union overtures and diplomacy. Given the combined effects of the above principles and approaches. I am glad to report that-though a lot more needed to be done, our Zonal leadership has within the period under review made most employers in the Zone to abandon the culture of impunity."
"A situation where any management will without recourse to due processes retrench or sack our members is gone for good in Lagos Zone. We have re-unionized and brought back into the union several branches that were lost to anti-unionisation managements. We have also secured an office for the Zone and had concluded reviews of existing and signed new Collective bargaining agreements for our members in many branches. We have equally organized several new branches into the Association.
The days when non-unionisation was made a condition precedent to employment in the Zone are numbered. No employer to day can take the union for a ride anymore. Managements who attempted or will try cub illegalities will harvest industrial disharmony. The leadership also embarked on membership education and training. Some of our officers and leaders were sponsored to attend strategic specialist training within and outside the country."
Comrade Oginni added while the leadership of zone recorded some outstanding achievements in the past three years, "we should all be confident that the leadership that will emerge from this conference will be an all engaging one and will take on recalcitrant managements and employers who delight in perpetuating of workers' pains and agonies through slave labour conditions."
Union crucial
In his remarks, Managing Director of MON, Mr. Oyebanji, said trade union is very crucial in any organisation, saying among others usefulness, it provides alternatives views to management.
According to him: "I will not be part of any suggestion to kill the union. If you do not have a body like the union, you will not have an alternative view. Union is a veritable partner in growing the industry and the country."